Complete Flutter Project Solutions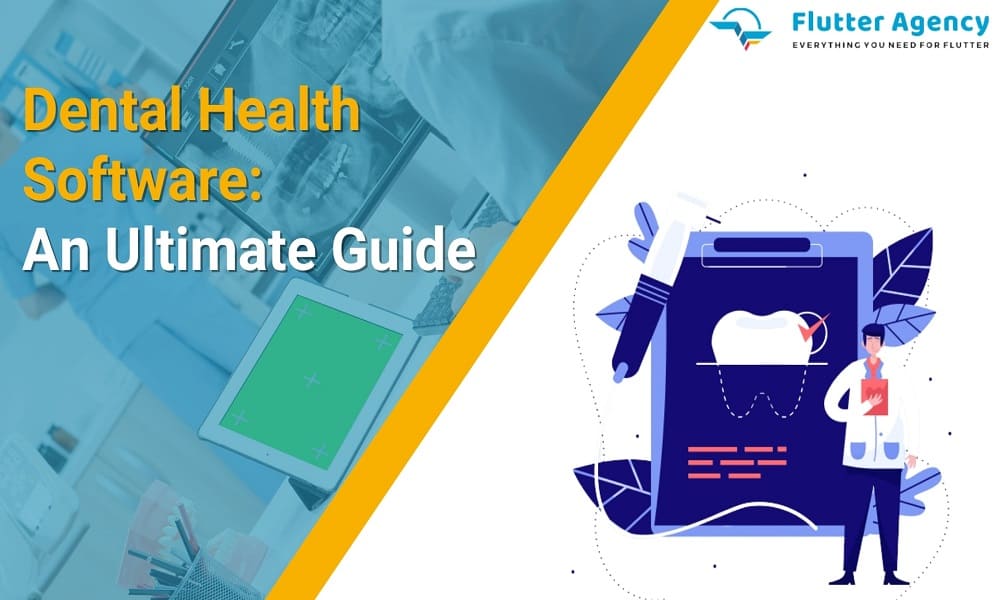 The Essential Steps For Creating the Best Dental Software
As a dentist, you are expected to balance giving the best patient care and remaining efficient and profitable. However, with the change in the dentist industry and the expectations of the patients, there is a sudden increase in the competitive market. Hence, it has given rise to new challenges dentists have never faced before.
In the 21st century, patients no longer look for the average level of services, and they demand modern, hassle-free service and access to all the information about their dental health.
So, dentists must be creative in their ways to retain their patients and also acquire new ones. The only solution for the consumer is to introduce dental office management software, which helps you and benefits you. In this blog, we will go through what software is and how it will help you maintain profitability.
What is a Dental Software?
Dental software is the management software used by dentists to organize, manage and store the records of patients in their practice. It is used for gathering, managing and retrieving medical data for patients and will make precise reports.
Additionally, it aids the people practising dentistry to streamline the workflow and improve patient care and communication, which enhances efficiency and profitability. It is the same as virtual software. Now, let's see the advantages of the software.
Also, Read This Post:

Revolutionizing Healthcare Sector with the Latest Technology
What Are the Advantages of Dental Software?
Dental practice management software will aid you in enhancing the patient experience. It helps you to streamline your operations. Some dentists use several systems that keep an office running smoothly. It can be time-consuming for the employees, and there are multiple chances of making errors when one switches from one system to another.
Moreover, the future of the healthcare industry is transforming with software development. As it will affect the satisfaction of the patient and also it will hamper overall profitability.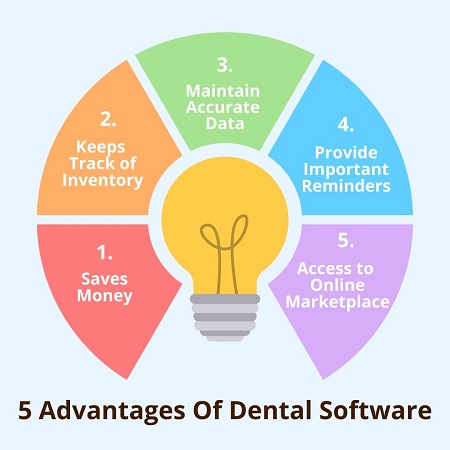 1. Dental Clinic Software Saves Money
If you are utilizing multiple software, each one will likely have an upfront cost and probably will have a monthly charge. However, using the various systems will eventually include the factor of cost. It makes it hard for you to invest money in the various systems monthly.
With the help of this system, you can keep track of expenses over the past few months. It will set and send reminders on the patient appointments and deliver them with reminders for upcoming visits and months.
2. Keeps Track of Inventory
It aids you in keeping track of your inventory easily. It is the basis of any practice to stay on inventory as there are different chances of creating errors in recording them without a proper system in place.
With the help of inventory, you can decide if your current supplier meets your needs. Furthermore, with the help of an effective dental inventory management system, you can scan barcodes as you have obtained the particular product. Hence, add instantly to the list with ease.
3. Maintain Accurate Records
A dentist must keep records up-to-date and be ready for inspection without any issues. But the problem arises if you are working with multiple systems simultaneously, as coordinating with data becomes a daunting task.
However, you can put your hands on the system that helps you in the best ways to ease out a procedure for patient records, inventory records, and inventory details. Hence, you will have an opportunity to look into multiple things with the click of a button. It also eliminates the chances of errors or bugs.
4. Provide Important Reminders
The situation arises when the staff members tend to forget to send out letters or make calls to patients, and if it happens, then there are the chances that patients may miss out on the essential appointment. Hence, dentists can utilize the management system to keep up with this and avoid it happening.
With the help of this system, you will get the advantage of automatic reminders. Moreover, staff members usually need vital information to do their tasks, and you can set the alerts to schedule when it is pending. The dentist can also send daily reminders, which helps you retain your clinic's reputation.
5. Access to Online MarketPlace
Dental Management software aids you in the best possible ways with administration. It also helps you to buy the products at a cost-effective price. Furthermore, it helps one financially, and it is more convenient to deal with various suppliers.
Well, it will be easy for you to order immediately after receiving the alert that you must reorder your supplies. Log on to the marketplace, purchase items and view delivery data in just minutes.
Also, Read This Post:

E-Prescription App Development: Market Size, Advantages, and Process to Develop Mobile App
What Are the Various Types of Dental Software?
Different kinds of software help in the best ways to enhance the growth of clinics and revenue, optimize productivity and so on.
1. Dental Billing Software
Medical billing software created for oral practices to manage and process insurance claims and patient billing information. It automates the tasks of billing. It streamlines the payment process, reduces bugs and enhances accuracy. It also includes claims submission, payment tracking, reporting, and patient account management.
2. Dental Practice Management Software
It helps the doctor practices run their business efficiently by automating and streamlining the multiple administrative tasks. It has scheduling, patient account management, electronic health records, and reporting features.
This custom software development aims to support dentistry practices to acquire, eliminate errors and improve patient satisfaction.
3. Dental Scheduling Software
With the help of this system, dentists can get help with appointment scheduling, patient appointments and planning treatment. The software is created to simplify the process of scheduling appointments. It helps to deduct the time spent on administrative tasks and enhances patient experiences by giving real-time appointment availability and reminders.
Software implemented with another medical practice management system gives the bespoke and ultimate solution for scheduling and patient data management.
4. Dental Patient Management Software
Helps the dentistry practices to manage and store patient information, treatment history and billing data. This software will increase efficiency and give patients better care and experience. It includes features such as patient demographic data, appointment scheduling and patient communication.
5. Dental Records Software
It is created to manage and organize the clinical and administrative data of the patients. This system has the medical demographics, appointment schedules, digital x-rays and images, and other relevant data.
The purpose of creating this software is to give dentists centralized and effective ways to manage patient data and enhance patient care.
6. Cloud-Based Dental Software
This solution is hosted on remote servers and is accessed over the internet. It is the software-as-a-service model, where a provider manages and maintains the software. Hence, users can access it from anywhere with only internet connectivity. 
Also Read:

The Importance Of Cloud Computing in The Healthcare Industry
7. Web-Based Dental Software
Web-based dental practice management software has been hosted on remote servers and accessed via a web browser over the internet. Just like the traditional desktop-based software, this does not need the users to install the software on their local PC. Hence, users can access the software from any gadget, like a smartphone, tablet or laptop with an internet connection.
If you are wondering which is best for dental management software, you need to know that it depends on the organization's requirements. 
Also, Read This Post:

What role does cloud computing play in the healthcare industry?
What Are the Features of Dental Management Software?
The functionalities of the dental practice management system play a vital role in analyzing the effectiveness and usefulness of the software. Let's see some of the features you should look for when selecting dental software.
1. Demographic Management
It allows dentists and staff members to manage patient data like name, address, and insurance denials.
2. Appointment Scheduling
Easy scheduling, rescheduling and cancelling appointments with reminders for the patients and dentists.
3. Planning and Charting
It develops and manages the detailed treatment plans that image the oral histories, digital x-rays and images.
4. Insurance and Billing Management
A billion procedures, claim submissions, payments, and accounts receivable features are a must in dental software for insurance claims.
5. Reporting and Analytics
It helps generate reports on the treatment, practice performance and financial metrics.
6. Secure Data management
Ensures patient information security and confidentiality via secure data storage and HIPAA- compliant data management practices.
7. Integration with Other Software
It is simple and easy to integrate with any other software used by the practice, like digital imaging systems, EHRs and practice management systems.
Thus, these are some of the features that enhance medical practices, manage patient data efficiently, improve patient care, streamline workflows and increase profitability.
How to Develop Dental Management Software?
Step 1: Research the Market
The first phase is that you have to look into the existing dental management software to get a better understanding of the pricing, features and potential competitors.
Step 2: Define Requirements
Analyze features and functionalities that you require in the software and fulfil the client and stakeholder's needs.
Step 3: Consult Experts
Take the help of healthcare professional experts, designers and project managers who will support you in creating the software. You can consult a healthcare app development company for your project.
Step 4: Design UI
It makes great user-friendly user interfaces that are intuitive and simple. An interface must be visually appealing. It allows users to manage and access their data easily.
Step 5: Develop Software
They can code the software with the help of tools, trends, and plugins. Make sure that code is well-documented and maintainable. 
Step 6: Testing
In this state, conduct thorough testing to identify the bugs and errors. Then look into the software's scalability, security and performance.
Step 7: Launch
Ensure you launch the software and make it available to clients and stakeholders.
Step 8: Support and Maintenance
Ensure you deliver the support and maintenance services to run the software smoothly, flexibly and effectively with time.
Step 9: Update Changes
Regularly upgrade the software with the new features and functionalities dependent on the feedback you get and do the changes with an upgrading industry needs.
Thus, these are the few steps you must follow to create the dental system software that will meet your client's needs and supports to streamline the management process for dentists. Do you want insights about the guide to the Healthcare website and design? Then here is the blog to know more about.
Conclusion
You will get help managing a project timeline, resources and budget, and our expertise will ensure that a project is finished on time and within budget. As the leading provider in the healthcare industry services, we will give you technical expertise, project management skills, and the support that you require to create a scalable software solution.
Healthcare experts at Flutter agency will aid you in collecting the requirements and understanding your needs for software development. With 10+ years of experience, our engineers have the technical expertise and skills to make a robust and reliable dental practice management system.
If you need more information on developing dental clinic management software, you can connect us. We will help to design a user-friendly interface that is intuitive and simple to use. Our testing and quality assurance ensures dental practice software is safe and secure and performs well under multiple conditions.
Frequently Asked Questions (FAQs)
1. Why is dental software necessary?
Dental management software gives you a digital filing system to deduct office clutter. It centralizes information which permits a dentist to verify information from multiple gadgets. Hence, this accessibility allows the dentistry practice's staff to serve clients more efficiently.
2. How will AI affect dentistry?
AI technology in healthcare helps experts to give patients high-technology gives dental treatment. Dentists might employ AI systems as supplemental tools to improve the precision of diagnosis, plan treatment and the result pedication.
3. What is dental technology in dentistry?
It is the broad term encompassing any dental technology which adds the se of computer-dependent components like hardware devices and software solutions. The objective is to enable dental experts to give the treatment with the support of computer-aided tools.
Develop your own Dental Software