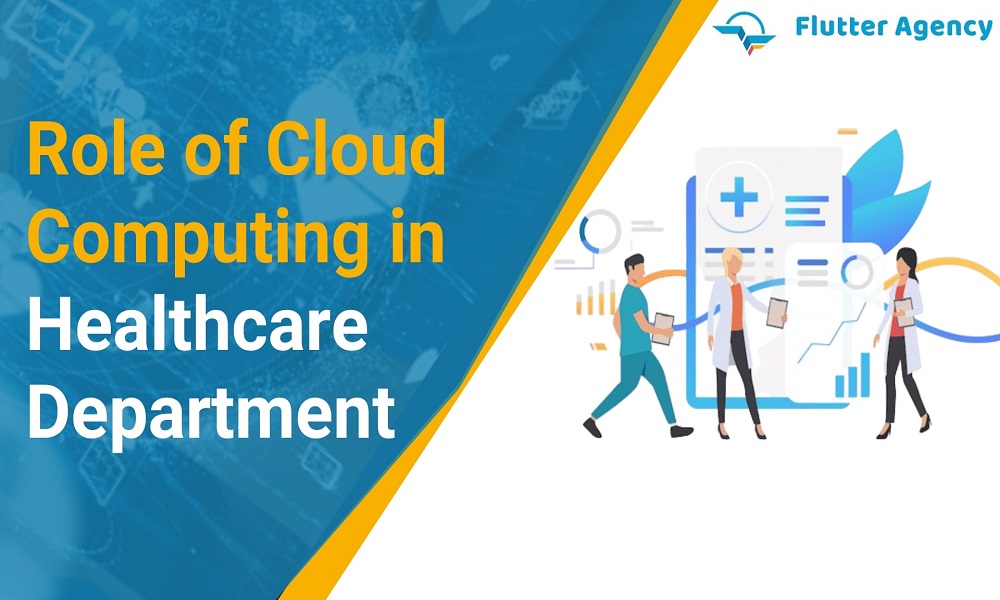 What role does cloud computing play in the healthcare industry?
Cloud computing in the healthcare industry has significantly changed doctors, nurses, practitioners, and patients. It has transformed from creating, storing, and sharing medical data. It offers clinicians and patients a connected, accessible, and collaborative environment.
In this article, we will discuss the vital aspects of cloud computing and its effect on healthcare business, including its benefits, applications, and how Flutter Agency helps develop customized healthcare solutions. Let's get started!
Apps of Cloud computing in the healthcare sector
It refers to the on-demand availability of the computer resource system, such as computing power or data storage. Cloud means the accessibility of data centers to end users over the internet, distributed over several locations, from the central servers. However, this is an affordable technology with numerous superpowers that include an intuitive ability to process information in large data sets, which is fast and accurate.
It helps the complete IT infrastructure, which unites the hospitals, patients, insurance companies, and many more inside the sole informative ecosystem. Let's see some of the app types of healthcare applications below:
Telemedicine:
The exclusive use of cloud technology as ICT (Information and communication technology) infrastructure permits the online delivery of care services by providing doctor-to-doctor and doctor-to-patient interactions. It helps medical staff to get input on complicated issues by utilizing telemedicine technology. Telemedicine app features permit real-time data transfer over various locations, save time and cost by degrading hospital visits, and much more.
Drug Discovery:
A combination of cloud computing and quantum molecular design will improve the success and flexibility of drug discovery while yielding quicker and cost-effective results. IaaS helps simplify the highly complex procedure that involves discovering multiple compounds from millions of chemical structures.
Healthcare Information System (HIS):
This collects, shares, and stores patient information effectively. The hospital operational management system will answer patient queries, provide better patient care, manage human resources, etc. This technology helps to develop and deploy them while ensuring cross-platform compatibility and integration with legacy systems.
PHR, EHR, and EMR:
Personal Health Records (PHR), Electronic Health Records (EHR), and Electronic Medical Records (EMR) all three are data repositories that patients manage, single hospitals, and multiple-managed care organizations, respectively. Cloud computing will control customized access to each of them.
Clinical Decision Support System (CDSS):
Helps analyze data to grant clinicians to diagnose and improve care by offering prompts and reminders to put down unnecessary tests, screen the disease symptoms, follow the treatment protocols, and much more. It may be connected to repositories such as EHR or machine learning to analyze clinical data.
Medical Education:
Cloud technology provides advantages to education with its flexibility and pay-as-you-go model. With this, universities' efforts are reduced by providing the facility of online lectures to students from anywhere. As a result, it will increase collaboration with academia worldwide, conduct seminars, etc. Furthermore, cloud-based digital medical libraries with varied query languages, indexing services, and a management system will support colleagues with the exact information required. Hence, care providers, researchers, and students will get the data on Demand and remain relevant to the latest developments.
Population Health Management:
Public health organizations use cloud services for tracking trends of diseases, informing people, mapping geospatially, and guiding planning control programs.
Promoting self-care:
Many help groups of people already suffering from some particular diseases will share their knowledge and experience with the new patients on the web. Using SaaS and PaaS models, training the masses is possible by offering hosting services and applications like forums to begin their chat tools, groups, etc.
Advantages of Cloud Computing in Healthcare
Healthcare Management solutions provide immense value for clinicians to improve patient-care management.
Lower the cost:
On-premise data storage and maintenance need the purchase of hardware and servers and an in-house IT team which is very expensive. On the contrary, using cloud storage and computing services in the medical field is flexible, secure, and cost-effective. It will save costs by increasing the productivity of staff and some system downtime.
Ease of interoperability:
Cloud technology facilitates smooth data integration across the managed-care system from multiple sources like data repositories, healthcare apps, wearables, etc. It will help to distribute the patient's data, facilitate faster diagnosis, and give proper care.
Personalize care and Medical Research:
IoT devices such as consumer wearables and home medical care gadgets monitor blood pressure, diabetes, etc., giving real-time data. The hospital collects and examines patients' health remotely. Also, doctors and family members get alerts whenever they change their routines. Cloud systems manage everything from connecting with IoT devices to collecting data. Clinicians also make use of personalized care plans.
Furthermore, cloud computing with AI algorithms and Big Data Analytics supports the healthcare department in deriving valuable insights from medical data. It empowers the research to develop life-saving drugs or procedures.
Increase doctor-patient engagement:
Medical data is stored on the cloud, which is accessible to archive and retrieves, by reducing the data redundancy and increasing the system uptime. With this, patients can get their records on Demand, increase participation in health-related decisions, and better experience control. It supports self-care efforts.
Scalability:
With subscription-based payment models, care providers will go for the purchase when the intake of patients is increased. In the same way, they can reduce resources on the cloud when Demand is low. It saves them from investing in the advance for high-end in-house servers and hardware, which might or might not be utilized to optimum capacity.
Examples of Healthcare with cloud computing
Doctor On Demand
Doctor on Demand is a telemedicine service that offers on-demand and by-appointment care for various mental and physical health issues. A physician can also provide guidance and treatment for common diseases like flu, cough, headache, etc. This app offers behavioral and mental healthcare through available therapists and psychiatrists.
Heal
With the heal app, you can schedule a house call visit with the doctor for a variety of services. The medical team can offer care for different situations, including acute conditions like viruses, infections, and rashes; preventive care, such as the flu; and pediatric care, which provides vaccines and health screenings.
It serves around 140 million U.S citizens in the 11 various states. A Heal telemedicine and house call services are available in Maryland, Illinois, California, New Jersey, New York, Washington, Louisiana, and many more.
Why connect with us?
We have 10+years of offering the best-in-class software development services and helping to design reliable, scalable, and secure solutions. We have done critical work to support healthcare; practitioners and institutions improve clinical and business operations and enhance the level of care.
A reliable IT partner provides cloud computing services in the healthcare industry:
A mixture of talent, technical expertise, and the domain understanding
Azure and the AWS certified resources with a track record of completing transformational projects
Control quality and follow Agile processes
Optimize solutions within the budget
Customization to meet the client's needs and demands
Success stories:
Medication Management by UME
The Flutter Agency creates this Medication Management application for healthcare professionals like doctors, nurses, and practitioners. These apps will also take care of the patients who cannot visit the hospitals. It offers several functionalities in a single application. The objective of this app is to make it affordable for people to take care of their health with better treatment.
The developed application helps to achieve:
Reduced 70% of the hospital visits
90% of the better patient-care management
1000+ bookings per day are managed efficiently
Wrapping up:
Healthcare app development is an essential app implementation for every country. However, cloud computing enhances the experience of each technology and framework, which is interconnected with the healthcare industry. Cloud computing helps scale computing resources, improves security, and assures the fastest service delivery.
Frequently Asked Questions (FAQs)
1. How much does it cost to develop and design healthcare apps?
The estimated cost of healthcare application development is dependent on your app's features, UI/UX design, the platforms you opt for, and the technology for the app integration.
2. What is the reason for the failure of healthcare applications?
Most apps fail due to not giving accurate data on health diagnoses, inability to change user behavior, etc. However, you can ignore these challenges in the beginning stage of your project with a development team.
3. Why does healthcare require HIPAA compliance?
If your healthcare app manages, collects, and transfers any secure and safe healthcare information, developing it with HIPAA compliance is a suggestion. This medical information is encrypted and accessible for the patient's diagnosis.
Hire Our Flutter Developer
Get a Free Consultation Now