Flutter is a cross-platform framework that allows developers to create apps for Android and iOS simultaneously. Developers can also use it to create desktop applications, so developers prefer Flutter more than any application development technology. Hire Flutter Developers to build secure, reliable, high-performance desktop and Flutter web applications. Get in touch with us and hire Flutter developers.
Flutter App development services
We aim to achieve success through our highly scalable applications. In addition, our team of talented Flutter developers is dedicated to making every application a success. We use proper development tools and technologies to create performance-oriented applications to achieve success for every business and company. We provide services to businesses ranging from small businesses to big enterprises. Some of our services include:-
New Flutter App Development
We will help you build a new Flutter application from scratch, and the application will work on several different platforms simultaneously. Whatever your requirements are, our team of top flutter engineers will discuss them thoroughly and come up with the best solution for your application to make it responsive, smooth, and fast.
Flutter Migration
Whether you want to migrate from Flutter or to flutter, or you want to upgrade your current Flutter application to the latest version. We can help you solve your problem fast and effectively, and we will help you keep your applications up-to-date and suitable for your users.
Custom Server-Side APIs
Our Flutter development service includes client-side JS writing for applications and websites. Our top Flutter developers use custom APIs to operate different operating systems on the server. Please share with us your project needs and leave the rest to us.
Application Upgradation
If you have an app developed on Flutter and looking to upgrade it, we are here to help. We will upgrade your Flutter apps by adding new features to sustain them, and we will make them compatible with the latest iOS and Android version releases. Our Flutter developers understand the importance of application scalability. So your Flutter app will always be ready for any updates required in the future.
Maintenance & Support
We don't just stop after the application release. We'll take care of your application for the best results even after deployment. We offer app maintenance services to update your app with the latest trends, improve user engagement, keep up with market demands, etc. Above all, our team will constantly keep your application in check for any bugs and security issues and solve them immediately.
Why Hire Flutter Developers from us?
Hiring Flutter developers is easy because We have some of the top Flutter experts on our team. We assign them to our customers' projects to provide excellent application solutions. Hire our developers to develop cutting-edge websites and mobile apps to accelerate your business. Here are more benefits of Flutter development services.

Easy management
Our talented Flutter developers will keep you away from complex project management tasks and problems. They handle all of this on their own. Also, they will provide you with the perfect project management services.

Easy hiring options
You can easily hire Flutter developers based on your project requirements when working with us. We provide hourly, monthly, part-time, and full-time services for all your application development needs.

No-Cost Estimate
We will always be waiting for your project ideas. Moreover, you can share the details with us regarding your project. We will get you a free quote after your project with us in a few hours. There will be no service delays and no additional hidden fees.
Our Hiring Model
Based on the needs of your project, we have various engagement models. Therefore, you can select one of the below models to connect with our dedicated Flutter development team.

Fixed project cost
You can determine project costs before hiring developers. Hire developers for a long time, expand the existing team and shorten the time to market. You can also flexibly change the scope at a nominal fee.

Hourly Based cost
Only pay for the work done by the hour. You can add or remove hours as needed. You have the option to communicate through your favorite channels. Also, you can get real-time updates through scheduled meetings.
Monthly based cost
In this, you can hire offshore employees for up to 160 hours per month. You can manage the team according to your needs. Also, get real-time updates on your project development. And the billing cycle would be monthly.
The projects we have done
Our Flutter experts have built some of our clients' best enterprise-level mobile applications with high efficiency. You can check some of our previously completed Flutter projects below. Consult our Flutter Experts for development strategy and project estimates.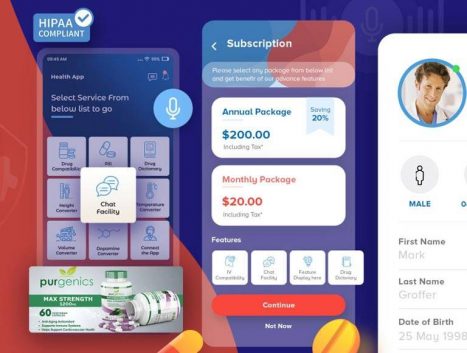 Medication Management By UME
Medication Management App is developed for United Medical Equipment Business Solutions Network, Inc. So, it is the essential application for all health care professionals, caregivers, students, and family members with providing direct and indirect patient care and education. Above all it provides 11 different functionalities within the convenience of one application, making it ideal for quick, well-informed, and potentially life-saving decision-making on the go. The simplistic design enables users to meet our Vision and Mission – To help all consumers prevent medication errors by providing them with a more convenient and comprehensive option!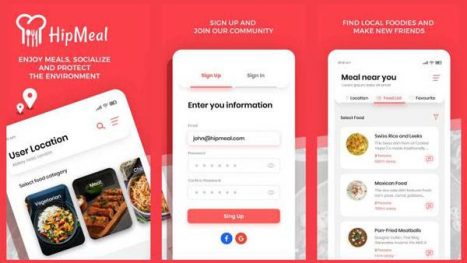 HipMeal
This application is special because it was developed for social causes. Moreover, it is available anywhere and anytime for free. HipMeal is a mobile application developed for a Swiss client to create a community that likes to share meals, recipes and participate in the fight against food waste. The Platform provides two options to the users that are users can share the food as well as donate the excess food to the needy ones. It is specially designed for local foodies to make new friends in their communities. And do not worry your privacy is fully respected because no third party has access to the application.
Want to hire Flutter developers? We always give priority to customer satisfaction as well as quality assurance. We have already deployed multiple projects with excellent client satisfaction rates and we will continue to do so. Moreover, our talented team of Flutter developers will work on your project with utmost dedication and will provide perfect service. Feel free to contact us and discuss your next idea for Flutter App Development.
Get a Free
Consultation Report
Our Global Clients