Complete Flutter Project Solutions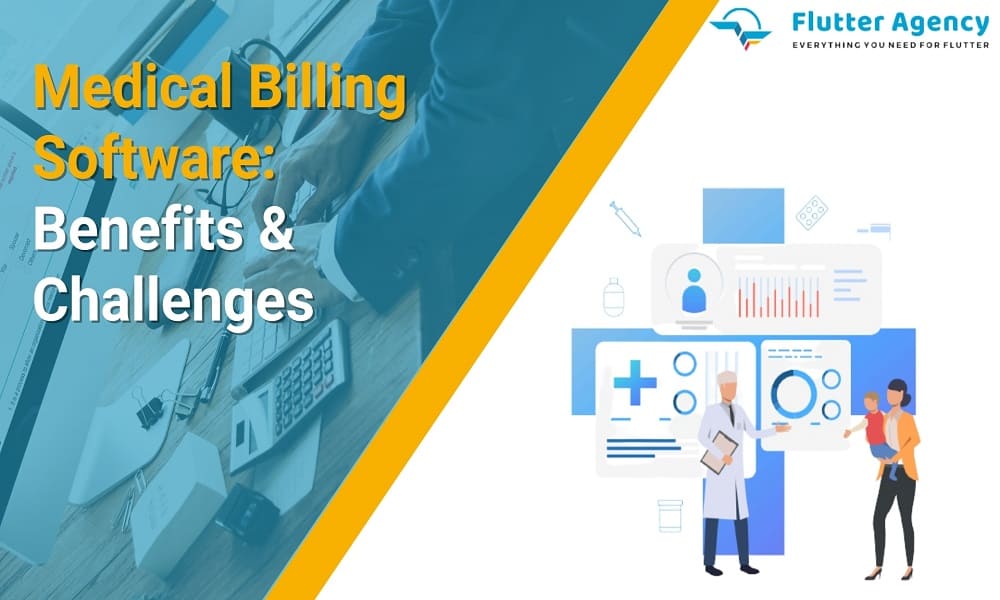 Medical Billing Software: Benefits and Challenges
As a healthcare company, we have seen customers asking for a laboratory information management system (LIMS), and lab inventory management system as some of the well-known kinds of medical software for the labs are available in the market. This system's functionality alone will not be enough to care for a lab's financial health. Hence, it is recommended that a custom billing system will be able to take the lab finances under control.
In this article, let's discuss its benefits, future, and the challenges our customers have solved with the lab billing system.
What is Medical Billing?
Medical billing is submitting and following up on the claims along with health insurance companies so that they can receive the payment for services that a healthcare provider uses. Hence, this procedure includes submitting patient information, including the diagnosis codes, procedure codes, and insurance data, to an insurance organization for reimbursement. However, this state has unpaid claims and appealing denied claims also. Therefore, it reviews the records of a patient's claims to ensure accuracy and compliance with insurance rules and regulations.
Also, Read This Post:

How to Boost Healthcare Services with Custom Apps?
Benefits Of Using Medical Billing Software
Medical billing and coding are time-consuming and complex for a busy healthcare provider. However, to slow down this burden, medical practices use medical billing software that will cut down the resources needed for billing activities.
However, we always use the latest billing software for our clients as they can keep upgrading their internal systems. Medical practitioners can reap the advantages of medical billing software without paying for expensive upgrades every year.
Let's see some benefits of medical billing software within the healthcare organization.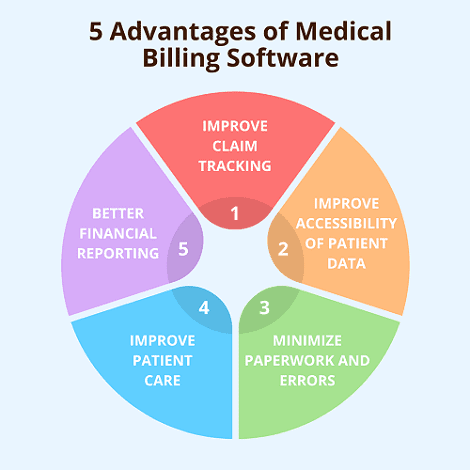 1. Improve Claim Tracking
Medical billing software is beneficial for tracking and processing medical claims. The excellent software package will help you check patient coverage and alert you instantly if the claims are delayed. It guides you through submitting the claim and will stay apprised of any time frames involved. Hence, the alert to any coding errors or inconsistencies may exist in any patient's file and leads to rejection from the insurance carrier.
2. Improve Accessibility of Patient Data
You will get better control of billing data for all your patients and get huge cases of all data when you have accurate, precise, and secure information that is easily accessible and efficient in processing payments. Hence, you will more likely be reimbursed much faster as a result.
3. Minimize Paperwork and Errors
Paperwork in the medical field is becoming old-fashioned, and even small clinics are selecting for the better. It is an effective means of handling invoices and claims and minimizing the paperwork and the physical forms needed in modern offices. Medical billing software aids in significantly reducing paperwork and the errors related to manually filling the forms and will securely keep that data safe. Hence it eliminates any paperwork in your practice if you have the medical billing solution in one place.
4. Improve Patient Care
It is necessary to give a satisfactory patient experience to anyone visiting your healthcare facility. Medical practitioners are becoming aware that it is just as essential to provide an excellent patient experience as it is for the retail store to deliver a good shopping experience to consumers. It improves the on-patient expertise and makes the payment option very convenient. It means to provide an electronic payment option or the patient portal, which gives essential data about its benefit and billing status.
5. Better Financial Reporting
The good billing software will give you a powerful and robust healthcare reporting management system and a full suite of management tools. Hence, it helps to make the best use of the patient's health records, and you will be able to keep tabs on how your practice is performing. Hence, you can utilize reports from your medical billing software and analyze huge areas of profitability within the medical practice and those that are not profitable.
Challenges With Medical Billing System
1. Billing Errors and Insufficient Reimbursements
Errors in medical billing can cause substantial financial loss. However, it is a fact that every mistake in the bill can take the lead toward a lower reimbursement, and the laboratories have to wait for an extended period to receive them.
Due to this, I suggest that I go with a customized lab billing software as there are significantly fewer chances of errors. With the help of this software, you can enter the patient data once, and a system will automatically check for errors at each stage of the billing procedure. Hence, the smooth billing process means a steady flow of reimbursements.
2. Missing Financial Analytics
Like other businesses, laboratories also require financial analytics to view what works correctly and what needs improvement. Lab billing apps permit the generating and scheduling of financial reports to check the financial state of your lab. It helps you verify the accuracy of the financial statement data and analyze and assess the lab's growth opportunities.
However, large laboratories generally require more than their standard analytical capabilities. When this is the scenario with the clients, integrating the lab billing app with a BI solution. However, our healthcare development team has integrated the financial analytical solution into the healthcare organization, which aids them in getting good use of its billing information in analyzing and optimizing the managerial and operational processes.
3. Lack of Financial Transparency for a Lab's Clients
Nowadays, modern lab customers need to have access to their laboratory data and results. But still, only a few labs can achieve sufficient financial transparency for clients. Therefore, with a lab billing system, you can allow your consumers to compile their financial reports if they want. In addition, you can deliver them the information your lab is offering, making your lab more transparent. This way, it encourages clients to view their claims, reimbursements, and the many other statistics they want to view anytime and anywhere via a HIPAA-compliant customer panel.
Also, Read This Post:

HIPAA Compliance Healthcare Apps
Future Of Medical Billing
Medical billing procedures usually used to be done on paper with handwritten records. Still, with the latest technology in the healthcare industry, this process has been turned into the electric one. Hence, it results in time and money savings, and there are fewer chances of human and administrative errors.
Medical billing software has diminished the burden of paper-dependent medical billing, which is labour-intensive, time-consuming, and prone to costly billing bugs. Therefore, medical billing software helps clients manage an enormous number of claims more efficiently than possible by transmitting bills electronically.
Technology is constantly shaping medical billing software. The client needs rapid service, simple access to data, and technology that simplifies the patient experience and will increase patient participation. Computer Assisted Coding (CAC) and blockchain in healthcare are the two most critical technologies which play an essential role in medical billing software.
CAC helps clinicians identify gaps in the clinical documentation and the billing of patients more swiftly. Integrating the blockchain storage data in EHR, on the other hand, may increase privacy protections and faster and more efficient information transfer. Hence, it gives the patient much more control over the shared personal data.
Also, Read This Post:

Healthcare Software Solution- Innovative Medical Solution for Future
Conclusion
Healthcare IT consultants usually show an information and inventory management system for laboratories that have stolen a spotlight from a lab billing software, which is later underestimated. Thus, the billing system is essential to ensure the financial health of a laboratory.
However, various ready-made products are available in the market that can be cheaper and quicker to implement rather than the custom billing solution. It means substantially changing or replacing a whole LIMS or heavily customizing the product. In most cases, such attempts at custom app development are in terms of cost and duration. If you would like to know if the custom billing software is the perfect choice for you, please let us know; our healthcare mobile app development services experts will be glad to assist you.
Frequently Asked Questions (FAQs)
1. What is the aim of billing software?
Billing system software is the accounting application utilized to automate and streamline invoice processing and payment services. Industries may use billing software to make it easy to charge consumers for a product or service they have received.
2. Why does the hospital require billing software?
The software makes it easy for medical personnel, patients, and insurance companies to access the data and reports. Thus, some software gives basic billing reports for patients and insurance companies.
3. How many types of medical billing are there?
There are three significant billing systems: Closed medical billing systems, open medical billing systems, and isolated medical billing systems.
Consult Our Healthcare Experts