Unique Solutions Intended for Digital & Creative Partner Agencies

Is your agency looking for talented Flutter full-stack engineers for your client`s next big project?
Or are you searching for a reliable, trusted mobile & web development partner?
In both of these cases, you can use our years of experience supporting US, Europe & Australia partner agencies.
Indeed there is more than a 90% chance you will work with us again and again!





How Do Our Experts Work With You?
In Requirement Analysis Stage
We will start understanding your key success metrics and business goals. Relied on the requirement analysis, we will assist you in elaborating on the project cost, timeline, technology, and scope.
In the Application Design Stage
Our UI/UX experts follow design principles like purpose, visual hierarchy, navigation and embracing white space. When it comes to design we believe simplicity rules LESS IS MORE.
In Product Development Stage
After the completion of the design stage, we prepare the development roadmap and assign roles to the development team, including Flutter Front-end and Back-end developers.
In the Quality Testing Stage
Our testing process or evaluating and verifying the application starts after the design stage by preparing the test cases. Our development team developed the application and handed it over to the tester to check developed functionalities performed as expected.
In Deployment Stage
We have expertise in deploying mobile applications on Apple App Store and Google Play Store. As far as the web application is concerned, we have expertise in AWS EC2, RDS, Lambda, and S3.
In Post Deployment Stage
Our commitment is not limited to just delivering clients the app. We provide 1-month of free support to our partner agencies. We also offer competitive packages for your end clients' SLA requirements.
When To Choose the Flutter Agency?
You Got a Big Project
And you need a skilled and technically sound team well and fast. Flutter Agency has been supporting agencies in managing big projects for a long time.
You Need a Technology Guide
When you need a technical evaluation for your upcoming project, we have an expert project management team who can suggest the best suitable technologies for the project and make sure you put your best proposal in front of your client.
You Focus On Your Core Business Functions
At Flutter agency we make sure that our partner agencies solely focus on the business side and we from the backend support them for all their technical needs.
You Need On-Time Delivery
We have a strong project planning team who divide the big projects into clusters. We have been sharing the development roadmap and milestone wise delivery over Trello/Asana to our agency partners and kept on updating the progres on a weekly/bi-weekly basis.
Your Clients Need After Sales Support
After delivering a successful project, we have been supporting partner agencies with their SLA requirements. We provide them flexibility by offering quarterly, half-yearly, and yearly packages, which will help them in client retention.
You Need Complete Transparency
We believe in growing together and for that we emphasize transparency with the partner agencies. That's the reason we are exclusive development partners with some of the US, Europe and Australia agencies.
Core Reason Why Flutter Agency?
Strong Development Experience
We have worked with big agencies and assisted them with our best coding practices and a decade of development experience.
Complex App Development
Being a renowned app development company, we have achieved great expertise in creating complex apps for different industries.
On-Time Delivery
We are committed to delivering the projects on or before the set timeline. Our team always assists you in getting the best product before the deadline.
Other Additional Benefits
Platform Of The Best Flutter Experts
Flutter Agency is a big pool of highly skilled and experienced Flutter experts who can handle development jobs.
Ready To Manage Big Flutter Projects
Hire us if you need a highly skilled Flutter development team to develop and manage your big Flutter projects.
Maintain Client Satisfaction Level
Being a renowned web and app development company, our team always maintains clients' satisfaction.
Our Work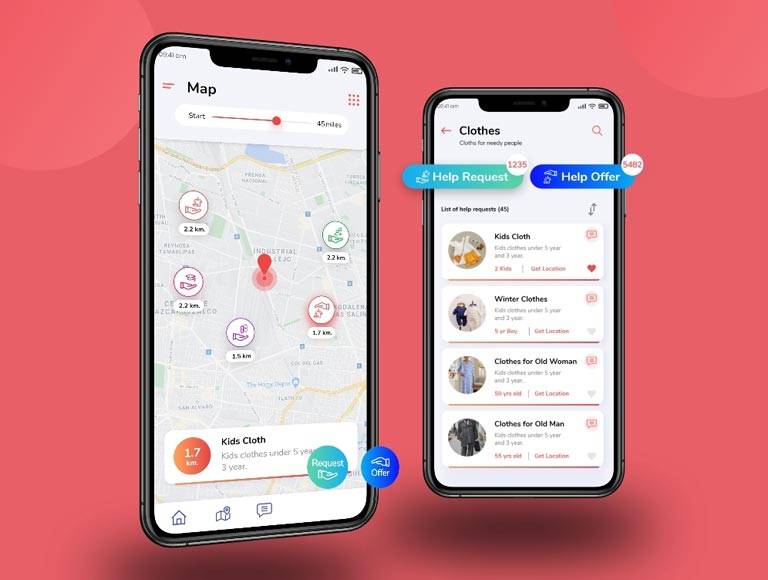 HipSmile
Developed by our expert team, HipSmile is a mobile application for the transaction of goods and services. People can give and receive goods related to health, education, material goods and much more.
The app uses geolocation, which will help in finding announcements near them. The announcement can be regarding the donation or for the request of the goods or services.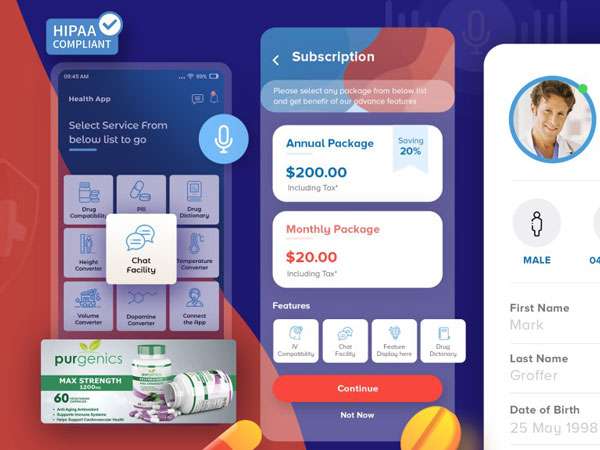 Medication Management By UME
The Medication Management app developed by Flutter Agency is an application built for healthcare professionals such as nurses & caretakers as well as patients and their family members. It provides different functionalities in a single application.
The app is ideal to make quick and well-informed life saving decisions on the go. The simple design allows users to meet our Vision and Mission. This app will help all people to prevent various medication errors by providing them with a more convenient option!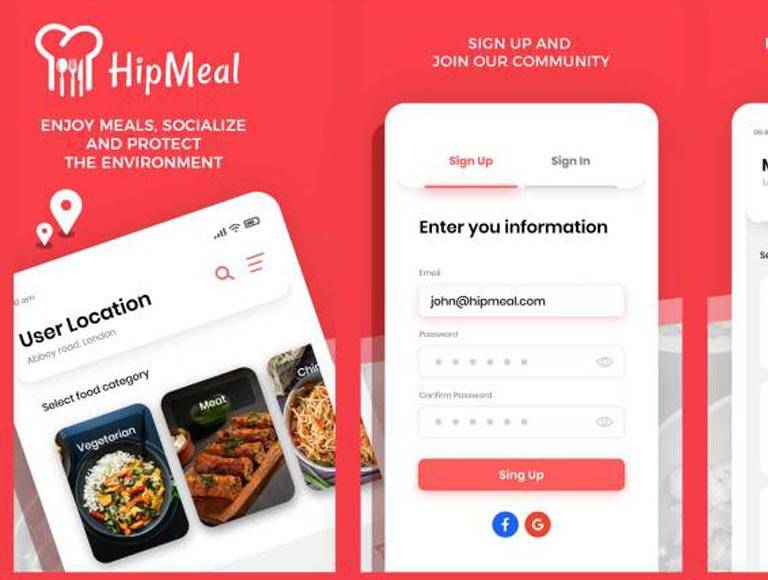 HipMeal
Application developed for a Swiss client who wanted to create a community that loves to share meals, recipes and be part of the fight against food waste.
The platform provides the ability for a user to share as well as donate food for the needy.
What Our Customer Says
Flutter agency has done an outstanding job developing a Medication Management app for United Medical Equipment. Flutter agency English language skills are better than mine and I have lived in the USA all my life! They have produced a final product that is exactly as specified in the project requirements documentation. They have shown patience and flexibility in building said requirements and conducting design reviews to be sure we had it right. It is obvious Flutter Agency put an emphasis on testing and quality control indicated by the low number of beta testing patches required. Flutter agency is a consummate professional and willing to share wise counsel based on their expert experiences. I am honored to give Flutter agency my highest recommendation for any level of mobile or web application and will be my #1 choice going forward.

Brock Bradshaw
Flutter Agency team is a very good developer team. They have a very broad knowledge. They understood exactly my concept and have helped to make it mature. They supported me all the way to production. You can see the final product in the App Store HipMeal.com. I will keep working with Flutter Agency in the future.
Said Zejjari
OUR YEARS OF EXPERTISE IN THIS INDUSTRY

5
Star Clutch Rating
3+
Years of Flutter Expertise
10+
Countries Served
25+
Projects Delivered
100%
Client Retention

30+
Employees
100000+
App Downloads
15+
Happy Clients
Frequently Asked Questions
These are a few questions that our clients frequently ask.
1. Why Flutter Agency is a great place to hire Flutter developers?
At Flutter Agency, we have a defined technical evaluation process to choose the best 5% talent available in the IT sector. After onboarding, Flutter Agency provides developers professional coaching, growth opportunities, and of course, an opportunity to work on challenging projects.
2. How do we offer agencies a great deal?
To achieve long-term success for the client, we at Flutter Agency ensure that you get the best match of your tech stacks, work schedule, and team dynamics.
3. Why do agencies choose our Flutter experts?
Our key clients are Silicon Valley startups, digital agencies, and software companies. We allow our clients to choose the best Flutter developer available and the flexibility to build their team.
4. How are Flutter Agency developers different from others?
At Flutter Agency, we assure our clients get talented developers at economical rates. There are a few other reasons that make our company outstanding.
Having a ready team infrastructure Ideal for startups and agencies.
You save tons of time recruiting each team member.
You are building a team that develops your product and takes care of it after going live. So you have the after delivery SLA (Service Level Agreement) challenge covered as you can continue with the same resources.
Having worked with 15+ startups and 7 agencies with Flutter development, our developers are well-versed in the entire product development process. So you can expect Performance-based delivery.
And, of course, cost-effective. Most of our successful product owners/ agency owners developed their product at 20%-30% of the onshore cost. These saving on development cost gives them leverage on using the saved funds on marketing their product/services.
Get a Free
Consultation Report
Our Global Clients