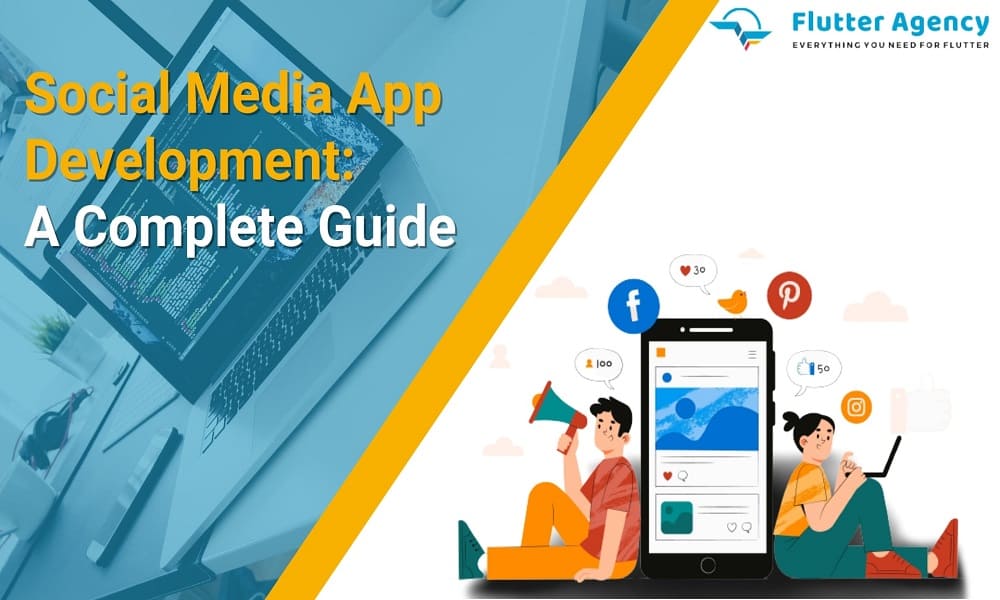 Social Media App Development: A Complete Guide
Nowadays, social media is becoming integral to everyone's life. It is bringing in touch with friends and family, and very rapidly, it has become the platform for businesses and brands to connect with a targeted audience. With its rapid growth n this platform, various social media trends have merged and evolved over the years. It is also helping the apps to build with the latest and advanced technologies. This guide will teach you about developing social media apps, features, benefits, steps, etc. Let's begin!
Social Media Application: Introduction
Social media application refers to all web-based technology that allows sharing and publishing ideas, thoughts, and data like text, audio, etc. It also enables users to interact with people socially and communicate with each other online. However, billions of users are using social media accounts worldwide. Some well-known apps are Facebook, Instagram, Twitter, and Snapchat. 
However, making a social media app is wise as you can profit considerably. Let's begin with the app development details from scratch.
Advantages of Social Media Apps
Let users connect and share files with images, messages, and videos. Let's see below some of the benefits of social networking apps, which are as follows:
1. Connectivity
Besides the location, social media apps help users interact with relatives, friends, and people with similar interests. Even though they are geographically separated, it helps the people retain ties and remain in touch.
2. Sharing
Users of social media apps have a place to express their feelings, ideas, and experiences. Through this, people can interact with individuals with the same interest and will define themselves constructively.
3. Access to data
Since users can post articles, movies, and other information relevant to their interests, social media apps are also significant sources of news and information. People may find keeping up with the latest trends and events more accessible.
4. Networking
Social media apps are helpful and valuable resources for networking and career advancement. Users can connect with other sectors of people via social media sites and can share expertise and knowledge.
5. Marketing
These applications are helpful tools for businesses to market and promote goods and services. With the help of these apps, companies may connect with a broader audience and interact personally with their potential clients.
Also, Read This Post:

E-Prescription App Development: Market Size, Advantages, and Process to Develop Mobile App
Features of Social Media App Development
Several key features are typically included in developing a social media app.
1. User Profiles
Users can share information about themselves, like their interests, contact details, and location, by developing their profiles.
2. Connections
An app user can add or follow other users as friends to build new connections. They can also see the updates from these connections in their news feed.
3. Posts and Activity Feed
Posts, including text, photographs, and videos, are created and shared by users. Hence, these posts are visible to other users in the feed.
4. Private Messaging
The messaging function found in social media programs enables users to communicate privately.
6. Notifications
Social media apps have in-app notifications, letting users know where there has been new action, like posts or messages.
7. Search
Most social media apps have a search function that lets the users look for other users or specific content.
8. Hashtags and tagging
Users can categorize and organize the content using hashtags and tags, making it simple for others to find and interact with people.
9. Customization and Personalization
Users tailor their profiles and settings on multiple social media platforms to suit their tastes.
10. Advertising
Various social networking apps include the advertising-based revenue model, enabling companies to target users with adverts dependent on their inserts and demographics.
11. Analytics and Insights
Social media apps also provide the functionality of analytics to the users so that they can monitor the success of their content and learn more about their audience.
Also, Read This Post:

Grocery Delivery App Development: A Complete Guide In 2023
Types of Social Media Platforms
1. Social Networking Apps
Social media networking app development allows you to connect with friends, family, customers, or colleagues. It can be for social, business purposes, or both. Users can create profiles and can add friends or followers. It helps them interact with various features like messages, comments, shares, and likes. Multiple privacy settings are also available to restrict or protect what you wish to share with a particular user or audience.
It lets you keep in touch with the essential people in your life. It also allows you to connect with others and promote your enterprise. It is considered a source of entertainment, with features like games, quizzes, and interactive content. Hence, it aids you in finding the most crucial career opportunities and connecting with people worldwide.
2. Microblogging Apps
It is seen that around 80% of people select to do reading an article that is under 1000 words. However, writing shorter blogs is helpful, and more people will likely be engaged. Microblogging is considered the more concise of blogging. It will take the appropriate and relevant data to add to the specific topic. The limit of the words depends on the platform in use, but in most cases, it doesn't extend beyond a couple of paragraphs. Hence, this app allows you to share your messages with an audience to improve engagement.
With this type of app, it is easier to communicate with the audience. It makes the text concise and helps the app connect with the audience. With the help of audio and video, you can elaborate things more clearly. It grants people to transfer their opinions and word about a specific topic. It is operated from anywhere and can surf on mobile devices. However, it shares updates quickly and easily without making long-form content. Hence, it is a reasonable opinion for timely updates.
3. Video-Sharing Apps
It is the kind of application that enables the sharing of videos. It refers to a program that records the videos and provides the menu option for sending the file. It supports file sharing via a local and cloud storage system. It has become the standard tool on the internet. Thus, videos become necessary for viewers to make an interactive online experience.
This type of app is very convenient to use for the audience. It allows users to share the video rather than share the location. It makes it easy for n user to share the items with family, friends, and loved ones. The apps can be beneficial for the reach of the video that is shared across the globe and make it more effective to share the videos with a targeted audience. Some apps also give users a platform to earn money by monetizing content.
4. Photo-Sharing Apps
Do you memorize the old cameras with a roll of film to capture all the snaps? It may take hours or days to get the pictures back. However, with the advancement of technology, it has become easy to get thousands of images at a time. Hence, the developers benign to create the custom app development for the social media platform from which you can share all your memories with your loved ones.
Most people share the pictures to view their experience and the moments they had felt with their loved ones, family, and friends in the specific period. It is a convenient way of sharing photographs with anyone. These apps also allow users to earn a decent amount by posting relevant pictures or images. They can create their gallery and slideshows and add multiple views with the appropriate copyright you want to put.
5. Instant Messaging Apps
It allows users to talk with others in real-time. It's possible with the help of audio, video messages, or text. It is accessed either from a PC or smartphone. These apps are created to be efficient for quick communication and user-friendly. Thus, these unique features make them different from the other platform.
With instant messaging apps, text messaging is a central beneficial part of this platform. You can send or receive messages in real time. Audio and video calls are also part of apps that you can do one-to-one or either in groups. Additionally, file sharing is the other valuable part of the apps, so you can share documents via the app whenever and wherever you wish. Hence, users can create many different groups to communicate with others.
6. Live Streaming Apps
Apps such as live streaming services let users transmit live video online. With these apps, users can broadcast live video to their targeted audience, frequently as a live stream or recorded video, which can be seen later. Hence, the apps for live streaming are well-known for their many uses, including music, news, politics, and many more.
Live streaming apps provide consumers with a quick and easy option to share video material with a broad audience in real time. In addition, it has interactive features which will make the viewing more remarkable for the viewers and give the content creators a way to make money. Hence, the live-streaming apps will democratize how video content is distributed by allowing a more extensive diversity of voices and viewpoints to listen to.
7. Social Online Community Forum Apps
These apps may have functions and sources for the activities such as social media. The apps for discussion forums are online platforms that help users to engage in online communication on distinct subjects. These apps also often allow users to post or reply to new topics.
Apps for discussion forums is the helpful resource for meeting others with the same interests and will participate in discussions on various subjects. In addition, it provides a platform where the user can post queries, view its solutions, and will receive comments from other users. Hence, users can also join in debates and interact with others online using the discussion forum apps, it is accessed from any device with an internet connection.
8. Social Event Planning Apps
These apps plan, organise and manage events, including conferences, meetings, parties, and other get-togethers. It can generate and send invitations, manage RSVPs, schedule conferences, and will keep track of guests with just only a few of the functions that these apps may offer. 
Social event planning apps are helpful and valuable for people and organizations who wish to organize and manage events efficiently. These apps help users save time and resources by automating procedures like invitation management and scheduling. It provides insights and analytics to support evaluation and planning. Hence, any device with an Internet connection may use event planning apps, a practical method for individuals and enterprises to organize and manage events efficiently. 
9. Social Marketplace Apps
Socal marketplaces enable users to purchase and sell online goods, services, and digital assets (NFTs). These apps deliver users a platform to find and browse other users' listings and market and advertise their goods and services. Due to its ease, the vast range of goods and services, comparison of prices, and anti-fraud security features are helpful for social marketplace apps.
Enterprises and individuals wish to efficiently market their goods and services online and reach a vast audience that may find internet marketing apps useful. A tool for activities like social media marketing, email marketing, search engine optimization, and content marketing is included in these apps. Hence, it assists companies and enhances the people's efficiency of marketing initiatives, which saves time and money and will remain competitive in a digital environment.
10. Audio Social Apps
Audio social apps point to social media services that let users connect and share data using an audio file, such as voice memos or podcasts. These apps frequently include capabilities and join the audio rooms or channels, listen to and share audio content, and engage in audio comments or discussions with others. 
Users of audio and social media apps have th easy and entertaining way to interact with each other and share information through audio material. Users who prefer audio content over different media types may find reading or viewing helpful visual content challenging. Hence, the users may feel uncomfortable creating or sharing the graphic material and see audio and social apps as easier to use and more accessible.
Also, Read This Post:

5G Technology: The Future Of Mobile App Development
Social Networking App Market Size & Share
The global social networking app market was valued at USD 49.09 billion in 2022 and is expected to grow at a CAGR of 26.2% from 2023 to 2030. There is also a rising demand for 5G technology across the globe. Accepting personalized feed-based apps in Europe is expected to expand firm growth. Moreover, the growing demand for encrypted and self-destructive messaging-based social media apps is refueling the expansion of the enterprise. Soaring demand for video chat services is supplementing industry growth. Moreover, ease of access to in-app purchases is based on social networking apps bolstering the adoption of these apps globally. Hence, data security concerns may cause a hindrance to an industry's growth.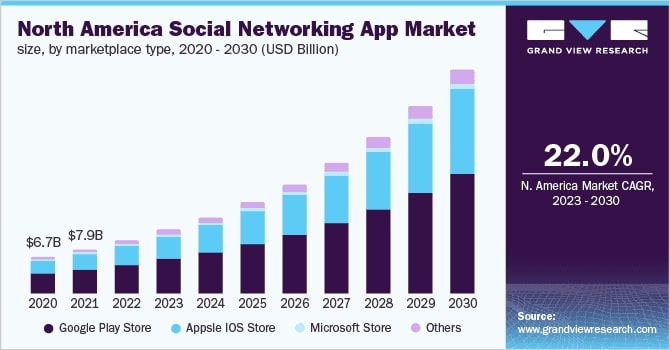 Steps to Create Social Media App
While creating social media app development, you have to take care of essential things which are vital parts of the mobile app development process. Below are the steps:
Step 1: Targeted audience and Purpose
The first step is to define an app's audience, which must concentrate on objectives. It is essential to analyze the process of what the app will do and who will use it. And what is intent? It will help you have the correct data and a clear audience understanding. Hence, it builds the apps as per the requirement.
Step 2: Consult App Development Company
You want to focus on intent when you know your app objective and target audience. The most vital thing is to consult the best mobile app development company for a different process. It helps you process the app well, and it can also assist you in selecting the platforms and the further needed methods. Still, if you need any help, we at Flutter agency will assist you in building perfect social media apps for your business.
Step 3: Select Platform
There are multiple options available to learn how to create social media apps. It has native development, which means the platform has an inevitable tool for users like iOS, Xcode, or Android Studio. Cross-platform development makes use of different tools like React Native or Flutter. Hence, you need to take care of the target audience complexity of your app when you have decided on the platform of your development.
Step 4: Build a Minimal Viable Product
It is the most basic version of your application, which includes the essential features. With the Flutter MVP development, you can test your app with a small group of people to take all feedback, and they have the opportunity to resolve the problem. It aids in the minimum investment of time and money and will improve it before deploying the service in the market. Hence, with this, you can also add extra features if needed.
Step 5: Launch Your Application
Once you have completed all the processes, launching the application publicly is time. It also involves submitting an app to an app store, promoting an application to users, and creating marketing materials. Hence, this phase occurs only after completing the steps to introduce the market for profit.
Step 6: Analysis
The process continued after launching the app to the public. You have to take care of the latest app development trends in the market which is going on. It is necessary to monitor activity constantly and take regular user feedback. It helps in making updates and improvements as needed. Hence, it ensures that it will continuously meet the users' needs.
Also, Read This Post:

Social Media Authentication For Android In Flutter
Conclusion
The market of social media apps continues to b lucrative and is appealing to businesses despite its vast competition. Hence, due to the constant emergence of new trends and markets, a market of social media apps is exploring day by day.
Flutter agency is the leading flutter app development company in the USA. We have expertise in mobile app development services with a vision to develop engaging and scalable mobile apps that fulfil all the requirements of your business purpose. Hence, our development team will bring your social networking sites with unique and intuitive features. Feel free to contact us for your next mobile app development project!
Frequently Asked Questions (FAQs)
1. How will free apps make money?
Different means monetizing free apps with advertising, in-app purchases, sponsorship, and affiliate marketing.
2. What makes a successful social media platform?
The audience is an essential factor when selecting a social media platform. Nothing is considered rather than that, not even the size of an app, if your app is inactive on the channel. 
3. What is the Purpose of social media apps?
Social media allows users to communicate, share data, and make web content. Many forms of social media have blogs, social networking sites, photo-sharing sites, etc.
4. What is the goal of social media marketing?
The marketing objective for social medi platforms is customer engagement, generating more revenue, improvise customer experience, and positioning the own company as a leader in the market.
Create your social media app