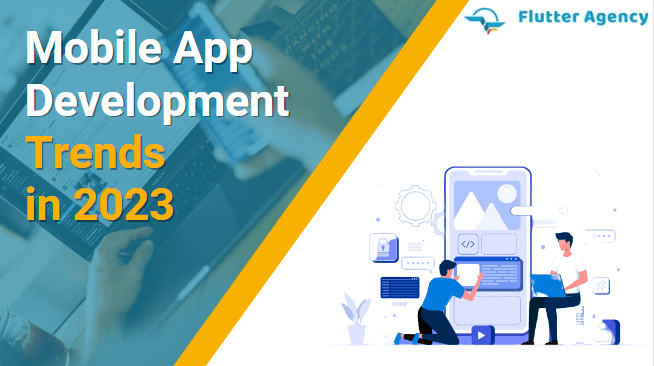 Mobile App Development Trends in 2023
What are the latest mobile app development trends? Who will be mainstream in the mobile app in 2023? What is the upcoming mobile app development? There are so many questions in your mind. Let's find out all the questions answered in this article and clear all the confusion.
Mobile applications and devices are developing rapidly, and everyone is working on their applications to make them user-friendly. Nowadays, more and more businesses are going to digital places every day, and it is essential to keep up with the latest trends to grow in the market.
By the end of 2022, mobile apps will take the space of websites, and in the coming time, every business will inevitably have its app.
Mobile devices are increasing as technology is improving daily, and apps play a big part in it. More and more people are using mobile apps, and the average user spends around 90% of the time on the apps. It will regularly bring changes in user experience, and many app developers are working on the improvements.
According to the comprehensive research report by Market Research Future, "Mobile app development market, by platform, by application- Forecast 2030", the market will reach approximately USD 366.34 billion by the end of 2030. It has a robust CAGR of over 23.80% during an assessment timeframe.
This article will help you to know about the latest mobile app development trends in the future. Hence, COVID-19 has given a positive kick to mobile apps and is not shown to be slowing down.
Features of Mobile App Development
Mobile application features are helpful, intuitive and fun, while some are boring, frustrating and redundant. However, innovative features and impeccable design elements will separate the best from the rest by considering the number of mobile applications in the store.
Let's see some of the mobile application features that set an app apart from others.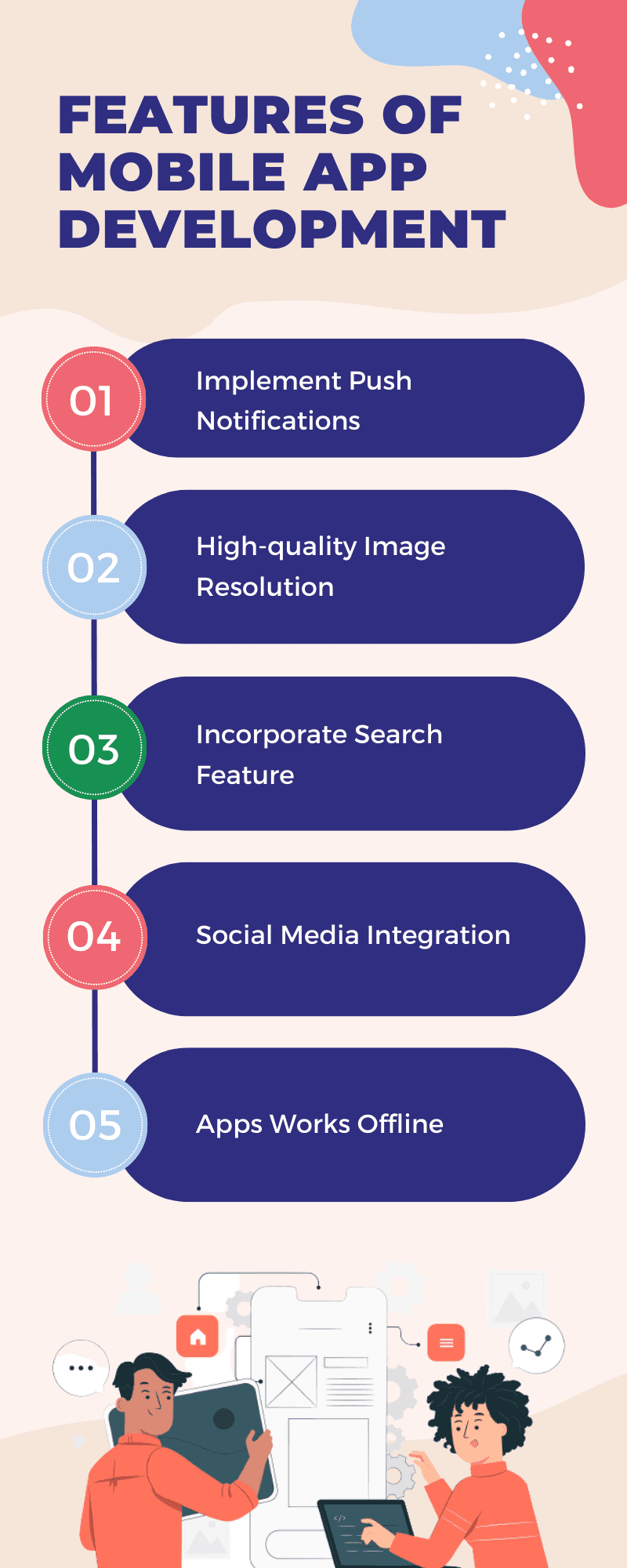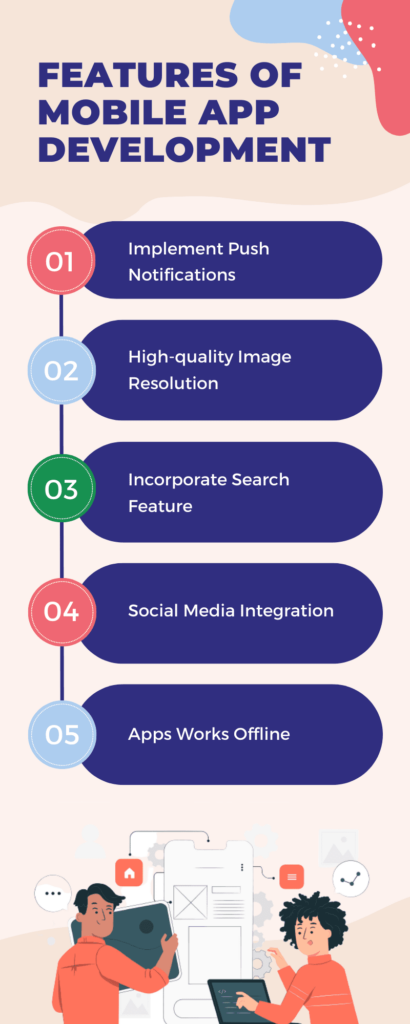 1. Implement push notifications
Notification is better and more effective in comparison to emails. By integrating the push notifications in your app, you can directly connect with your audience and provide them with what they want to view in your app. It can send push notifications, in text or graphics or a combo of both, whatever a user prefers. The best part is that a push notification is highly tailored for the user. For instance, if your app caters to the food industry, you can send push notifications by combining elements of a user's favourite food products.
2. High-quality Image resolution
The app must run faster; your app must have a quality image resolution. If your app fails to have the standard image resolution, it may demotivate users not to use it for the services. So you should always pay attention to high-quality image resolution.
3. Incorporate a Search Feature
Incorporating the advanced search feature for mobile app users help them to find the content which they require. It has a significant impact if your app has a vast content database; it will quickly become cumbersome for users to access easily. A top-tier application allows users to search for relevant content with the help of key phrases and keywords. This search feature will make app content accessible to all types of users.
4. Social Media Integration
Many apps now include social media implementation because users can collaborate and communicate with others. However, app owners reap the benefit of having social media on their apps since more users sharing their stuff will, in turn, positively impact its reach and growth. 
5. Apps work offline
Give the mobile app the ability to work even without an intent connection. One needs to address a problem by involving data security while doing so. Also, one does not want any sensitive data to remain on mobile devices; however, some work is possible offline. It is entirely up to the developers and engineers to store the data and the functionality depending on the app's purpose and requirements.
Top mobile app development trends for 2023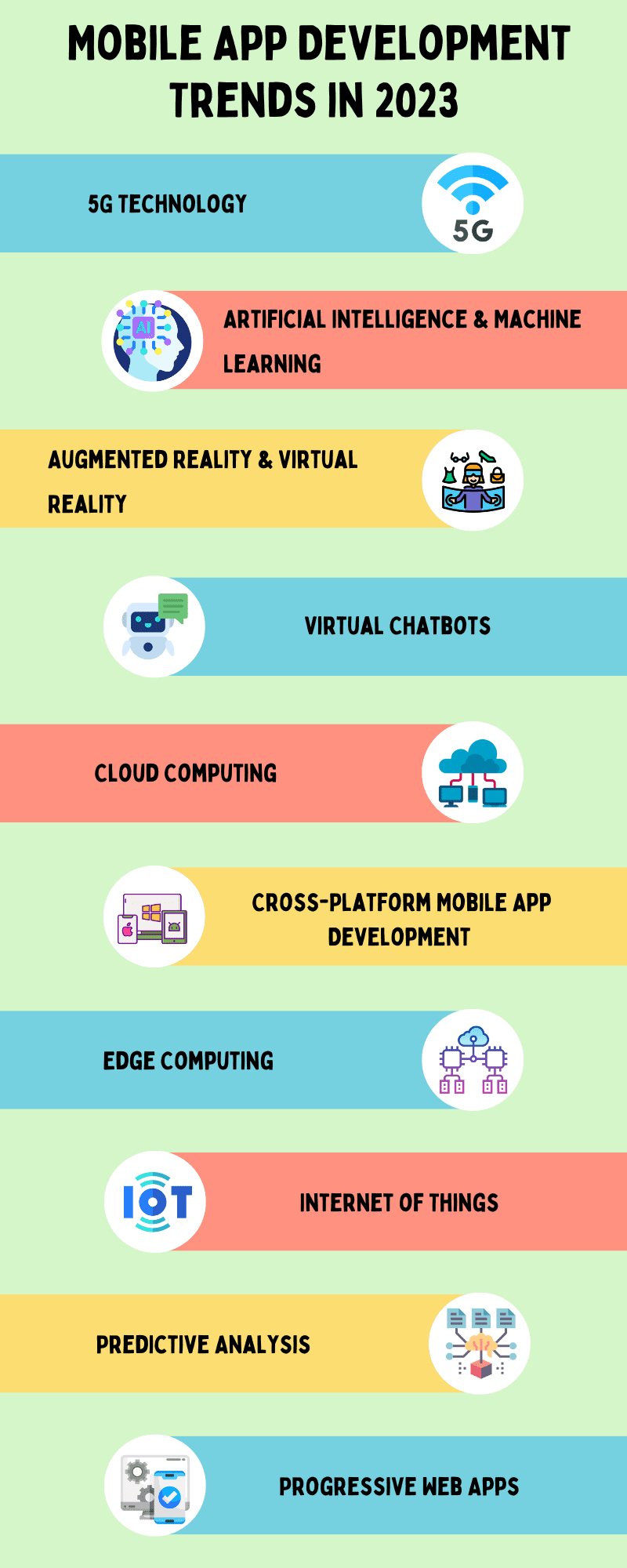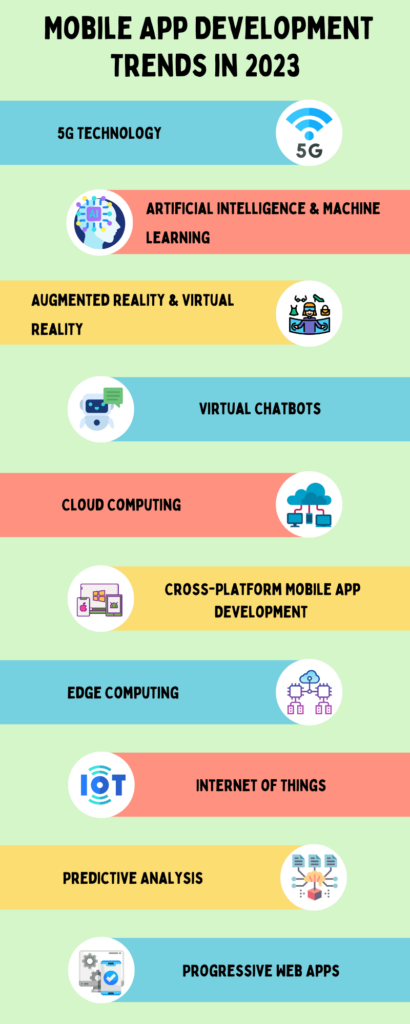 1. 5G
The fourth industrial revolution has begun with the arrival of 5G. Compared to the fourth and fifth generations of cellular networks, a fifth generation will boost speed and reliability as this network speed is up to 10 times faster and has latencies which are 50% lower, as it enables self-driving cars, IoT, and other applications. However, future apps will use these capabilities to accomplish the tasks as we have yet to learn feasible ones.
Moreover, 5G the future of mobile app development has a high radio frequency and shorter wavelengths, and mobile apps will perform more precisely in geofencing and geotargeting. It will optimize the mobile streaming and the app functionality by permitting Android app developers to add extra features without affecting any performance of the app.
2. AI and ML
The time needed to create an app could be considerably deducted with the help of Machine Learning (ML). However, AI and ML will streamline the process of mobile app development and minimize the human mistakes that human programmers could have missed. However, many mobile apps personalize particular aspects of a consumer order while having AI components like Chatbots.
Therefore, industries like healthcare and retail will see an increase in AI-powered apps over the next ten years.
3. AR/VR
In 2020, the Pandemic will impact various industries with manufacturing and AR/VR technologies. Many manufacturing firms have started to use augmented reality and virtual reality to make apps which are virtual production lines with their workers. Hence, many manufacturing companies observe that their productivity has grown and operational costs have decreased.
However, service providers and sales representatives will now interact personally with their consumers, which becomes possible because of the AR/VR apps. It has enhanced learning opportunities by making an EdTech app that is more exciting and engaging in the upcoming years.
4. Chatbots
Thanks to the Chatbots! Users can respond now 24/7. Chatbots are widely used in the enterprise and necessary for Android and iOS app development. The apps for chatbot are the ways to replace customer service because it offers quick client responses. Chatbots have become more efficient because of AI, ML and Natural language processing (NLP) developments.
And utilizing tools like semantic analysis, semantic search, and facial and voice recognition, communication with them has become more natural.
5. Cloud computing
It is one of the best technologies incorporated in custom mobile application development as there is no longer a need to develop apps for multiple platforms and bright devices. An app that uses cloud computing solutions may run via a web browser and work flawlessly on several platforms. The information didn't take up any extra space on the smartphone. It is kept on the server and accessible over an internet connection.
Also Read:

The Role Of Cloud Computing In The Healthcare Industry
A user can utilize that mobile space for other purposes, which becomes possible because of cloud-based apps. The smooth and flawless operation of cloud-dependent will boost the app speed and guarantee constant usage of apps on the central server. The possibility of data loss due to an app crash is very uncommon as a server runs the apps.
6. Cross-Platform Mobile App Development
The development of cross-platform apps is constantly evolving. An enterprise will build and deliver the app across the many platforms, including Webb, and utilizes the cross-platform development method. Hence, it is possible to target both platforms by developing a single app with a single codebase. It will help you to boost the speed of development. They are entirely compatible and can benefit from various plugins connected to the cloud setups.
7. Edge Computing
The cloud has evolved into edge computing. As the cloud is highly centralized, latency has become an excellent issue for technologies which offer 5G. Edge computing is one of the amazing and superb ways to deliver on those demands. Whenever edge computing is used hugely, your device joins the cloud, which will ease some latency problems.
8. IoT
The Internet of Things (IoT) is an excellent trend in mobile application development and has made a lot of potential for developers and users over the past few years. It supports communication and interaction at all levels. IoT technology with internet facilities is in every device. It is helpful in various industries like e-commerce, hospital, Retail, Finance and more.
An information interchange between the devices gives a positive user experience, and the IoT has significantly influenced app development. It increases visibility from data sharing, which has been the outcome that will dramatically raise the caliber of mobile apps in the present age.
9. Predictive Analytics
Retailers use predictive analytics to customize their products for every consumer. It can predict future events using data and techniques like statistics, data mining and machine learning. And developers can make the decisions that will make their mobile apps popular with users by eliminating or adding the features.
For example, predictive analysis can also be utilized in areas other than retail to fight against a coronavirus threat. To identify which patient is most likely to become infected with a virus developed in several cases. Medical experts and organizations are looking into the potential of predictive analysis.
10. Progressive Web Apps
The other mobile app innovation anticipated to gain traction in the upcoming years is the progressive web app (PWA). These apps will act as the interface for native mobile apps and web pages. It did not have much space, needed less loading time, and was minimally reliant on the network. It will support businesses to achieve their objective at a meager cost, even though they are new in the mobile app development market.
Progressive web apps are more accessible and efficiently designed than regular apps and are versatile, automatically updated and interactive.
Conclusion
Mobile apps are rising, and global enterprises strive to provide a consumer user experience using smartphones. In the coming years, the trends in mobile app development will improve business strategies and guarantee tremendous growth. Enterprises are willing to significantly impact the tech-driven world to get support from leading app development companies. Moreover, Flutter Agency give app consulting services to business owners to make them more powerful to stand out from their competitors. Contact us today to make an impact with your mobile app.
Frequently Asked Questions (FAQs)
1. Is there a future in app development?
The app of existing technologies and the development of the latest technologies will constantly foster the growth of the mobile app development industry. The motivation of the developers is to get on to the action.
2. Which is the most critical process in mobile app development?
Backend development is vital in the whole development phase of your project. The more robust your backend is, the more powerful and great your app will be. The app's backend is designed and developed to support scalability and efficiently manage the app even after an app is launched in the market.
3. What makes your app more powerful?
A good app is a combination of user and business-centric elements. For a user, it will build value and deliver a delightful experience and excellent user performance. Whereas for businesses, it encourages user retention and generates revenue.
Build Your Own Custom Mobile App
More Resources: