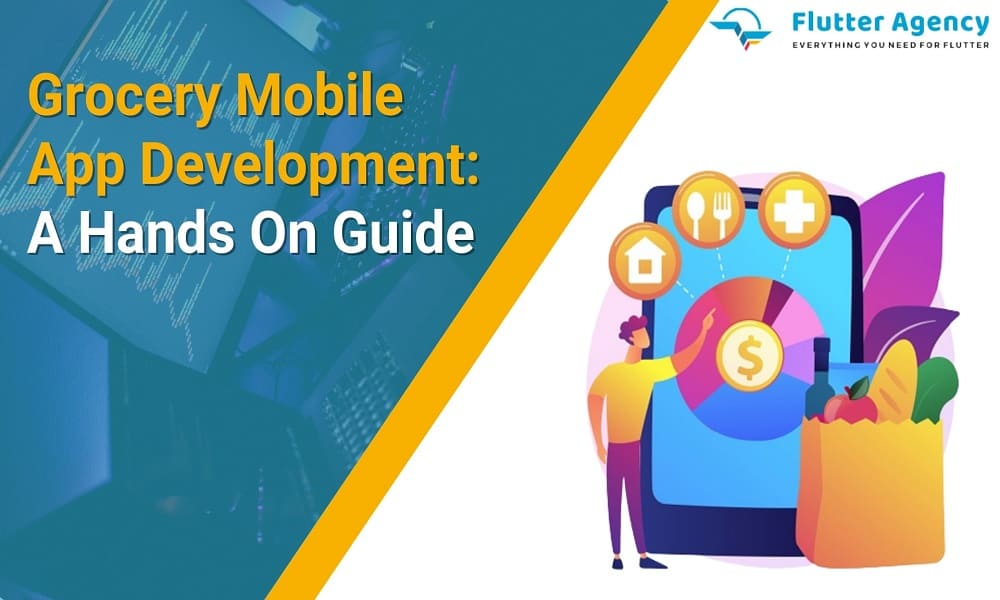 Grocery Delivery App Development: A Complete Guide In 2023
Nowadays, many grocery stores have opened up online delivery services. It is a great idea for customers and businesses, particularly when people always look for methods to save time and money!
This post will define the advantages of creating an on-demand grocery mobile application, its types, features associated with your grocery app development, and much more.
What is a Grocery Delivery App?
A grocery delivery app is a mobile application that permits users to order grocery items. It will deliver them at home or office as this is the online platform for retailers to get more business by getting the services in the comfort of your customer's home or at work.
It will save people time and money as they no longer have to travel into the town or order takeaways! This service is useful when you live in remote areas as they give little variety in grocery shopping options.
Why Develop a Grocery Delivery App in 2023?
Let's see some reasons for creating the Grocery delivery app below.
1. Join the Fast Growing Niche
The demand and need for grocery delivery are constantly growing daily, increasing the global online grocery market. According to the study, Grand View Research forecasts it will rise from $354 billion in 2022 to more than $2 trillion in 2030, which is about 25% annual growth. It can also enter the fast-evolving industry and get a profit from it.
2. Drive Innovation in Grocery Shopping
Grocery shopping is an innovation in the usual shopping procedure by introducing grocery delivery app development. It will improve the customer experience, allowing the customers to order all the essential goods simply through the smartphone application.
3. Create a stronger relationship between the customers
As you are the grocery store owner, supermarket chain manager, service provider, etc. It would be best if you created trust with your customers. McKinsey states that personal relationships are one of the aspects contributing to the profitability of your enterprise.
On-demand grocery delivery app development will create a strong customer connection. It personalizes the experience by conducting analytics and will come up with relevant recommendations.
Advantages of Creating an Online Grocery Shopping Application
1. Optimize Resources
With the help of technology, you can optimize resources in the changing business landscape. You can enhance operational capabilities with the implemented software for inventory management, customer relationship management (CRM), web design, etc. It will increase profits and reduce costs by streamlining the procedure within your organization.
It permits the enterprises to concentrate on core activities with complete control over the non-core functions like payroll, data capture, analysis, etc.
2. Uplift Your Business
The growth of the business is the priority as it aids you in reaching more customers. With the help of an app, your business can deliver the goods directly to your homes, making shopping easy and convenient for customers. Clients can also place orders on their mobile gadgets while doing something else.
3. Economical Approach
A grocery delivery app is economical as it saves costs through an optimized resource that streamlines procedures within your organization. However, it eliminates the person's time gathering the information manually from various sources such as tax filing, bank statements, etc. Hence, it requires hiring additional staff members responsible for the task rather than focusing on the major activities which add value to the organization's growth strategy.
4. 24/7 Availability
The grocery delivery app is accessible 24*7 for users, as it can easily order their groceries anywhere and at any time. It ensures that your user does not have to worry about going out of the milk or bread before you come from work, as they know they will order it with a single click without going via various stores that search for those items.
5. Collect Your User Reviews
The other benefit of developing a mobile app that provides grocery delivery services is that it gathers all user reviews about an experience. You will be able to improve on whatever might require improvement and make the changes to meet the requirements of every client.
It also makes life easier for them as they do not have to go via different stores to collect information about your products; rather than coming directly from your customers, it saves time and energy for both parties involved in the delivery app development.
6. Inventory Management
With the grocery delivery app, you can track where all your goods are located in real-time. In this way, if things ever go missing or get misplaced, you have a clear idea of what needs to be done, and it acts accordingly without delay.
Types of Grocery Delivery Apps
Let's see some of the kinds of Grocery Delivery Apps below: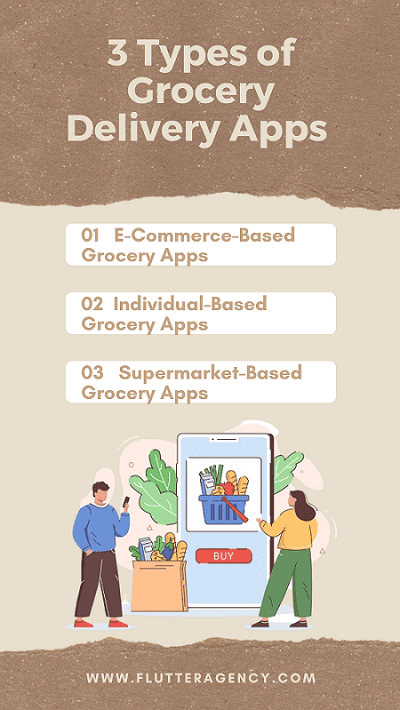 1. E-Commerce-Based Grocery Apps
The e Commerce-based grocery app is where a user can search for products from the third-party application. For instance, Amazon Fresh allows users to shop for their groceries online and deliver them at home or work.
2. Individual-Based Grocery Apps
Individual-based grocery apps permit consumers to order directly from the retailers as it is opposed to the various eCommerce platforms. However, these mobile apps include brands like Walmart's To Go service and Target CartWheel Delivery.
3. Supermarket-Based Grocery apps
This type of grocery app will help them make deliveries directly from the stores within the specific retail group rather than using the outside website. 
Also, Read This Post:

Top 10 On-Demand App ideas for Startups in 2022
Features of Consumer in Grocery Delivery App
Profile of Users
Login and registration is the first step for a user to interact with the application. For seamless registration, login with an email account or social credentials will aid the user in saving time.
Product List
Select the specific product from any categories of food and grocery products listed with a brief description.
Schedule Delivery
The scheduled delivery permits you to select a particular time from the calendar for receiving the orders and deliveries at a user's convenience.
Track Order
It will inform a consumer of the order by delivering the order tracking details from time to time via push notifications or SMS.
Order Management
A customer glances at their order history, and if there is any convenience, they can cancel an order at any time.
Multiple Payment Methods
Multiple payment options will allow a customer to select from the various payment options conveniently.
Offer Zone
Offer Zone displays all offers and the discount details so that customers can prevail in the offer by opting in or entering the code while shopping.
Rating and Feedback
It consists of all the relevant feedback and rating users give about their shopping experience.
Features of Admin in Grocery Delivery App
Dashboard
The dashboard allows management to track all order-related activities that make the grocery business run smoothly without hassle.
Manage store
Handle several store chains and manage the number of orders and consumers residing in one place.
Assign Managers
It permits adding managers to the particular area for efficiently delivering the items. Hence, it will look up all the activities related to an order to enhance the customer experience.
Assign Orders
Managers can assign new orders to grocery stores and ensure that all orders are executed fluently.
Manage customers
This action permits grocery business owners to coordinate with all their customers.
Manage Payments
It manages all the payments and transaction-related operations transparently.
Features of Delivery Panel in Grocery Delivery App
Delivery Request Notification
It will notify the request for deliveries made along with the order number and associated delivery details.
Accept or Reject Delivery Request
It permits the delivery agent to accept or cancel requests if the user's location is far away and delivery exceeds the time limit.
Track Customer Location On Map
Delivery agents can check the client's location to see the best route with minimum traffic to make the deliveries within the estimated time.
In-app Chat/Calling
Delivery agents can communicate within the app to fix delivery times and know the correct route and destinations.
Get Delivery Confirmation
It permits the delivery agent to update the status of committed delivery to get the delivery confirmation from users and stores.
Process Of Grocery Delivery Application Development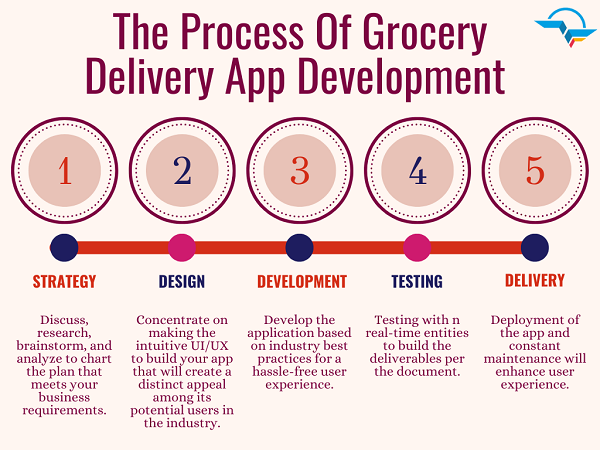 Best Grocery Delivery Apps in the USA
1. Walmart
Walmart is an American-based multinational online retailer. In terms of grocery delivery services, it is well known in this industry for reliable, easier, faster, safe, and secure deliveries. Users can place orders for groceries, household essentials, and millions of other products from their favourite and leading brands from the comfort of their places.
2. Kroger
Kroger is the best online grocery delivery app in the USA, which is present for Android and iOS. It gives consumers coupons, deals, offers, and discounts and optimizes its ranking in the USA online delivery industry. Fresh vegetables, baby care products, household essentials, and more are delivered via this app. This app allows users to shop offline or online and opt for pickup goods or door delivery.
3. Instacart
Instant is a famous grocery delivery on-demand app that operates across USA and Canada locations. This leading online retailer has partnered with around 600 supermarkets and other retailers to provide smooth services to its audience.
It is best for ordering fresh food, groceries, beverages, alcohol, and many more items online from favorite stores and getting all the products at the doorsteps in just a few hours. The best feature of this app is that it gives same-day delivery or pickup of fresh or preservatives at flexible prices.
Also, Read This Post:

Food Delivery App in Flutter
Conclusion
A Grocery Delivery App is worth it as it saves time and money if you are planning to enter the food business. It will provide convenience for your consumers and attract loyal shoppers. As a leading Custom application development company, we ensure that our app development services are completely reliable and flexible for any business. If you need more information or assistance in developing your food delivery app, then get in touch with us today. Our experienced project managers will discuss your requirements and will be happy to provide a quote for your app development.
Frequently Asked Questions (FAQs)
1. What is a grocery delivery app?
Grocery delivery apps allow users to choose and order groceries directly through an application. Many grocery delivery apps are subscription services, meaning a user pays it annually or monthly in addition to the price of groceries. Customers also have the option to give a tip to delivery drivers.
2. What is the objective of the grocery delivery application?
This business aims to ensure that a product is delivered to the consumers on time as time does matter in this business, as competitors are all set to serve the potential customers and will turn them into their potential customers.
3. How will grocery delivery make money?
Grocery delivery apps will make money via revenue sharing, delivery fees, premium subscription fees, and in-app purchasing.
Build Your Own Grocery App