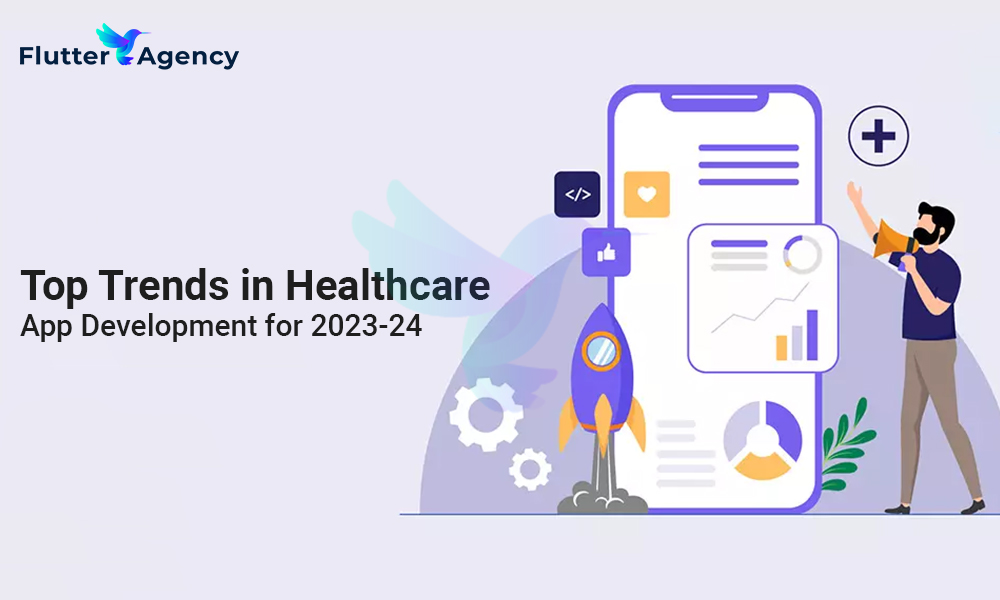 Healthcare App Development Trends in 2023-24
The healthcare sector has witnessed significant technical and infrastructural developments as clients prioritize their health. As the COVID-19 outbreak pointed out, despite these developments, there are still difficulties in providing adequate care to all healthcare users. Since the outbreak, there has been significant progress in healthcare systems globally toward implementing digital technologies to solve these difficulties. The development of mobile apps for the healthcare sector continues to be crucial to the industry's revolution in 2023. These applications cover various healthcare requirements, like scheduling medical appointments, keeping tabs on patients' states, detecting diseases, and providing remote medical care.
Like other businesses, the healthcare sector is continuously evolving as a result of technological advancements. Patients and healthcare facilities have benefited from these advances. Notably, mobile apps have made sharing their symptoms easier, enabling doctors to diagnose patients remotely.
Healthcare app developers must stay updated with the advancements in mobile healthcare app development in 2023. To succeed in this rapidly growing market, it's critical to collaborate with the top healthcare app development company to provide innovative healthcare app development services that cater to the changing demands of the healthcare sector and its tech-savvy audience.
Healthcare Market Statistics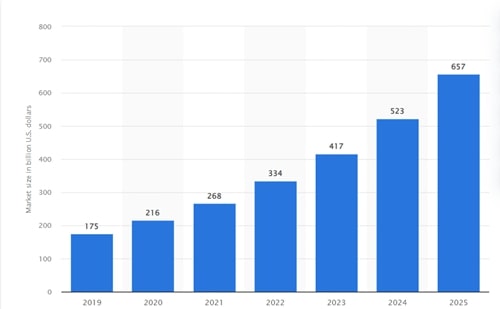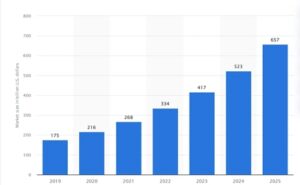 According to the Statista Research Department, an estimated 175 billion dollars were spent on the worldwide digital health sector in 2019. By 2025, the digital health market is projected to grow at a compound annual growth rate (CAGR) of about 25%, or close to 660 billion dollars.
Overview of Healthcare App
A mobile-friendly application tailored for smartphones; a healthcare app is created via medical mobile app development. These apps are intended to fulfill various healthcare reasons; these applications are an integral part of Healthcare Mobility Solutions. They improve patient engagement and accessibility by simplifying appointments and monitoring health issues. Moreover, healthcare applications use the ease of mobile technology to support fitness objectives and provide important health information, all while improving overall health.
The Top 10 Trends in Healthcare Application Development in 2023-24
As people become more tech-savvy, they are searching for speedy, secure, and practical services. The best healthcare apps address the user's immediate and relevant issues. The following are the top 10 tech trends in healthcare app development for businesses:
1. Machine learning (ML) and Artificial Intelligence (AI)
The introduction of AI and ML technology has drastically changed our knowledge of how modern healthcare is delivered. These incredible developments allow computers to learn, think, and behave like people, opening up a world of clinical and operational jobs for them to perform in healthcare.
Several essential factors encourage the use of mobile app solutions based on ML and AI in the healthcare industry, including healthcare web apps. These include the pressing need to reduce healthcare costs, the complexity of healthcare datasets, and the growing demand for improved healthcare services due to the imbalance between the number of patients and the available medical staff.
2. Internet of Things (IoT)
Monitoring patient medical records and tracking medical equipment in real-time are made possible significantly by the Internet of Things (IoT). Doctors can constantly obtain health-related information about their patients by using Internet of Things devices.
Healthcare development with IoT sensors helps with proactive maintenance scheduling, ensuring timely and effective servicing to avoid unplanned equipment failures. IoT-based healthcare apps can substantially enhance patient outcomes and the system's effectiveness.
3. Remote Patient Monitoring (RPM)
Getting patient data requires utilizing RPM apps outside of clinical settings. Patients track their daily health parameters, and the data is automatically added to a comprehensive database. RPM-based mobile apps are beneficial for patients who have trouble reaching the hospital regularly. The development of healthcare applications is helpful in this scenario.
A pertinent medical professional or healthcare provider can then review the information supplied to the RPM applications. Amazingly, they can accomplish this without face-to-face interactions because they can remotely access and assess patient data.
4. Wearable Devices
Wearable technology has grown in popularity in the last several years. These days, wearable technology affects every aspect of our lives—from FitBits made for athletes to Apple smartwatches. Numerous healthcare applications exist for wearable gadgets, including cutting-edge ones like diabetes monitoring equipment and wearable ECG monitors.
Healthcare providers now have more possibilities to develop medical apps with device connections due to the quick adoption of wearable technologies. These devices then gather vital information, such as blood pressure, heart rate, blood sugar level, and more, to help physicians better understand the health of their patients.
5. VR/AR
The main benefits of VR and AR in healthcare mobile apps are enhancing practitioners' workflows through virtual settings and enabling patients to receive appropriate medical advice even in a virtual setting. It has been observed that patients recover from trauma more rapidly and efficiently in virtual reality environments. However, AR and VR technologies can help surgeons to operate more precisely during surgery.
6. Chatbot
Healthcare-specific chatbot use cases exist and have the potential to completely transform healthcare services by enhancing their responsiveness, personalization, and intuitiveness. Chatbots in healthcare have already raised the expectations for customer care and support. Healthcare organizations can use similar concepts to use chatbots in mobile apps to provide immediate, customized healthcare services.
7. Patient-Generated Health Data (PGHD)
Today's healthcare app developers have included features that ask users to enter their medical information, which usually includes their medical history, current symptoms, and other health-related details. Patients can use Patient-Generated Health Data (PGHD) to fill in any gaps in their medical records. These expert healthcare programmers use these medical records to create healthcare software that uses them to create a complete representation of the patient's health.
8. Telemedicine
With the implementation of telemedicine, medical app development has been significant in transforming the medical sector. This development is gaining speed as mobile apps make contactless medical procedures more accessible, significantly improving the handling of incidents like the COVID-19 pandemic for healthcare providers.
9. Cloud Computing
Data collection and maintenance are essential components of medical care. Healthcare professionals sometimes need help handling large amounts of data, especially during pandemics, epidemics, or endemics when there is a sudden increase in patient data across several facilities and occasionally various geographic areas.
Simplifying access to patient records, insurance policies, medical bills, and other crucial data requires the integration of cloud-based mobile apps with electronic medical records (EMR) and electronic health records (EHR). The development of healthcare mobile apps enables this connection, simplifying managing data and guaranteeing effective healthcare operations even in the face of formerly uncommon healthcare issues.
10. Big Data
The healthcare industry produces large amounts of data, and big data is essential to Electronic Health Records (EHRs). This includes crucial patient data for all-encompassing treatment, like demographics, progress notes, and medication histories.
Big data analytics services are essential to public health since they make it possible to recognize trends and prevent potential health emergencies. For example, data mining in healthcare uses the information from many cancer patients to ultimately fight the disease. As a result of this process, research approaches are evolved, new insights are fostered, and the fight against cancer advances.
Conclusion
Healthcare mobile apps are the new standard in today's quickly changing healthcare environment, reinventing patient-physician communication and improving overall effectiveness. These cutting-edge technologies enable people to take control of their health and well-being and allow smooth interactions with medical professionals. Focusing on affordable healthcare mobile app solutions, Flutter Agency is a well-known healthcare app development company in the USA and one of the industry leaders in this innovative path. Our team of passionate healthcare app developers are dedicated to creating top-notch apps that initially prioritize security, data accuracy, and user experience.
Frequently Asked Questions (FAQs)
1. What trends are emerging in the development of healthcare apps?
The top mobile app development advances that will improve healthcare include cloud computing, wearables and IoT, patient-generated health data (PGHD), Big Data, augmented and virtual reality (AR/VR), telemedicine apps, and artificial intelligence (AI).
2. What is app development for healthcare?
Developing a smartphone app focusing on wellness and healthcare is known as healthcare app development. These may point individuals toward their well-being goals or assist them in better managing their illness.
3. What is the healthcare app's scope?
For improved patient monitoring, medical data and healthcare information are easily accessible through a mobile app platform. Patients can now exchange their health information and symptom reports with their healthcare providers and receive news and information about healthcare at home or on the go.