Complete Flutter Project Solutions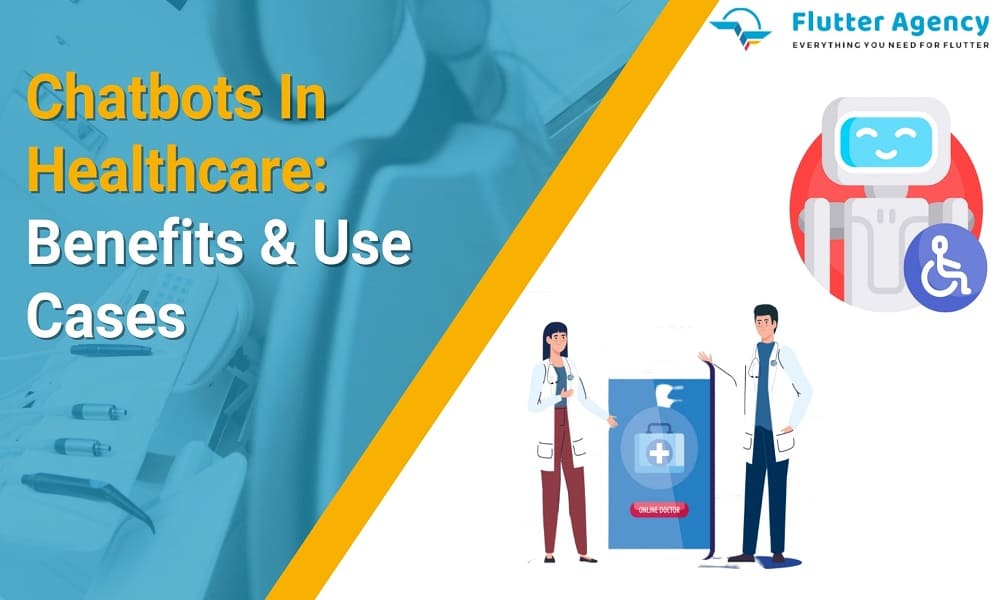 Chatbots In Healthcare: Benefits & Use Cases
The healthcare sector has been trying to improve digital healthcare services to serve their valuable patients during a health crisis or epidemic. Healthcare providers are relying on conversational artificial intelligence (AI) to serve patients 24/7, which is a game-changer for this industry.
Therefore, developing chatbots in the process of healthcare mobile application development provides more precise and accurate data and a great experience for its patients.
An AI-enabled chatbot is a reliable alternative for patients who are looking to understand the cause of their symptoms. On the other hand, bots aid healthcare experts to reduce caseloads, and because of this, the number of healthcare chatbots is increasing day by day.
How Chatbots Work in the Healthcare Sector?
Healthcare Chatbots are conversationalists which run on the algorithms of machine learning that exist under artificial intelligence. However, carrying out interactions, they also do repetitive tasks like giving solutions, sending emails, analyzing the results, etc.
Chatbots in the healthcare industry automate all repetitive and lower-level tasks that a representative will do. The Chatbot also permits people to handle autonomous tasks, healthcare expertise is empowered to concentrate on complicated tasks and will take care of them more efficiently.
Now the patient does not have to wait in queue for an hour and it saves time. As this chatbot provides accurate information instantly. Hence, the chatbot fits all the requirements of modern healthcare!
Benefits Of Chatbots in Healthcare
Now businesses have got a complete idea of what a chatbot is and its importance in their organization. Healthcare chatbot help to automate all repetitive and low-level tasks of the medical representatives.
However, these bots will simply handle the tasks seamlessly and will focus on the complicated tasks efficiently. Here are some of the advantages of chatbots in the healthcare industry:
1. Chatbots Keep Patients Updated
A chatbot is advantageous for patients as they will send messages or emails that are related to operation dates, schedules and appointments. They will send automated reminders to take the medicines, suggest patients with tips to maintain their health and will give crucial medical information.
2. They Win Patient Trust
The chatbot will never leave patients unattended. They will win the belief of patients by giving them an efficient and prompt response.
For example, if the specific part of your hospital only works for patient satisfaction and reporting time, waiting time is zero, with the least effort, and patients will get the response to the queries. Chatbots will play a crucial role in generating satisfaction for patients.
3. Increase Patient Engagement
The most significant issue in the healthcare sector is that therapists will mostly ask for previous documents when they again visit the doctor to see their improvement in diagnosis.
But, sometimes, they forget to bring the documents which, in turn, will give a less sense of the patient's progress. Chatbots help the service provider to maintain patient data via conversation or last calls.
Also, Read This Post:

Top 6 Benefits of Using Mobile App Technology in the Healthcare Industry
4. Chatbots Can Handle Queries Frequently
Frequent queries overload a medical support team and will keep them occupied, which will result in missing out on other patients. In this case, it has become very difficult for an agent to answer all these queries.
At that time, the chatbots will resolve the queries in just seconds, by enhancing customer experience and decreasing the team workload. Chatbots are beneficial in saving the time that they would have spent on travelling to the hospital.
For doctors, chatbots prove to be beneficial as they can access the patient's medical records in seconds. They are also able to check the prescriptions and the last check-up records immediately in the case of an emergency. Although chatbots are not able to replace doctors, they will reduce the workload by helping patients and delivering solutions to their issues.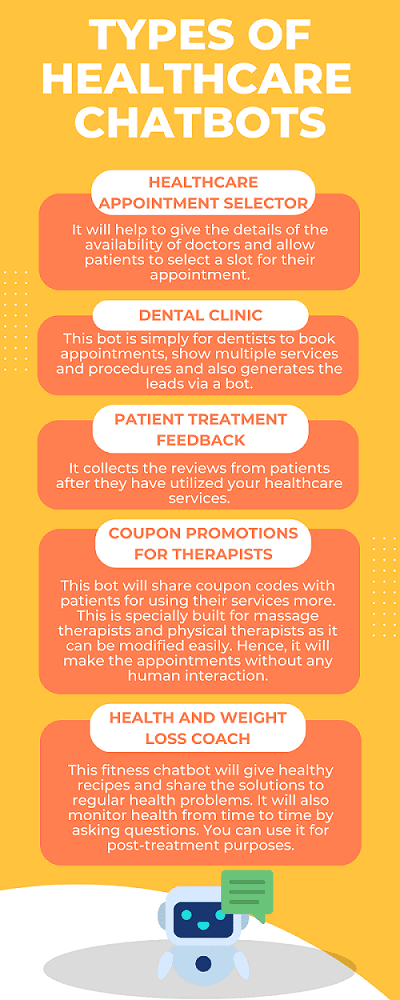 5 Uses Cases Of Healthcare Chatbots
Undoubtedly, chatbots have good efficiency to transform the healthcare industry. It will considerably boost proficiency, besides enhancing accuracy in detecting the symptoms, preventive care and feedback procedures. Let's see some of the essential chatbot use cases.
1. Provide Medical Information
The healthcare bots are based on an algorithm of AI in the healthcare industry that has a vast amount of health data, including data about diseases, diagnosis, treatments and their potential markers.
The development of chatbots has achieved popularity during COVID-19. Multiple countries have developed chatbot-dependent apps which give users information about a risk based on the queries and GPS tracking app access.
Thus, it helps to reduce the patient mortality rates significantly across the multiple regions where the healthcare system is integrated.
2. Scheduling Appointments
The chatbot technology will make the procedure of appointment scheduling as fast and convenient for patients. To schedule an appointment with the doctor, patients are able to select available time slots and dates with the help of a bot and confirm their appointment.
Hence, for a healthcare organization, using chatbots for scheduling will reduce the staff's workload and eliminate "overbooking" which happens because of human error.
3. Collect Patient Information for Caregivers
Business insider intelligence found that about 73% of the symptom checking and healthcare administrative tasks are automated by AI, and the adoption of chatbots will save about $11 billion annually by 2023 in the healthcare industry.
Chatbots will make a huge difference by gathering a patient's data like name, address, insurance details and diagnosis. The symptom checker chatbot helps the medical staff to monitor the patient's state and do the diagnostic procedure while gathering a patient's personal information.
Hence, assisting them with a symptom checker and the administrative tasks in healthcare chatbots will reduce the average time of the patient's visit and allow the remote preliminary symptom check, while receiving the physicians and nurses of these tasks and will create patient satisfaction.
4. Medical Assistance to Patients
Chatbots aid patients to manage their own care and increase engagement in treatment procedures. Chatbots can become the personal nurse for patients that remind them to take their medications, and provide a short consultation on their symptoms when it is implemented with the medical database.
If the chatbot is linked to the wearable device, it is used to collect data to advise patients on certain actions or notify the doctor in case of an emergency. For instance, if the healthcare chatbot is implemented with a wearable technology called a glucometer, it will automatically suggest the user inject insulin or will call the doctor if the blood sugar level is not normal.
Hence, it will speed up the process of getting medical health help.
5. Prescription Refilling or Renewal
Chatbot has become an essential functionality for telehealth app development and is utilized for remote prescriptions and renewal. To refill the prescription, a patient types a quick request into the chat window.
After entering personal information like name, address, etc, the prescription number is confirmed. Then the chatbot will send the refill request to a doctor who will make the final decision and will notify the patient when it is ready.
If they see that there are no more refills or the prescription has expired, then the chatbots ask patients to select the time for an e-visit to renew a prescription.
If the chatbot is developed with the use of an EHR system that ensures the compatibility of drugs prescribed with the other medicine that patients can take, dosage for a specific patient, alternative to drugs, etc.
Also, Read This Post:

EMR vs EHR: Which one to select for your Healthcare App Development?
Conclusion
As there are many other chatbot use cases in healthcare, we have listed out leading use cases which help to balance automation along with human support. As chatbot technology in the healthcare sector is constantly evolving, it has reduced the burden on the hospital workforce and has improved the scalability of patient communication. Are you looking for a service provider in healthcare software development then Flutter Agency can surely help you to solve your problem.
Frequently Asked Questions (FAQs)
1. What are the use cases in healthcare?
A use case is a unique instance of sharing particular data that is related to patients and their health. Each use case has a particular purpose; the type of data exchanged, and the rules for interaction between the system and clients.
2. Which kind of data is most commonly used in the healthcare sector?
Clinical data is the most important resource for health and medical research. It is either gathered during a course of ongoing patient care or as part of a formal clinical trial program.
3. How is information managed in the healthcare industry?
Healthcare organizations are able to manage healthcare information by utilizing technology like electronic health records (EHR) and healthcare CRMs, along with existing data management tools such as Revenue cycle management (RCM).
Consult Our Healthcare App Developers