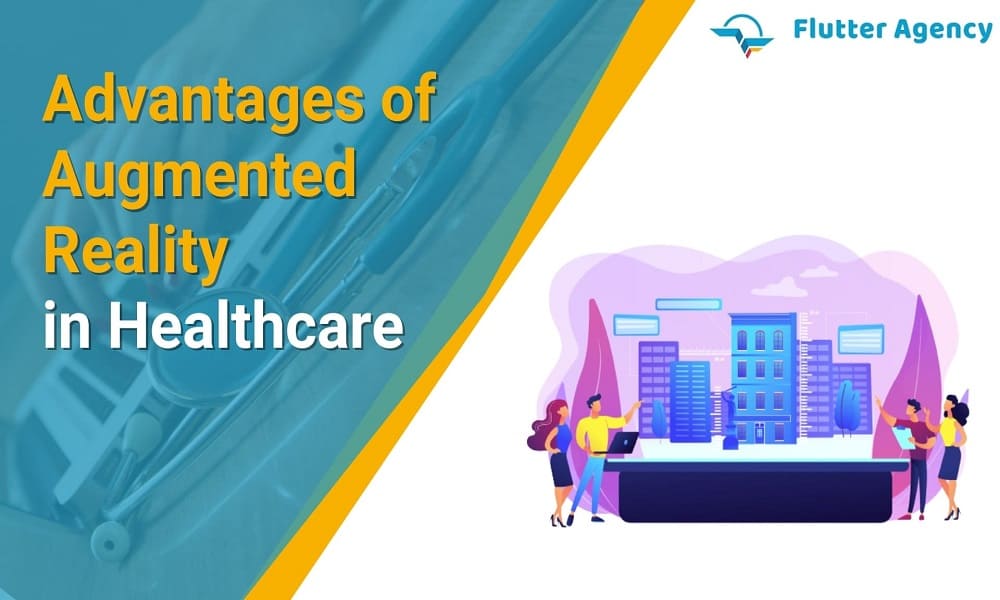 Augmented Reality in Healthcare: Advantages and Use Cases
Now, the time has changed, and technology has evolved a lot. From its application in entertainment and video gaming industries to the Healthcare and development sector, AR is growing, and how!
Moreover, the usage of AR in medicines is not new and has exploded and rapidly grown in recent years. During this COVID-19 Pandemic, many providers are looking for a way to roosters a better connection with their patients and offer personalized care with minimal physical contact.
Moreover, AR healthcare technologies are rising with the combination of tremendous technological advancement, the high speed of the internet, evolving demand in the market, and the complete adaptation of the clients.
The effect and influence in the healthcare industry they have are commendable. The global market of augmented reality in the healthcare market is expected to grow from $1415.23 million in 2021 to $1862.37 million in 2022 at a CAGR of 31.6%. A change in growth trend is because the enterprise is stabilizing output after catering to its demand which grew exponentially during COVID-19 in 2021. This market is expected to reach $5503.95 million in 2026 at a CAGR of 31.1%.
What is Augmented Reality in the Healthcare Industry?
Augmented reality supplemented a view of the natural world with its auditory and visual overlays, but it didn't make a seamless, simulated world like virtual reality.
The healthcare app created with AR technology gathers information and offers various access to front-end clients sitting behind desks. This kind of interaction is protected compared to the exchange via physical presence- which was very helpful during the Pandemic. Medical centres and hospitals are experiencing the advantages of this technology. Hence, it is noted that AR will stay even after the COVID-19 Pandemic is completed.
What are the advantages of AR application in Healthcare?
Augmented Reality in healthcare software development has increased the quality of medical services quality. AR assists doctors with advanced tech by permitting them to study human anatomy better and exploring worldwide collaboration opportunities with healthcare professionals.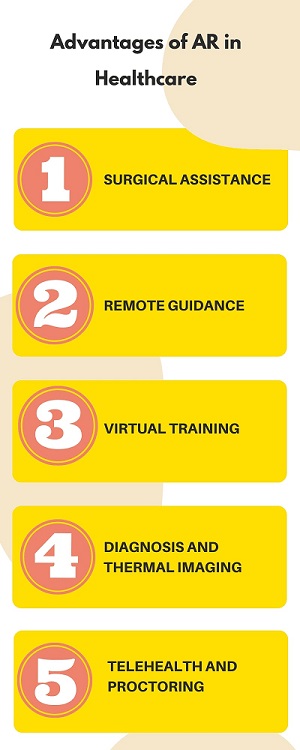 Let's see some of its major benefits: 
1. Surgical assistance
AR builds 3D models of tumours or organs. A surgeon can use this as a reference to see the model via a hands-free headset when performing the surgery. This model is viewed to hover as a hologram over a surgical field. The surgeon makes use of the on-screen notation for guidance. Incisions and various surgical procedures are superimposed on the patient's real-time picture in the correct directions. Hence, surgeons can see it and follow an absolute path for performing the surgery.
2. Remote Guidance
With the use of AR apps in Healthcare, expertise can give remote guidance to a doctor. The two-way video and audio headset will enable the skilled expert to see a similar view of the patient. A specialist can give directions to the doctor for real-time surgery. Hence, a patient can get better treatment and a safer outcome.
3. Virtual Training
Just like dentists, medical practitioners and students can benefit from virtual training using VR. A remote mentor will understand the student's view and advise them on the diagnosis. This way, it gains hands-on experience but reduces the risk to patients.
4. Diagnosis and Thermal Imaging
The benefits of mobile applications in the healthcare industry with AR technology is helpful for patient diagnoses. It permits the healthcare providers to gather a description, reports, and statistics about the patients. It performs complete-body scans to visualize any symptoms and uncover them. Also, thermal imaging helps in assessing the patient's temperature. Hence, the diagnoses with AR technology deduce a requirement for personal PPE (protection equipment) by minimizing any direct contact between the patient and physicians.
5. Telehealth and Proctoring
The Pandemic has made telehealth a preferable way to deliver its healthcare app services. It helps healthcare professionals to remotely perform a visual check and monitor vital signs of the outward symptoms of their patients. Hence, a patient will get a face-to-face experience with the doctor without exposing themselves to the danger of contamination.
Also, Read this post:

Importance Of Cloud Computing in Healthcare Industry
Which are the best use cases of Augmented Reality in Healthcare?
1. AR in surgery
For surgeons, AR can perform an X-ray and predict a surgical outcome at a similar time.
It helps you to visually demonstrate what the doctors are trying to gain via a surgical procedure. Locating the tumour, modelling bone reconstruction, and many more are represented easily with the help of AR.
2. Telemedicine and Online Collaboration
In some unusual cases and complicated surgeries, you may need the presence of an expert who might be located miles away from you. The hospital can not invite the specialist surgeon at that time due to the border closure, budget, etc. In those cases, advising via n Zoom or Skype is an excellent option for healthcare patient management. But sometimes, this complex procedure needs so-called synced surgeries.
In the synced surgeries, an AR consulting doctor operates on an AR-based anatomical model. This treatment is a lifesaver in some critical situations where it is hazardous for the patients to travel.
3. Medical Applications with geo-mapping Integrations
In this app, the Flutter programmers have implemented a map showing a nearby pharmacy, emergency medical centre, and many more based on the live location of GPS tracking of your mobile phone. The map will visualize an optimal route and tell you which steps to take next. In short, an AR in the medical field is a lifesaver.
Examples of Healthcare app
1. MyChart
MyChart is one of the leading healthcare applications in the USA. It helps you conveniently manage the care for yourself and your family members. With the help of this app, you can communicate with your care team, review test results, pay medical bills, and much more.
2. Sydney Health
This application of Healthcare is all about saving time and connecting with care when needed. Members can visit with a doctor within the app only. You can access your health plan and medical information in one location. With this healthcare app, you can check your disease symptoms for free, and it will recommend the next steps.
Conclusion
An enhanced reality in the healthcare industry is designed to make life easy for patients and healthcare professionals.
As the AR industry continues to push the boundaries of technology and with the correct healthcare partners, and can get the best outcome for the healthcare industry.
If you want to create a healthcare app for your business, then connect with the Flutter Agency, who are ready to assist you!
Frequently Asked Questions (FAQs)
1. How is augmented reality applicable in medicine?
AR has revolutionized the medical field. During the surgery, this system gives medical imaging data and patient information that is intuitively superimposed on the operation area.
2. How will AR be utilized in surgery?
AR tools are created to help surgeons to collaborate virtually during procedures. Proxima is the platform that will merge AR and AI technology in healthcare with the live video stream that permits surgeons to do the methods remotely.
3. How does AR benefit healthcare professionals?
 The potential to develop accurate and realistic 3D or 2D images accessible and scrutinized by an expert through augmented reality hardware helps accelerate the diagnosis and improves patient care.
Build You Own Healthcare App Now