Complete Flutter Project Solutions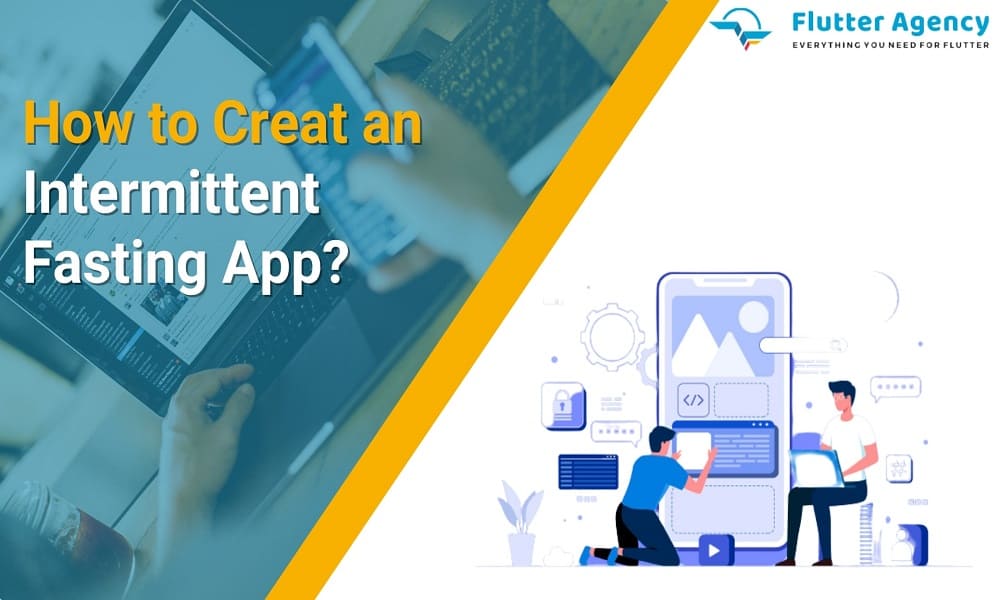 How to Create an Intermittent Fasting App?: A Guide
Intermittent fasting app is a popular trend in health and wellness. However, keeping track of a fasting schedule takes time and effort. A tracking app helps you stay on track and reach fasting goals and objectives.
This blog will show you how to develop the ultimate intermittent fasting app. However, from envisioning a perfect fast to launching and promoting the app, we will create a unique and user-friendly experience for your valuable users.
Why are the Intermittent Fasting Apps Helpful?
1. Track and Monitor Progress
This app allows users to log the fasting start and end times, consumption of meals, and notes about a fast. However, his information is used to analyze patterns and adjustment to a fasting routine as required.
For instance, users can view how their fasting time has changed over time, identify the patterns in their eating habits and make adjustments if it is essential.
However, this data can also be utilized to measure the effectiveness of their fasting routine and make changes if needed. Hence, this information is used to track progress in the health and fitness goals like weight loss or muscle gain.
Also, Read This Post:

Emerging Technologies for Healthcare Industry in 2023
2. Reminders and notifications
Fasting apps provide reminders and notifications to remind users when to begin and finish their fast and when to eat their next meal. This is particularly helpful for those new to intermittent fasting. As with this, it is easy to lose time during a fast.
However, users can set reminders for when to start and end the fast and receive notifications to remind them to eat their next meal. Hence, it is helpful for users who want to stick with their fasting schedule and not miss their important meals.
3. Educational Resources and Information
Many fasting apps provide access to videos, articles, and various resources besides the benefits of intermitting fasting. Hence, this information will be helpful for those who want to improve their overall health.
Users can learn about various fasting methods, potential health benefits, and how safely to integrate fasting into their daily lives.
4. Community and Support
Fasting apps give clients a sense of community and support. Some apps have also added a social media feature, allowing users to connect with others interested in intermitting fasting. It has features like forums, groups, and the ability to share progress and tips with others.
It is an excellent way for users to get support and motivation from others going through a similar journey. However, users can share their experiences, ask for suggestions, and connect with people of similar interests and goals. Hence, this sense of community helps users to stay motivated and on track with their fasting routine.
Also, Read This Post:

Medical Billing Software: Benefits and Challenges
5. Progress Tracking Over Time
With these apps, it is easy to track progress over time. Many apps include graphs and charts, allowing users to view their fasting time, weight, and metrics, updated over time. Thus, it is the best way to view progress and stay motivated by constant fasting.
Users can track their progress and view how their fasting times and weight have been modified. Hence, it uses this data to examine the patterns and adjust if needed.
6. Implementing with other health and Fitness apps
Many fasting apps are implemented with other health and fitness apps like wearables and fitness trackers to give a comprehensive view of health and fitness. It adds the tracking of sleep, exercise, and so on.
Although, users will get the overall picture of its health ad fitness. It aids users in building more informed decisions about their fasting routine and other health and fitness goals.
7. Personalized Plans
Some apps deliver personalized strategies and customize the fasting schedules dependent on the user's information like gender, weight, and body mass index. It is a valuable and helpful feature for those who want a more personalized approach to intermittent fasting.
Although, users can input their data and receive a customized fasting schedule tailored to their needs. Hence, it is helpful for those new to fasting who need help knowing where to begin.
What are the features of an Intermittent Fasting Tracking App Development?
1. Meal Suggestions and Recipes
This functionality assists the users in creating most of their meal times and ensures they acquire proper nutrients. However, this app uses machine learning algorithms to recommend recipes dependent on users' dietary preferences, goals, and allergies.
It has options for high-protein meals, which will keep a user feeling full or low-calorie meals, which will keep users within their calorie goals. Hence, it adds the bonus users can customize their meal plan and save their favorite recipes for future use.
2. Project Visualization
The easy, simple-to-interpret visual representation is one's accomplishment which can be the most powerful tool for maintaining motivation and will achieve one's goals.
Users can see how much weight they have lost, how many days they have fasted, and how much their fasting goals have been achieved.
The progress bar, graphs, or even the virtual award system, which pays users for finishing tasks, displays the progress of your fasting.
Also, Read This Post:

Blockchain In Healthcare: Use cases, Advantages, Future and Challenges
3. Mindfulness and Meditation Resources
This feature can provide users with resources to aid them in staying focused during those specific times. It includes guided meditations, mindfulness exercises, and tips for remaining active and ignoring distractions during fasting. Hence, users can set reminders to practice mindfulness and meditation for a few minutes during the day.
4. Social Media Integration
Sharing the fasting progress and experiences on the social media channels such as Instagram, Facebook, and Twitter has been possible via this function. It is an excellent way for users to connect with friends and family and get support and encouragement from others.
Therefore, users can view how their friends and family perform, compare progress, and participate in the fasting challenges together.
5. AI-based recommendations
With the help of this function, a user's data, preferences, and objectives are integrated into the artificial intelligence algorithm, which generates a set of customized fasting schedules, meal plans, and suggestions.
Meal plans could be suggested depending on the user's tastes and food allergies, or the user's fasting logs could be analyzed to determine the best course of action.
Also, Read This Post:

Artificial Intelligence In Healthcare: Advantages And Applications
6. A virtual Coach
It is a tool that gives users access to a digital mentor who may address concerns, advise them, and evaluate their progress. It includes a chatbot or virtual assistant to deliver personalized recommendations and advice dependent on user data and goals.
Thus, a user will also schedule personalized coaching sessions with a virtual coach to discuss progress and the tailored device.
7. Intermittent Fasting Challenges
This feature enables users to compete in several unique challenges. However, fasting for a set number of consecutive days, losing a certain amount of weight, or finishing a set number of fasts in the provided time frame is an example of all such challenges.
Hence, the users can participate in the public challenges or make a custom invitation that is the only challenge for themselves and their loved ones.
8. Progress Sharing
It allows users to share progress with their colleagues and relatives. However, users can share their fasting time, weight loss, and other metrics that will motivate and support them.
Users can share their progress via a leaderboard or social media, where they can compare their progress with friends and family and view how they are doing.
9. Food and Water Tracking
Users can record their daily intake of food and water and will stay tabs on their calorie and macronutrient intake. It is helpful for a user to plan their meals during an eating window, and it ensures that they are getting a proper balance of nutrients.
Hence, users can set reminders to drink water throughout the day and will track their water intake to remain hydrated during a fasting period.
10. Voice Commands
Users can use voice commands to log their fasting start and end times, meals, and observations. It is helpful for people who wish to log their progress hands-free, for instance, when driving.
Thus, users use voice commands to set reminders, check progress and start or the end of the fast.
What are the steps to develop an Intermittent Fasting Tracking App?
Building an intermittent fasting tracking app requires a unique and creative approach beyond traditional research, development, and launch steps. Let's see a unique and creative way to think about a process.
Step 1: Imagine Perfect Fast
Before beginning an app development process, it is necessary to visualize an ideal experience for the user. Identify a perfect fast, one which is tailored to the user's needs and preferences.
This visualization will serve as a guide for the development of an app and helps to examine the gaps in the market and set an app apart from the competition.
Step 2: Create a Storyboard
Depending on the visualization of perfect fast, the next step is to build the storyboard of a user's journey. It includes mapping out a user's experience from when they open the app until they finish the app working.
The storyboard is the blueprint for an app's functionality and features, ensuring the user experience is intuitive and seamless.
Step 3: Designed Personalized Experience
After making the storyboard, the next phase is to amke the user interface and experience. It includes developing wireframes, mockups, and prototypes of an app and testing them with potential users to ensure the app is easy to use and navigate.
A design should be visually appealing and make it easy for users to access the required features. An app should be personalized and tailored to users' needs and preferences.
Step 4:Developemnt of the app
Once a layout design and user experience have been finalized, then next starts with a mobile app development process. It has the coding, integration of required APIs, and app testing to ensure it works as intended.
The app should be created using a robust and scalable technology stack like Flutter or React Native. However, it is compatible with several platforms and handles many users.
An app must be unique and stand out from others in the market by including unique features like gamification elements, personalized meal plans, or also integrated with wearable devices.
Step 5: Testing and Refined
Before launching the app, it must be tested thoroughly to ensure it is free of bugs and errors. This includes mobile app testing on multiple devices and platforms and user acceptance testing to collect feedback from potential users.
It helps to refine the app's features and functionality and will make the essential adjustments before launching the app in the market.
Step 6: Launch
Once an app has been created and tested, the next step is to launch and promote it to a potential audience. It includes showcasing an app's unique features, making the buzz around it, and promoting it on multiple platforms like social media platforms, app stores, and influencer marketing.
Step 7: Remain to evolve
Even after the launch of an app, it is essential to continuously evolve an app to remain relevant and helpful to users. It includes fixing bugs, adding new features, and updating the app to stay compatible with the latest operating system.
In addition, it is vital to constantly gather feedback from users and make improvements dependent on their suggestions. An app should always strive to be better and meet the user's changing needs; thus, it remains a valuable tool for them on their fasting journey.
Which are the best Intermittent Fasting Apps?
1. Zero
It is one of the most popular apps because it has all the timers, journals, and tools you need to begin. The app is also filled with helpful articles on the healthiest beverages to drink during fast periods and how to get sleep. The journal function helps you reflect on your mood and more during fasts and get the opportunities to track other health markers, like heart rate and sleep.
2. Window
It offers a wide variety of fasts, including an Easy Start, and has the tools, including a blog with content from leading nutritionists.
The weight tracker is an easy way t monitor weight loss progress over time and is a well-designed app. 
3. Simple
It is an easy-to-use intermittent fasting app giving simple fasting time reminders and tips throughout the day, making it an excellent choice for beginners. You can log the meals in detail and record hydration and activity stats. 
Conclusion
Developing the intermittent fasting app needs a planned strategy and execution. As the leading healthcare app development company, focusing on users' needs like simplicity, customization, and tracking is necessary. It considered the technical aspects, like choosing the right technology stack, integrating with famous nutrition and fitness apps, and integrating robust security measures. The key to success is t understand a target audience and their needs. It is necessary to incorporate user feedback and analytics data into the development process that will continually monitor and improve app performance.
As the leading app development company, it is necessary to follow industry standards and regulations to ensure an app is secure and compliant with privacy laws. However, partnering with experienced healthcare app developers and following the step-by-step guide will develop an intermittent fasting app that is user-friendly and effective.
Frequently Asked Questions (FAQs)
1. What is a simple intermittent fasting app?
Simple fasting and meal tracker app is the simplest way to keep track of your eating habits, get personalized insights about health, and build a daily fasting routine better. 
2. Does fasting have scientific advantages?
Fasting has been shown to improve disease biomarkers, reduce oxidative stress and preserve learning and memory functioning. 
3. What happens when you begin intermittent fasting?
It improves blood pressure and rests the heart rates and heart-related measurements. And the physical performance of a person.
Build your Intermittent fasting app