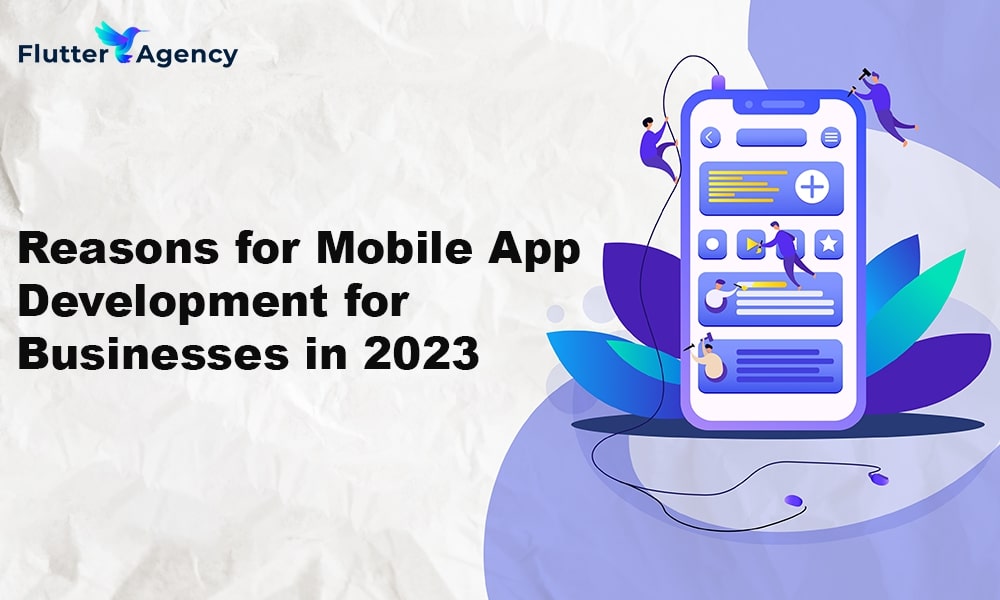 Why Does Any Business Prefer Mobile App Development in 2023?
Mobile clients are now aware of the number of apps cluttering the screen. Surprisingly, a ton more are waiting to be installed at the touch of a finger in the Google Play Store. Have you ever wondered why and by whom they are made?
More than just the leaders in the industry, who need Mobile apps?
Not just the major players like Amazon, Netflix, or LinkedIn have mobile apps. Instead, mobile apps have become an essential part of our life because smartphones and the internet are so prevalent in modern society. Every small and medium business uses mobile applications to advance their business in this digital era in which we live, as they are an inseparable part of our daily routine, from messaging applications to social networking websites from online purchasing to cab booking.
Size of the Mobile Application Market
The size of the global mobile application market was estimated at USD 206.85 billion in 2022, and it is projected to increase at a CAGR of 13.8% from 2023 to 2030. The study's scope encompasses a variety of uses, including gaming, mobile health and fitness, music and entertainment, social networking, retail, and e-commerce. The growing number of smartphones, increased internet usage, and the incorporation of artificial intelligence and machine learning into mobile applications all suggest that demand for mobile applications (apps) will continue to rise. The previous apps are generally acquired from app store websites like the Google Play Store and the App Store for iOS.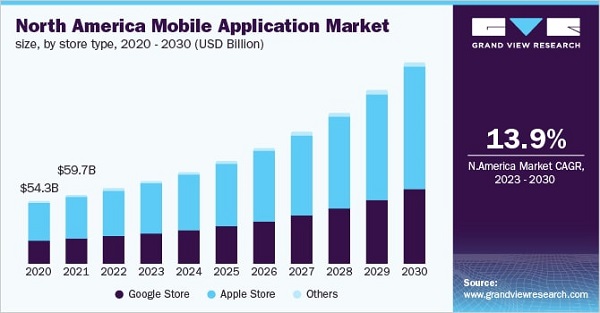 Why do businesses need to develop Mobile applications?
Businesses, including startups and SMBs, are utilizing apps today because they provide vital advantages that can't be ignored in the modern digital world. The following are the main factors that companies should think about before creating a mobile app for themselves:
1. Promotes Brand Loyalty by Creating a Direct Brand Connection
Apps are a terrific way to present all the necessary information about your product or service. They help to build a direct brand connection and promote brand loyalty. It is an essential one-way and two-way communication medium for updating prospective buyers about new product launches, marketing initiatives, and special deals. Businesses can also get repeat customers by providing loyalty card systems allowing clients to track their collected points. These loyalty programs enable smaller companies to compete with more prominent companies for client loyalty.
Mobile apps are crucial for businesses to drive brand engagement, create value, and foster brand loyalty.
2. Powerful Marketing Tool
For businesses, mobile apps are an effective marketing tool. Consider the impact that applications like Uber, Telegram, Airbnb, and other significant brands greatly influence our lives. Their mobile apps are their primary medium for upselling, customer service, marketing, and other activities.
Small businesses can use mobile apps to evaluate the value of their marketing campaigns and install them. Since advertising on mobile applications costs substantially less money than traditional media, businesses can quickly move between several channels. Small companies with limited resources may benefit from this. Additionally, it gives marketers a strategic advantage to select and target specific groups with special offers to spur quick demand and momentum for their latest product or service.
3. Increases Awareness of a Brand and Drives Sales
When you pick up your phone, you might only use a few of the many apps on the screen without even opening them all. Nevertheless, they exist and occupy a small space in your thoughts. Any of these can be used later on when the time is appropriate. App notifications can assist businesses in retaining customers by keeping their brand or products top-of-mind with the correct settings and configurations. Strong brand recognition can boost sales, outperform rivals, and drive internet traffic.
Startups and SMBs can strengthen their omnichannel sales strategy by leveraging the potential of mobile apps. Additionally, by developing enterprise mobile apps it enable users to shop and make purchases from their smartphones wherever they are, at any time, they may improve their omnichannel experiences. As a result, mobile apps are crucial in developing a solid brand presence and awareness.
4. Consumer insights
Businesses can plan their marketing and product strategies based on customer behaviors, preferences, and patterns using data insights from mobile apps. Companies can get an advantage over competitors by using this information with data from social media platforms and customer feedback to understand consumer preferences and behaviors.
The factors mentioned above highlight the significance of mobile apps for enabling businesses to interact clients and affect purchasing decisions.
Essential Things That Businesses Should Think About Before Investing in Mobile App Development
It is worthwhile to evaluate several parameters as a startup or SMB if you are considering investing in developing a mobile app as a tool for business promotion. This will maximize the return on your investments.
Let's look at some essential elements:
1. In-depth Research
Your intended audience and consumer feedback determine the characteristics of your mobile app. The app's success is determined by the information discovered through extensive research into trends in the industry, consumer expectations, competitor performance, etc. Because of this, businesses must specify the app's purpose and the unique features that will be included and correspond to the audience and business needs.
2. Framework for Mobile App Development
This is comparable to selecting the proper launch pad to ensure a seamless and easy journey. Choose the platform that best suits your business needs first. You might work on several platforms and operating systems using a cross-platform Applications framework or a native platform like iOS or Android.
It would be best to think about your business dynamics, priorities like security, product qualities, UI, UX, the target audience, client demand, and pricing strategy to make the best decision. The best mobile app development framework can be chosen by carefully balancing these variables.
3. Plan of Action
Before launching the app, thoroughly research the subject. Developing a mobile app is expensive and time-consuming, and any mistakes can sometimes be fatal. Define your strategy's typical phases of app architecture design, development, testing, enhancement, and deployment before you begin.
Along each step, keep an eye on the project and compare it to your budgeted effort and expense. Most essential, before launching the final version of the app, release a beta version and thoroughly test it.
4. Easy to Use and Effective
The simplicity of use and value users get from the mobile app will ultimately determine how well it promotes your business. It must therefore use the least amount of computing power and memory. Customers are encouraged to download and use the app as a result. Ultimately, it must achieve its objective and be simple to use.
5. Market Readiness
Once the app is prepared for launch, decide on an effective marketing strategy. To create a plan that expands your company's reach with the most effective use of resources, consider your target audience, industry demand, and your business offering.

Popular Mobile App Development Frameworks and Tools to Take into Accountability
Businesses may experience never-before-seen advantages from mobile app development. So let's investigate several tools and frameworks for creating mobile apps for iOS and Android consumers. What's on the list?
1. React Native: Developed and supported by Facebook, React Native is used by major companies, including Amazon, Tesla, Airbnb, and others. They are a favored option for programmers due to their reliable performance, reusability, and compatibility with third-party extensions.
2. Flutter: This free Google framework is a favorite among Flutter programmers. It offers compelling visuals, essential for mobile apps, and speedy cross-platform development.
3. Xamarin: Microsoft acquired Xamarin, which only needs a small amount of C# code. As a result, it encourages speedy and simple development without sacrificing effectiveness and quality.
Conclusion
We hope that you find this content to be informative and beneficial. In 2023, you might have realized how crucial it was to create a mobile application.
In the age of smartphones and intelligent networks, you are far behind if you have yet to create an application for your company. If you're looking for a mobile app development company in the USA, this is a recognized and experienced corporation that makes applications for all kinds of businesses.
Frequently Asked Questions (FAQs)
1. Why is the development of mobile applications crucial for businesses?
Businesses can connect with a larger target audience by using an app. An app can help customers learn more about your company, discover you more efficiently, and use your goods and services. You are no longer limited by geography; you may now connect with more people wherever they are.
2. What is the objective of mobile application development?
Mobile application development is the creation of software for smartphones, tablets, and digital assistants, typically for the Android and iOS operating systems. The application could be preinstalled on the device, available through a mobile web browser, or downloaded from an app store.
3. What will be the trends in mobile app development in 2023?
One of the most popular trends in mobile app development for 2023 is artificial intelligence and machine learning. AI will change how apps are created in 2023, enabling them to become smarter, more effective, and capable of offering richer user experiences.
Connect with us