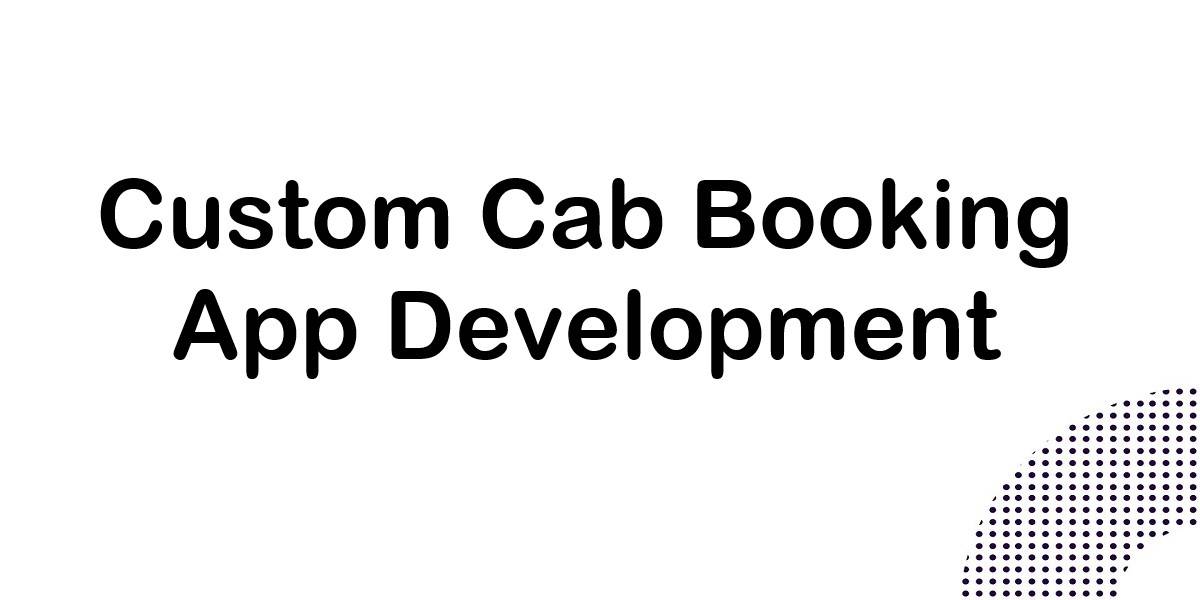 Custom Cab Booking App Development
Custom Cab Booking App Development
Want to hire the best custom cab booking app, developers? Flutter Agency designs, develops and deploys cab booking app solutions for Android and iOS platforms. So cab booking app development has made travel more comfortable and hassle-free.
So do you have a cab startup or an established cab business? And doesn't keep track of all drivers get tired? And to calculate their salary manually? So you may write the details of each trip in case you forget it later. 
But have you ever thought of going digital to manage your business more effectively and efficiently? So custom cab booking app development by our expert developer will help you automate everything from cab booking. And payment of the total number of drivers and taxis, and preparation of reports. 
So get armed with a team of experienced Uber app developers or cab app developers. And we can build an app like Uber for you that includes dedicated drivers. And rider apps with an admin panel (desktop panel). Because- we have already launched many cab app solutions. 
Flutter Agency – Why Choose Us?
At Flutter Agency, we take pleasure in being a renowned Cab Booking App Development Company. So nothing will be greater than having access to the best cab booking services for happy riding. And simple convenience and comfort of operation make our solutions user-friendly.
So our cab app developers are highly adept at creating viable solutions. But our applications are scalable and cost-effective. And provide a comfortable ride to your customers. So it will increase the profit in your business. 
And we have a team of cab app developers who develop on-foot ride-hailing apps. So- that it can help you better equip your business. And to handle more trips and bookings. 
So- generating automated invoices from tracking drivers. And allowing riders to make bookings in just a few clicks. So you can deal with everything from your app. 
At Flutter Agency, we can provide you with customized cab booking app development for your business. So whether you are already in the rental cab business or just venturing into it.
With our custom app development, you can keep a record of your bookings, invoices. And manage your fleet efficiently. Apart from this, you can also allow your customer base to check rates, stipulated period. And book a rental cab right from their phone.
Development and Deployment Of Cab Booking App

Development Solutions For All
Flutter Agency connects, optimizes, and automates your fleet with our robust Cab App solution. And we designed for transportation businesses of all types and sizes. 
No matter you are a global startup, short, or leading cab fleet owner. And a cab aggregator who wants to move cab operations online! We are your single point of contact. And to develop custom on-demand cab/taxi booking app development for multiple use cases. Such as- 
Trucking & Logistics App

Carpooling Apps

Car Rental Services

On-Demand Chauffeurs

Public Bus Services

On-Demand Autos

Towing Service Providers

RV Operators,

Crane Operators

Ships & Cruises

On-Demand Bikes

On-Demand Limos
Best Cab Booking App Development Company
So for cab booking application development. The client came to us at Flutter Agency with various requirements for Cab App Development. And concerning the region, the mode of services provided, commission-based, etc. 
At Flutter Agency, we have practical experience with different cab booking app- business models. Like carpooling app, taxi aggregator businesses, or private taxi business management app. 
Build your cab booking app like Uber Ola and make huge profits from your own taxi business. And to become a reputed cab provider industry leader in your area. And with a customized cab app development solution. So a white-label readymade Uber clone application primarily made by a top cab booking app development- company in India.
So our years of experience and technical expertise will benefit you in growing your business to meet modern needs. But we guarantee our mobile app development services to increase your business profits. And give exceptional support to your customers. 
So let us come together to reshape the destiny of your taxi business with the power of technology.