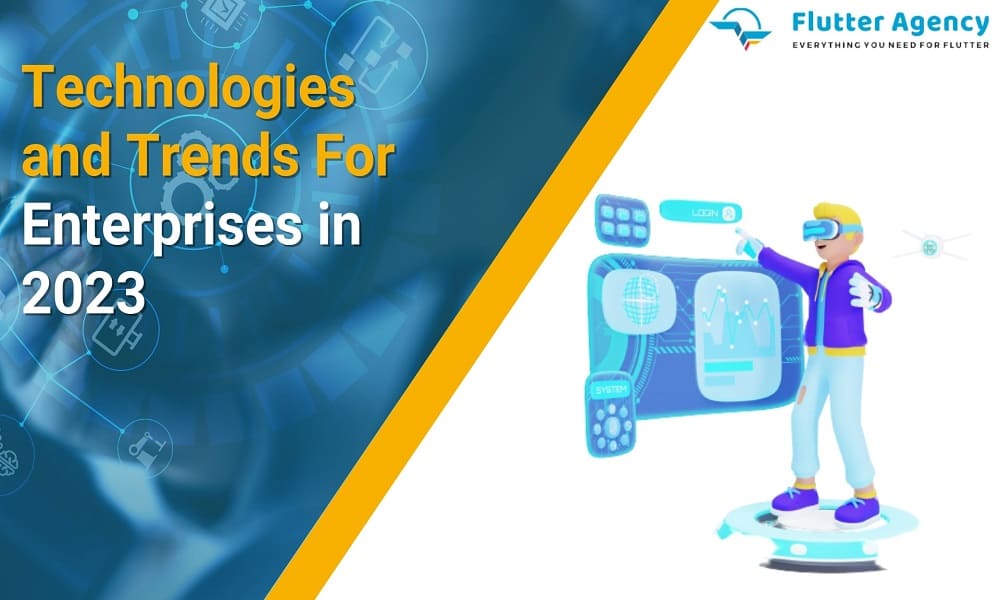 Technologies and Trends For Enterprises in 2023
In this evolving digital era, technology service providers must benefit from the latest techniques and tools to stay ahead of the competition. An executive and leaders of the goods must rely on amalgam for the short and long term. However, businesses are enhancing their dependency on tech, using the latest or emerging technologies in advanced ways. External forces like sociological, macroeconomic, and environmental aspects also affect how enterprises plan for the future. Hence, let's see the list of the top tech trends in 2023 that technology service providers must know.
Enterprise Applications Market
A global enterprise application market size was estimated to be USD 241.8 billion in 2021. It is assumed to hit around 530.41 billion by 2030, with a growing rate of CAGR of 9.12% during the forecast period of 2022 to 2030.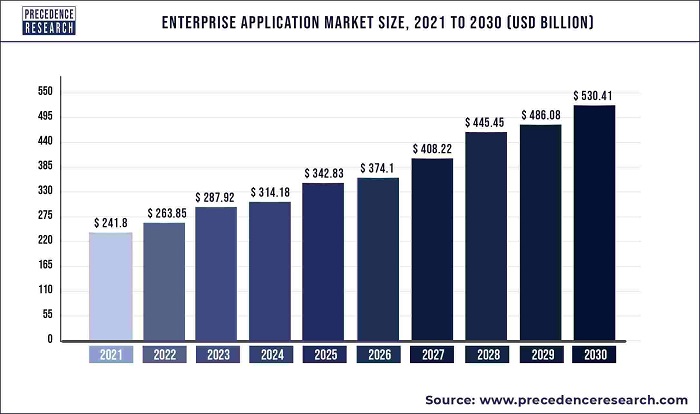 Enterprise app is the software developed to handle a corporate environment of business and government in their day-to-day tasks. It is vast software and is quite complicated. It consists of a collection of software and is utilized to handle operations of the organization to simplify their business operations and management-related activities. It integrates all business processes, including marketing, HR, finance, manufacturing, and project management. This system produces data quickly and can be placed across various networks. An advanced version of the enterprise application development will provide a platform to link with consumers, suppliers, and partners to deliver high customer satisfaction.
Impact Of Enterprise Trends and Technologies
Through Finance apps and microservices, Enterprise Resource Planning is kept in the testing phase. Prominent vendors like Oracle and SAP must be agile to ignore and become roadkill on the highway of upgradation. However, to keep up with organizations that clasp a digital transformation and are currently expecting over and above the traditional ERP. ERP vendors have already used digital and advanced technologies like blockchain, automation, and cognitive tools in their goods, but your competitors are still competing. Whenever new players enter the ERP space with particular apps and microservices implemented with ERP platforms will anticipate the change in landscape.
Which Are The Technologies And Trends In Enterprises In 2023?
Automation s/w is eye-catchy due to its difficult economic times as it lets organizations attain much more with fewer workers. An advanced intelligent automation s/w embodies AI capabilities to get good results.
1. DevOps
DevOps is a mindset that lets Information technology industries become more effective and efficient. It applies Agile software development principles to Information technology operations while promoting closer collaboration between the personnel and developers. It adopts automation, cloud computing, consistent implementation and development, and containerization. App development organizations embrace DevOps, become more responsive to valuable consumers, and can push the new initiative speedily.
2. Metaverse
As VR and AR technology comes, the new digital world is known as the "metaverse." Metaverse helps individuals to replicate or boosts their physical activities. It happens simply by transporting or extending the physical activities to the virtual world or transforming them into the physical one.
Facebook is a well-known social media platform famously championing a metaverse concept and has changed its organization name to Meta. The other industries could be faster on the board but will change later.
COVID-19 has changed how individuals work, shop, and develop mobile apps, and other companies have begun to identify that these things will only go back to part as they were before. Due to this, they started to use software like akaVerse to set up retail or office locations in the metaverse, which is a significant trend. According to the survey, Around 2027, entirely virtual workspaces will account for 30% of asset growth by enterprises in the metaverse technologies, and it will 'reconceive' the office experience.
3. Cloud Computing
Nowadays, almost every industry talks about mobile app development companies or the food industry to a certain point of their computing in the cloud. It has accelerated a business to move towards cloud computing. Hence, the economic times are helping to make the cloud even more desirable.
4. Digital Transformation
For most industries, it takes many years to move to digitization. But the growth of mobile app development companies has assisted them in going to digital platforms within their budget and launching their product on time in the market.
Also, Read This Post:

Global Rapid Mobile App Development Tools Market in 2023
5. Recognition Technologies
New technologies like facial recognition, fingerprint recognition, facial recognition, and behavioural metrics give personalization a new objective. It exists retinal scanning and iris scanning, which are new.
6. Cyber Security
Cybercrime will rise in the coming year, raising the demand for cybersecurity specialists who can protect their apps and software from hackers. According to the experts, a year ahead will view cybersecurity experts will take the no trust extensively approaches to external data. Artificial intelligence has come with an increasing feature list that is being utilized in the fight against cyberattacks and strict advice on paying ransoms.
7. Digital Immune System
Many industries must address the scalability, security, and stability of specific products they deliver to their valuable customers. It is due to a lack of the mandatory skillset and ineptitude at handling random events that cannot deliver an expected business value and risk-yielding revenue. It is the roadmap of strategies and technologies for automation, design, analytics, and software development.
Also, Read This Post:

5G Technology: The Future Of Mobile App Development
8. Wireless Technologies
Around 60% of industries use wireless technology to connect with their clients. As organizations grow and scale, they need the connectivity that raises and eliminates a traditional communication method. Hence, wireless technologies will be renewed, and no one person will conquer the market.
9. Superapps
Developing super apps is a method of using consumer engagement. A super app developed by a mobile app development company will merge functionalities of the mobile app platform and ecosystem and give the users a set of core elements and access to independently developed mini-apps.
Superapps convey data with the mini-apps inside them and let the users select their collection of mobile apps and unlock personalized digital experiences. It uses to consolidate multiple apps or related services to enhance the user experience. In 2027, approximately 50 percent of people will do daily activities with super apps.
Also, Read This Post:

Education App Development: Advantages, Features, and Cost
Conclusion
Being a trustworthy app development company, Flutter agency has achieved its name at the top of the mobile app development company in the USA. After successfully delivering various projects, the flutter app development team has gained a unique understanding and knowledge of the flutter mobile app development methodology. Our primary purpose is to satisfy our valuable clients by providing featured rich mobile apps that meet their business requirements. Whether you are looking for a ready-made application or want to get on-demand user-friendly apps, the Flutter agency is ready and happy to help you in every manner.
If you seek help from a leading and reliable app development company with good knowledge about these trends and technology, feel free to connect with us.
Frequently Asked Questions (FAQs)
1. What is the positive impact of technology on business?
With the help of technology, it is possible for the enterprise to assist external customer services and supports the individuals within the organization. Hundreds of platforms will streamline workflow and facilitate work procedures.
2. How does technology affect a business and the economy?
Businesses can reduce costs, streamline operations and increase efficiency. The significant effect of information technology on the economy is e-commerce, marketing tactics, facilitation of globalization, and job design and insecurity.
3. How will technology affect trends in management?
It is now possible for management and employees to collaborate also when they are not in a similar area. Now, workspaces will hold meetings remotely with video conferencing technology and work shared on documents with cloud-based file-sharing tools, which sync in real-time to keep track of changes.
Book Your Flutter Developer Now