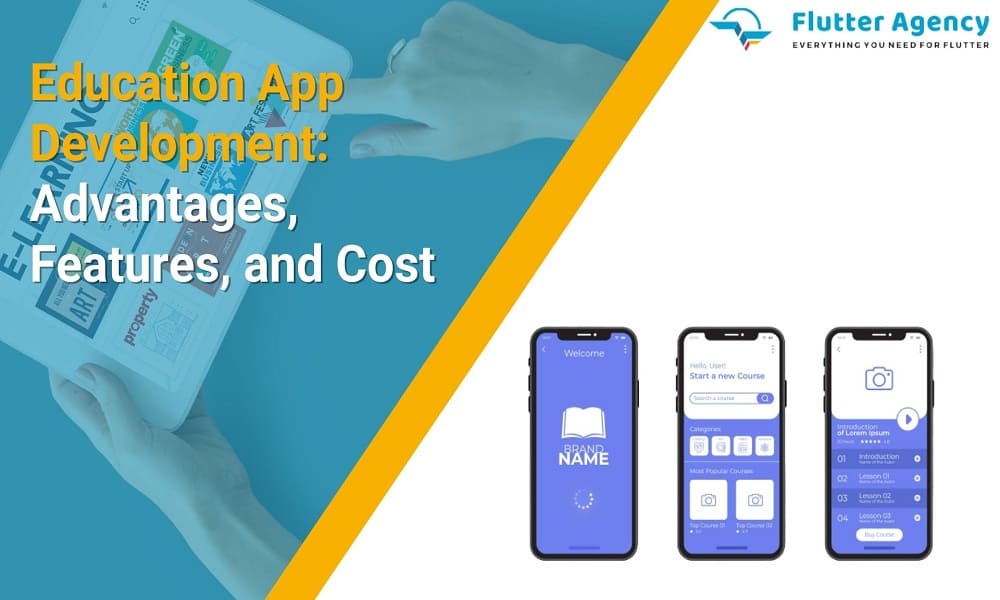 Education App Development: Advantages, Features, and Cost
Every person's life depends on education. It's all about the actual knowledge and professional abilities, not about degrees showing that you have graduated. However, ed-tech-related apps have grown quite well during the past few years.
It's a highly complex task requiring expertise, experience, and time to build an application. Additionally, user expertise, suitable UI/UX design, and thorough market research are the necessary elements that are considered in the mobile application development process. 
Education Application Market
The market will increase at a CAGR of 28.61% between 2022 and 2027. It is forecasted to rise by USD 124,782.56 million in education apps. The market growth depends on multiple factors, including the growing government initiatives, growing demand for STEM-based apps, and the rise in the penetration of the cellular market.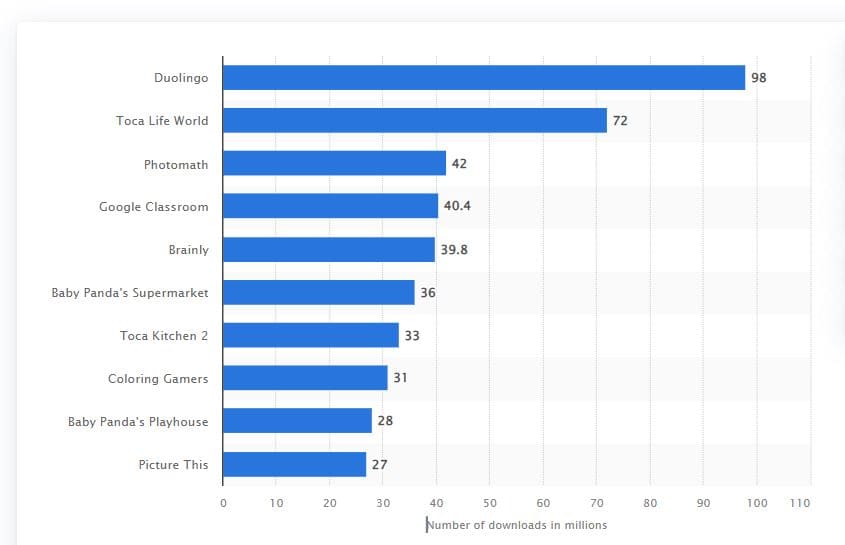 In 2022, Duolingo was the world's most famous learning and education application, with 98 million downloads. Toca Life ranked second in the world, along with 72 million downloads. Thus, Toca Life World was also the second most popular downloaded education app in the United States in 2022.
Benefits of Educational Apps
Now, students feel bored accessing education via the traditional method. Therefore, education experts are constantly coming up with new manners of learning to deliver skills and knowledge to students.
Among them, educational apps are the need of an hour. Many famous educational institutions worldwide have understood the importance of education apps. They develop a mobile app development, which improvises the studies of students. There are infinite advantages of educational apps for students and educational institutions. Let's see some of them below.
1. Students Prefer Apps
Today's generation is investing their valuable time in mobile phones. They prefer to utilize intelligent gadgets for shopping, entertainment, and more.
Students don't like to study with a traditional at all. But if we connect their boring activities to interactive activities via a cell phone, they will love to study. The educational apps are trying to do so and getting positive responses from learners. 
2. The Utilization of Hours
In their leisure hours, children are engaged in activities like watching TV, surfing the internet, or communicating on the phone for long hours. Hence, by doing these activities, you will get a sense of relief. Hence, they need more time to be suitable for their career growth.
eLearning on the smartphone is the best way to use children's time effectively. Hence, they can leverage their leisure hours to learn new things by using mobile application trends for education.
3. Reducing the Gaps
Technology advancement aids in removing the different glitches which are present in the education system. The most significant problem is the interaction between the teachers and parents.
Apps and websites could fill the gap between students and teachers and parents and teachers. Hence, students and parents will be notified about any event or change in their schedule.
4. Quality Interaction
Education apps are helping students to enhance their interest in their studies. They are helping the students to become more worried about their education.
Education apps help enhance the interaction between teachers and parents. When the child is using the app, it is a fantastic time for the parents to interact with their children and helps them learn the application.
Alexa is used soo much for better engagement and productive solutions in the field of education. With the use of Alexa, you can save more time and money than you spend on tutors.
Hence, this technology allows you to teach the students easily. With Alexa, the fear of children has been removed, and they interact with their learners conveniently and comfortably.
5. 24/7 Availability
School and tuition classes have limited time for study. An infant can study in the specific time slot of school and tuition, and also they have to clear their doubts at their specific time.
However, the education applications for students will clear the doubts anytime and anywhere as it has no time limitations or needs for instructors.
6. Sustainability
Mobile learning apps are more sustainable than the traditional learning method, which has paper and pencils.
Moreover, these learning apps grant permission to students to get reference notes quickly only by downloading them. Hence, finishing the lesson on the mobile app is quick and effective.
Also, Read This Post:

5G Technology: The Future Of Mobile App Development
Educational App Ideas
If you have decided to enter the education industry, you will need a unique and innovative mobile app idea.
But, with the constantly evolving industry education, finding the relevant app idea may be challenging. We have adopted education app ideas that you can take into consideration. Here we have given the educational app ideas below.
1. Question and Answer App
You can create a practical question-and-answer app for students. The app should permit students to post questions about a particular subject and topic. On the other hand, the teacher will read the question and answer it accordingly.
This app development of mobile for education is used by any age group of students worldwide. In general, the app same, like quora, is used to interact with teachers and students.
2. Education Games and Quizzes
An education app with various games and quizzes allows students of all ages to play education-related games and quizzes.
These games can be on different subjects like mathematics, science, grammar, etc. It permits the students to learn and test their knowledge about a particular subject.
Also, students should be able to play the games and quizzes by filtering various options like category, age, etc.
3. Tutor App
It is a simple and effective idea to create a personal teacher or on-demand tutor application that enables the students o teachers to hire on-demand tutors for a particular or all subjects per the requirement.
Hence, they can instantly select and chat with the best tutor from the list. Furthermore, students will get two options: choose a tutor who teaches online or a tutor who teaches face-to-face as per their relevancy.
4. Competitive Exam Apps
Many applications are available in the market for distinct topics, like law schools, business schools, etc., to help users prepare for a competitive exam.
These apps also give a brief study plan which users can follow to prepare for the examination. This study plan allows a student to understand every lesson in-depth. Also, this app provides the question patterns of previous years so that users can prepare themselves for an upcoming examination.
Hence, the students can prepare for any topic from anywhere and anytime. These apps will save a lot of time and helps them in preparing for competitive exams.
5. Specialized Courses Apps
Custom application development for learning which delivers specialized courses that aid students in getting mastery in the specific field of their interest.
For example, hotel management, business management, etc. However, these courses are not part of your school curriculum; therefore, you are required to learn them from outside to get the expertise of your interested course. Hence, users can save time and enhances their possibilities of entering a career using this kind of application.
Features of Successful Education Application
The cost of developing mobile educational applications depends on the multiple elements that have the required features.
Users of mobile education apps usually fall into the following categories: teachers or students.
Features for Teachers
1. Authorization
Teachers log in to their system with their email address or phone number to make their profile and will start using the app.
2. Profile of A Teacher
With personal information like work titles, names, certifications, etc., teachers can build their online profiles.
3. Manages the students
A dashboard representing this functionality allows a teacher to efficiently and effectively manage students' data, evaluate tests and assign grades per their performance.
4. Course Control
With this, teachers can add, update or remove the course with this functionality. They can also post educational assignments, notes with images, videos, and quizzes, which are easy for the student to learn with this method.
5. Notifications
It gives notifications about upcoming classes, new students enrolled in their course, etc., and is sent to the teachers.
Also, Read This Post:

E-Commerce Mobile App Development Trends for 2021
Features for Students
1. Authorization
Students can connect to the platform with an email address, contact number, or social media account and will begin using the application and can pass the required courses.
2. Information of Student
Students can fill out their profiles with information like age, name, objective, location, and subject.
3. Looking For Classes
While using this function, students can find the required courses. However, they can access the scheduled course, cost, and other information.
4. Educational dashboard
This comprehensive dashboard provides the students with all the required information, including the schedule of upcoming classes or tests, the student's progress, and more.
5. Payments
Students can pay for their courses using this feature. They usually pay for their classes or memberships. Make sure that this functionality is user-friendly and secure. 
Hence, you can use a payment platform such as Paypal or Stripe to implement the secure payment gateway to make the payment feature.
6. Notifications
Students will receive notifications for the timetable, upcoming courses, and grades.
Also, Read This Post:

How to Implement Push Notification In Flutter?
How much Does it Cost to Develop an Education App?
The cost of developing the educational application differs based on an owner's expectations. Some factors that can affect the cost of application development are:
The Type of Vendor you Select,
Advance Feature Integration
and Third Party Integration
Best Education Apps in the USA
1. Duolingo
This education app is free and fun for learning 40+ languages via quick, bite-sized lessons. It helps you practice speaking, reading, and writing to build vocabulary and grammar skills. It also allows you to make real conversations in your preferred language. Hence, Duolingo has a science-dependent teaching methodology that is proven to foster long-term language retention and track your progress.
2. Google Classroom
Classroom makes it simple and easy for learners and instructors to connect internally or externally with the schools. The classroom will save time and paper, making it easy to make the classes, distribute the assignments, stay organized, and communicate. Students can share the resources to give the answers to questions to stream. However, it also supports offline access. Hence, the classroom has no ads and never utilizes the content or the student information for advertising purposes.
Also, Read This Post:

Top 10 On-Demand App ideas for Startups in 2022
Conclusion
A team of educational app developers is vital and makes the appropriate choices for your education application development. The development team can help your business in many more ways rather than app development for education. 
Flutter Agency is the leading app development company with great skills and experience creating mobile educational apps. Contact our experts for more information and clear your queries and doubts.
Frequently Asked Questions (FAQs)
1. How will educational apps make money?
Educational mobile apps can make money in various ways. Some experts charge their app and then earn revenue from the additional functionality and upgradation. Hence, others make money by advertising, sponsorships, and product placement.
2. What makes an eLearning app successful?
The content and data should be mobile-friendly so that there are no landscape whiteboards in the background. A tutor's approach depends on their student's interests and age. It must be unique and interactive, which helps the students to retain their attention.
3. What is a smart student application?
A smart student is a beautiful and simple app for parents and students to get real-time updates from the tuition classes that are elated with the smart classes software system. Hence, it aids the student in learning online in live classes and digital video courses.
Build your own Education App