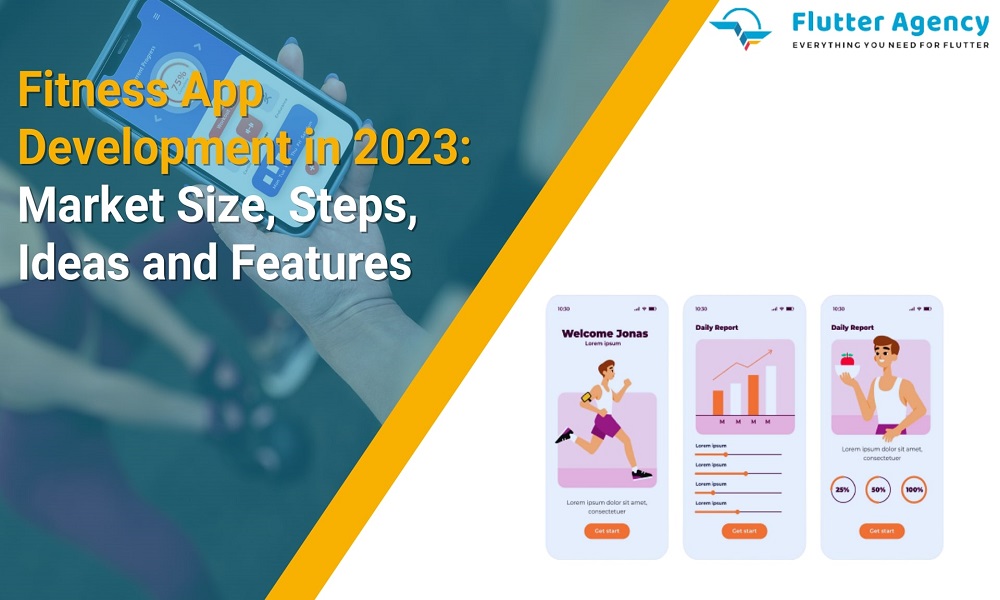 Fitness App Development in 2023: Market Size, Steps, Ideas and Features
Nowadays, due to a hectic lifestyle, many people face health problems, particularly those related to obesity. Some people are suffering from mental health issues in their life. It is vital to maintain a fit and healthy body. Because of mobile devices, fitness app development resolves this issue for people suffering from health problems.
App development services are majorly useful in several contexts. As a healthcare app development company, we have researched market size for fitness tracking apps and the advance features that we can build to take your daily fitness app to the next level. So, in this blog you will learn about various details of fitness tracking apps and see a list of fitness app development ideas in 2023 that will be useful.
Fitness App Market Size
The worldwide fitness app market was USD 1.3 billion in 2022, and it is projected to increase at a CAGR of 17.6% from 2023 to 2030. With the rapid spread of the COVID-19 pandemic there was a lockdown and some social distancing norms. At that time everyone started supporting the transition from traditional studios and gyms to virtual fitness. It leads to an increase in downloads and subscriptions to fitness apps. The American College of Sports Medicine (ACSM) done research in which fitness apps were ranked 13th among 2019 fitness trends.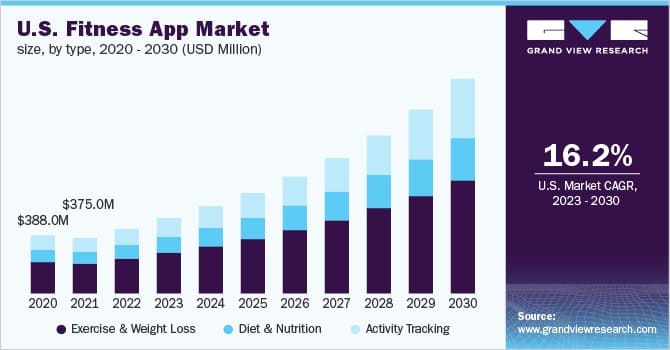 However, information technology has transformed the method the fitness industry works. According to a World Economic Forum article from September 2020, the market for fitness and health apps has increased internationally by 46% as a result of the rising demand for online fitness training. A growing awareness of fitness and mental well-being is also driving the market. That is why the demand for mental health applications continues to increase.
What Are the Common Fitness App Features?
Since fitness app development has been in the market for a long time, there are various trends in the feature. Hence, any service you provide has a pool of basic functionality.
User registration and login is the most popular way for authorized people to login into a system
Create a personal profile with age, height, weight, gender, and fitness goals
Workout plans and routines with instructional videos
Progress tracking and analytics, which collects useful data and will provide insights
Merging with wearables and other fitness-tracking devices
Push notifications and reminders for user retention and goal completion
Social sharing and community features to give a correct outcome with peers
Nutrition and meal planning as complete part of a wellness maintenance
Combining with a third-party service like Apple Health and Google Fit
In-app purchases for premium content or functionalities

Which Are The Leading Fitness App Development Ideas in 2023?
Let's see unique fitness app development ideas to consider if you plan to boost the health and fitness industry.
1. Gamified Fitness App
Gamification is a new cutting-edge technology that is increasingly used in apps to make them more enjoyable, engaging, and positive.
Gamification adds to apply game mechanics to non-game situations. The goal is to use a data-driven approach to drive and engage, and it motivates a user, among others. It helps make a fun and challenging environment for participants pushing hard to beat the next challenge and their previous stores. One of the advanced examples of gamification in fitness is the indoor cycling bike, which will measure a cyclist's performance in power watts and view vital statistics worldwide.
It's for a user who gets bored easily and doesn't stick to similar earlier training regimens for longer. You can develop the fitness app with gamification, merging your imagination with an exercise routine.
2. Meditation Classes Apps
There has been an increase in the number of downloads of meditation apps. In the world of anxiety, stress, and depression, it plays a huge part in life. A meditation classes app has features that give a user virtual contact with a meditation instructor and calms music to meditate together.
Meditation apps have come to be excellent health apps thoughts. After seeing an increase in downloads and market statistics of meditation app development, many startups have jumped at the opportunity to develop an app with several exciting and innovative features.
3. Home Workout Apps
If you are a workout enthusiast, then you must have an idea about the growth of the home workout app. Many home workout apps on the internet supports people in learning the exercise without any equipment.
However, many people lack the resources, space, and gadgets to exercise. Hence, for those people, these apps have been a great resource. Although home workout apps have become the top fitness app as it needs only downloading on your device. It is the only fitness app among all that has around 10 million downloads of an application.
Therefore, if you are considering this for developing and investing the fitness industry, you should opt for a home workout app as it is one of the best ideas.
4. Gym Workout Apps
An appropriate pair of going for walks footwear will enhance your stride, and the fashionable matching outfit will inspire you to hit the fitness center. A perfect training app will help you give your body proper shape. However, if you are feeling a little bit low in the gym, the only option is to hire a personal trainer, which increases your confidence. In this situation, your mobile phone will help with great gym workout apps, which are the same as a personal trainer.
From audio workouts to custom routines, gym training apps will provide access to all resources and features built and get you one step closer to achieve your objectives.
5. Diet and Nutrition Apps
Health-conscious people aim to gain or lose weight and build muscles, so diet plays a major role in their fitness. However, if you are a nutritionist, you can create a custom mobile app to help users prepare their weekly nutrition plans and achieve their fitness goals effectively.
These apps have one basic feature: personalized nutrition plans. Each individual has a distinct body type, food availability, and metabolism rate. But, you can develop one custom mobile app development platform that allows users to plan all their meals. You can also integrate a video conferencing feature that provides one-to-one support to your clients and help them to plan their diet meals efficiently.
6. Callisthenic Apps
Callisthenic is a distinct approach to fitness apps that involves exercise and does not rely on gym equipment. Callisthenic apps enable users to stay healthy from the comfort of their homes with experienced trainer tutorials.
7. Yoga Training Apps
In the 21st century, yoga apps have boomed during the pandemic and have proven very effective. It helps people to improve their yoga posture without hiring a personal trainer. It is the one type of exercise that gives physical and mental benefits to humans.
The curiosity to do yoga is increasing worldwide, but taking a step back seems to be discomfort, which is a common problem. An infinite number of people have used yoga apps during COVID-19, which help other people to be physically and mentally fit. Hence, you can share your ideas and thoughts if you are thinking of a yoga app. We love to design, develop, and deploy your yoga app with innovative and unique features.
8. Calories and Vital Tracking Apps
Countless people exercise at home and struggle to properly maintain their calories and vital signs. It is necessary to know how many calories you are burning and consuming to get your body properly fit.
A calorie tracker app is an amazing fitness app with best features for users looking for necessary fitness goals. An app gives the calorie intake details and tracks their calories as per particular exercise they are doing.
A calorie and vital signs tracker app has built-in support with a portable sync advancement that helps users connect it to their smart device. Many startups are interested in developing a fitness app as it is popular among users, displays every workout, and conveniently wants to achieve fitness goals.
9. Personal Training Apps
It is a fact that different people have different body types and metabolism, so workouts are also distinct. So, in that case, personal training apps are famous among users looking for personalized fitness training exercises according to your metabolism.
10. Fitness Tracking Apps
The most important thing in the fitness industry and their business model is to create a full-scale fitness tracking app. However, these apps provide complete physical assistance to their users. From tracking workout progress to developing daily workout catalogs, this fitness app provides all the features one who needs to live a fit lifestyle.
Developing a full-scale fitness app solution costs more than conventional basic fitness solutions. Such apps are equipped with the latest feature like voice assistance, activity tracking, etc., which makes the development cost high.
Hence, due to an extensive list of features, these apps will take longer to develop than the regular fitness tracker. Therefore, launching large-scale fitness apps is ideal for people who want to lead in the fitness industry.
Steps For Fitness App Development:
Get an idea about the fitness market and its growth. Now, let's see its process steps one by one that helps you develop your fitness apps.
Step 1: Identify a targeted audience.
Every app has an audience segment to cater to its requirements. However, you can not target a broad audience, as expanding the target will increase the intensity of your marketing and promotional strategies. Identify the right audience with great extensive market research and further analysis. Identify a target audience that supports you in moving into useful features for a customize fitness application.
Specify an app development approach and ensure you examine all the real problems you wish to resolve with the app's help. An app framework is robust and usable when the problem statement is clear. By describing a targeted audience, you can underline the USP of the app in development. It also identifies the competitors who are already present in the market segment. Hence, with this approach, you can cater to the audience in a targeted and streamlined manner.
Step 2: Outline Features
With the help of a targeted audience segment and a basic demographic outline, you will determine features that must be added to the app. Begin with competitor research and identify another company's features. Hence, you can list features similar to other companies is the one step ahead of them.
On the other hand, you must include unique features that set an app apart from other apps in the sector. Hence, determines features, conducts user research, and examine a functionality that real-time users want in fitness apps. You can brainstorm the features you need as a part of the app with designers and developers support. Give a client a roadmap that is solidified with important and interesting features.
Step 3: Fitness App Development Phase
After a brainstorming and roadmap phase, it is essential to implement everything and create an app. For the development phase, you need to corporate between designers and developers. Designers can visualize an app layout and make a unique UI for fitness apps. A programmer must work on the app's client and server sides. App creators will merge an entire framework to make a perfect app.
In the beginning, MVP is developed so it can be tested with a user base in the market. MVP has basic features and is used to gather feedback from a market. An expert will build wireframes and integrate elements and code to make a highly functioning app.
Step 4: Launch and Deploy the Application.
The launch and deployment phase is the last and final step of a mobile app development process. After its development, an app is tested in several rounds and launched in the market. A company has to release a version in the market for initial deployment and feedback. Deployment has to go through different app stores and portals from where users can download an app. Hence, users can rate an app on the app store portal. Thus, developing a fitness app could be costly, but the ROI from a fitness app is very high and of good quality.
Conclusion
fitness app development ideas have set the new standard for the upcoming startup with innovative functionality and concept as it will simplify an ideal fitness app according to the clients.
Frequently Asked Questions (FAQs)
1. What is fitness app development?
A fitness app's key features are the registration process, user profile creation, wearable gadget connectivity, tracking workout or diet plans, chatting with the trainer, and activity tracking. All these come into fitness app development. 
2. How much does it costs to develop a fitness mobile app?
Generally, a fitness app costs $15,000 to $20,000 USD to build completely. However, you can build a custom fitness app as per your requirement with limited features and functionalities. It usually costs around $5000 to $10,000 USD depending on your needs. Also, fitness apps with more advanced and complex features cost around $20000 to $25000 USD. Again it is depending on your needs.
3. Who is the target niche for fitness apps?
There are various segments, but the most common are weight loss, social, bodybuilding, sports, and elite performers. You can also segment further dependent on demographics like age, behavior, gender, or age.
4. What is a digital fitness app?
Digital fitness refers to digital gadgets, software, and applications used in health and fitness apps. Hence, the things like wearables, digital fitness devices, streaming, and on-demand fitness apps.
Build Your Daily Fitness app Now