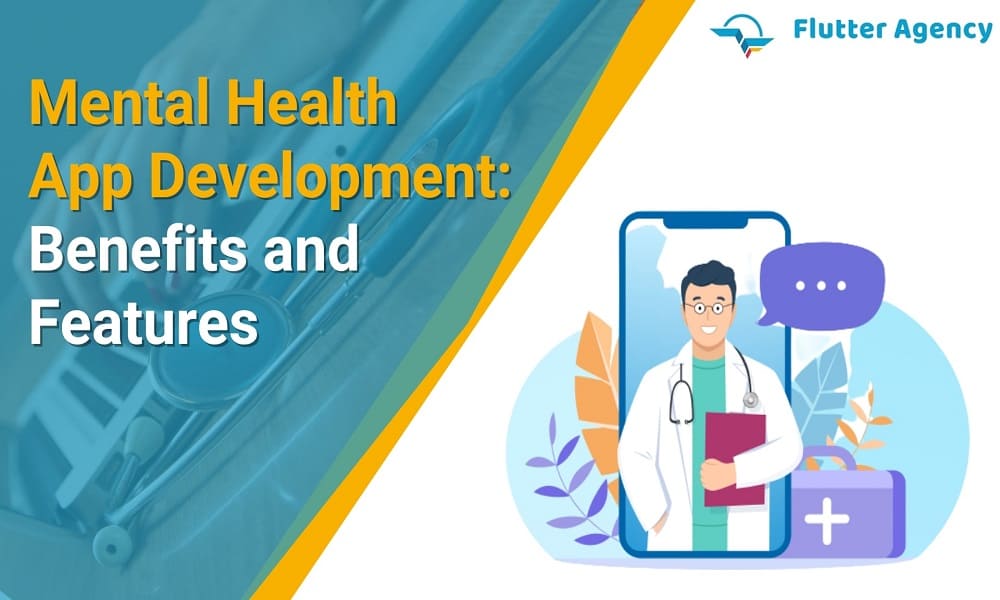 Mental Health App Development: Benefits and Features
Nowadays, mental health has become the most important in comparison to the past, and it is because of the significant impact of the COVID-19 pandemic on people's emotional well-being. At that time, no doctors and offline clinics were available every time. However, digital solutions for mental health and telecare came into existence. As the treatment of mental health, app development was manageable and effective. It provides access 24*7 to smartphones, and due to this, it has become popular among people globally.
What are mental health apps?
Mental health apps aid in improving people's well-being, and these apps are only sometimes used as a substitute for the treatment offered by the mental health specialist. However, mental health apps offer people to provide support between consultations or after finishing the therapy. Hence, it offers therapeutic activities, self-help tools, and much more.
What are the benefits of Mental Health App Development for Business?
The rapid growth of digital health technology offers some essential benefits for creating mental health applications for business owners.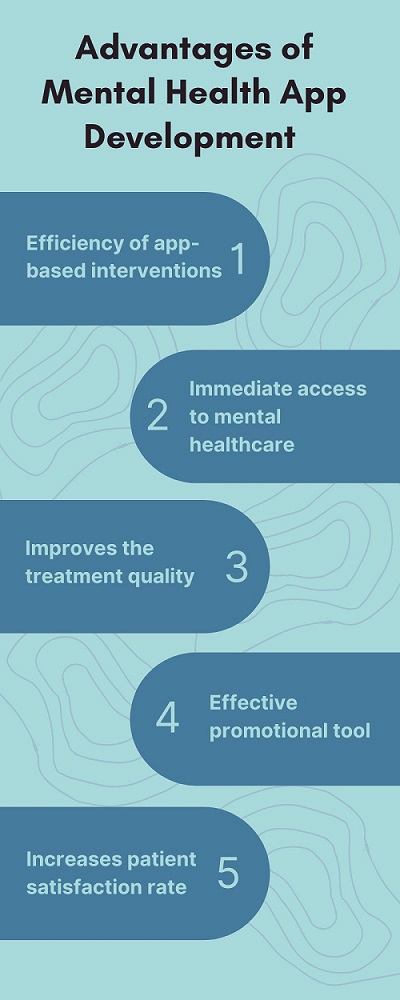 1. The efficiency of app-based interventions
Smart gadgets enable treatment at a distance. Hence, you should know how to create a mental health app as it helps you to expand the care delivery coverage. For instance, if there are no clinics nearby, it is great to have an app. However, treatment and recommendations should be up-to-date and confirmed by the evidence to guarantee the efficiency of the product.
2. Immediate access to mental healthcare
By considering a high mobile penetration rate, caregivers can reach any location for mental health therapy. The in-home treatment for mental conditions like anxiety, stress, etc., is productive and convenient. Moreover, remote patient monitoring will save time and money by eliminating the need for in-person visits to the clinic. Due to this, medical consultations have become faster, and medical institutions can earn good revenue quickly.
3. Improves the treatment quality
When your mental wellness app doesn't involve any holistic treatment, it is necessary to collect patient data and monitor them. Usually, medical consultations advise the clients to make use of such applications. After that, a care team will look over the records and can adjust the treatment plan.
4. Effective Promotional Tool
Developing the mental health app will provide a robust tool for your service and product promotion. By adding the push-notification feature to your system, you can inform customers about reports, prescriptions, new offers, discounts, and news. 
5. Increases Patient satisfaction rate
Mental wellness apps are considered the practical tool that cops with post-pandemic syndrome. It offers many medical tasks, from tracking mental health conditions to appointment scheduling and receiving prescription refills. Additionally, uncertainty is one of the primary reasons to develop the mental health application from scratch.
To make the innovative and unique mental health app development with some extra features and functionalities, hiring an IT vendor with hands-on experience in medical software development is significant.
What are the Features of Mental Health App must have?
It can include several tools and techniques in the latest mental health apps, such as acceptance and commitment therapy, gamification, personalized options, etc. Thus, with this diversity, it's essential to balance the functionality that will meet the targeted user needs.
Let's look below at the features of mental health app development.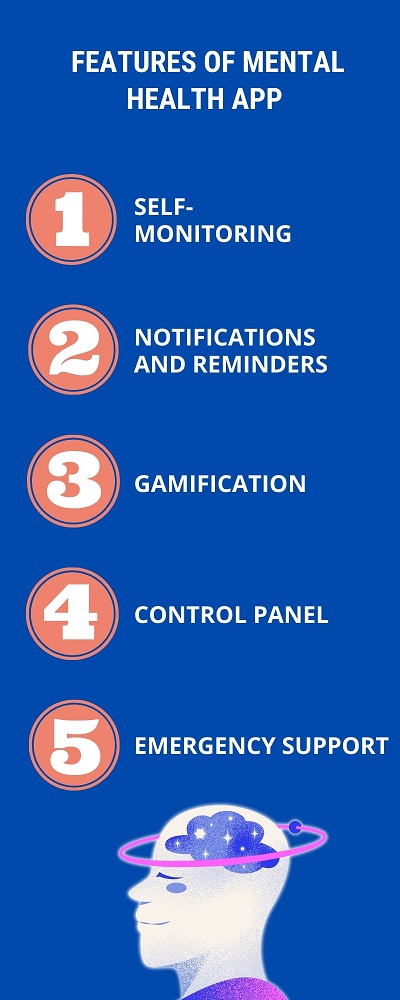 1. Self-monitoring
This feature is considered the core component of mental health app development. Let's think about the solutions for mentally healthy people. It permits the users to monitor their mood patterns, stress levels and other critical data for their emotional well-being. If a person is facing the problem of a mental disorder, then this feature will assist you in tracking the symptoms and progress of the treatment.
2. Notifications and reminders
Notifications will give recommendations for encouraging self-monitoring. As for the reminders, it enables the users to practice relaxation techniques, take a break and do other stuff to improve their psychological well-being. Moreover, some people have to take the prescribed medications throughout the day. An alert will remind them to take the pills. Notifications are added to promote personalized updates and offers.
3. Gamification
The mental care app is transferred into the fun with the games. An interactive mini-game will allow people to use cognitive skills and emotional conditions. You can insert them into your daily routine, and due to this, there is an increase in the client's loyalty.
4. Control Panel
In developing the mental health app, it is good to add smooth dashboards that allow the users to monitor the cognitive and various other wellness conditions and keep the critical data in one place. For instance, it might include the monthly calendar that will view the user's mood swings which summarize in color code, with the ability to send this data to enhance patient care. Progress bars will motivate them to fulfill the planned activities. A mood chart will show the efficiency of the particular therapy, pills or exercises. You can also let the patients customize the control panel settings, and it will deliver a great user experience.
Also, Read This Post:

A Complete Guide On How To Hire Flutter App Developers in 2023
5. Emergency support
Mental health app developers should account for emergency calls or messages. This is preferable for those people who have anxiety or some other issues. Hence, allowing them to send the emergency text to their medical provider with just one click is great. Implementing emergency contact numbers is also needed that permits the patients to get help. A red panic button will allow the users to send the panic message through an SMS or email, and the patient's emergency contacts will be able to get the Google Maps link of your location.
Features for the medical practitioners
A dashboard is a vital tool for the medical providers that will handle and manage the cases and the patient's progress to centralize all of the information. 
Moreover, the patient's records are sent to the web-based dashboard and will take the form of intelligible reports.
The scheduling feature allows the doctors to arrange their work in your application. It's just to implement the in-app calendar or third-party platforms like Google calendar for quicker and the convenient scheduling.
Access control is needed to assure the confidentiality of the service.
However, mental health solutions include sensitive and private patient data, which is secure and safe. It is good to enable management access per the employee's approach.
What are the best practices for mental health app development?
1. Consumer-centric design
From your app's logo via onboarding to the main screens, the design is essential to establish credibility and trust.
How smooth and flexible is the onboarding process?
Does the UX follow the platform trends by simplifying user interactions?
Answers to these questions will help you to understand whether your application will be able to get more users or not.
Your solution needs to be accessible to people who might get discouraged by an unnecessarily dim design.
Also, Read This Post:

Estimate Healthcare App Development Costs in 2022
2. Security
Usually, people will think about your app because the private information they share is at risk. Besides HIPAA compliance healthcare applications, you can utilize the transparent privacy policy and educate the app users about the security best practices. You must comply with regulatory guidelines like the GDPR in it.
3. Doctor-Centric Back-end
Therapists will use the web or mobile application to interact with patients and give different solutions to review patient data, their past medical history, etc.
4. Multi-Platform Support
Customers switch between the two devices, like laptops and mobile phones, throughout their day. Hence, your product should be able to manage the customer on all the platforms.
How many steps are there to develop the mental Health App?
We have discussed some essential steps below to build your mental health app development procedure smoothly and efficiently.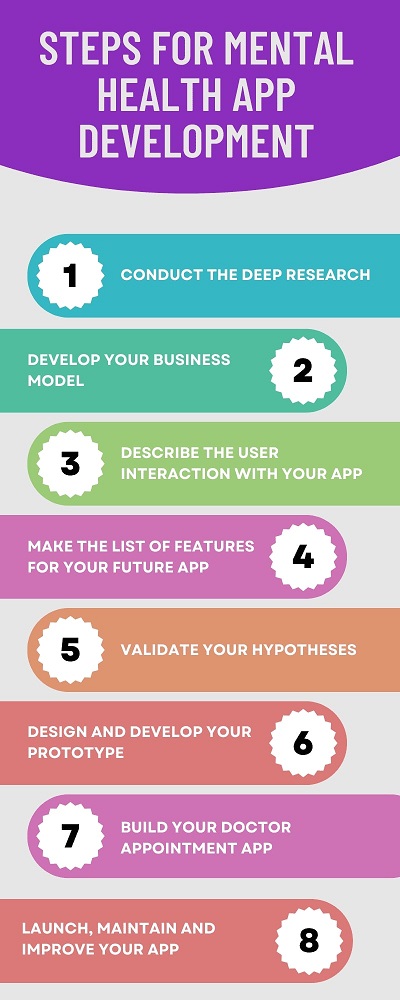 Step 1: Conduct the market competitor and the targeted audience research to know if your startup idea is worth implementing. Also, find the correct market niche and will formulate a unique value proposition.
Step 2: Make the business model for your mental health app and visualize your startup idea by specifying your value proposition. However, know the resources needed for mental health app development and the monetization model you will use to earn money from your app.
Step 3: Create the scheme of the user's interaction with the mental health application to know its expertise within the app, find all possible inconsistencies in the journey and will improve the user experience.
Step 4: Decide the functionalities and features you want to add to your mental app. The type of the app is entirely based on the set of features which you are going to implement.
Step 5: You must validate your hypotheses to know that your assumptions are correct.
Step 6: Design and develop the prototype to identify that an app is easy to navigate and that users can easily understand how to use it at their convenience.
Step 7: Develop the MVY for android or iOS or both. If you want to save money, you can develop the Flutter app, which will work on both operating systems.
Step 8: Launch your mental health app in the market and constantly improve. You will need to make the proper app maintenance, give users high-quality support, and improve the app to stay ahead of the competition.
Which are the best mental health apps in the USA?
1. Moodkit
Two clinical psychologists developed it, and it is dependent on principles and techniques that are utilized in cognitive behavioural therapy. It is best for tracking moods, reducing stress and creating positive thought patterns.
2. Talkspace
Talkspace is the most cost-effective app and stands second in the USA. It provides you with direct access to mental health professionals. This online therapy option is a much more affordable option than seeing the therapist in person, and you will get 24/7 access to its support. You can send the message to your therapist in the Talkspace chat room and schedule the live sessions with your therapist.
Conclusion
Mental health app development is a complicated project that needs considerable knowledge, skills, and help from a trustworthy healthcare app development company. If you wish to cooperate with a reliable partner with complete knowledge of how to develop a mental health app that becomes popular and gives a high ROI, then contact us and share your requirement with us.
Frequently Asked Questions (FAQs)
1. Why the mental health apps are required
The convenience of mental health apps is easy to access, and other benefits by providing anonymity, services at low cost, and it is round-the-clock monitoring.
2. Who is the target audience for your mental health apps?
These apps are only accessible to those with mental illness and provide an excellent solution for those unable to attend therapy physically. It is the main objective of developing mental health apps.
3. How is the mental health app data private?
An analysis of mental health apps on the market has revealed the personal privacy of the app users, which is often at risk. This risk either comes from a security breach or from sharing the standard data practices between app developers and third parties which are not cyber secure.
Build Your Own Mental Health App Now