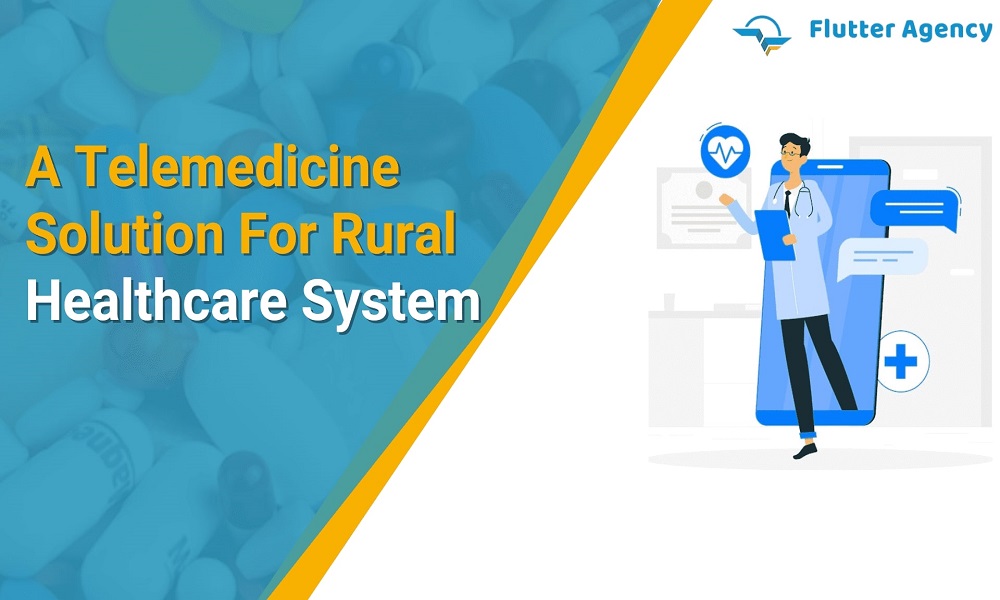 How Telemedicine Solution Improved Rural Healthcare System In USA?
Telemedicine is an emerging field in healthcare that utilizes telecommunication technology that shares medical data, and video conferencing that delivers healthcare services remotely. In rural areas, it is very complicated for patients to access quality healthcare services because of the distance from hospitals and other health centers. Telemedicine solutions fill the gap between healthcare services and patients by giving them visual and audio communication with a doctor from a remote location.
Telemedicine has empowered a rural population and aids them in accessing state-of-the-art healthcare by connecting them with a specialist doctor through video or telephone calls and removing the bridge between rural and urban areas. It has also change the future of healthcare and the medical system by providing more convenient and easy solution with the help of technology.
Why do telemedicine solutions need an hour in the USA?
Our country has a significant disparity in healthcare distribution. According to estimates, about 46 million Americans reside in rural villages that need doctors in urban areas, and that requirement is primary healthcare. However, a small portion of the American government's healthcare budget is allocated for offering healthcare in rural areas, and the doctors can not deliver the proper care in these areas because of a lack of infrastructure.
A telemedicine service provides healthcare providers, patients, planners, and doctors with a fast and easy method for exchanging patient data, therapeutic interventions, and symptomatic measures.
Telemedicine solution that has enhanced a rural healthcare
Telehealth programs are explored worldwide, and many organizations are adopting off-the-shelf equipment such as smartphones, laptops, webcams, and tablets. In addition, various electronic gadgets, peripherals, and other devices are used to transmit and receive essential data. Let's see some of the critical technologies that used in telemedicine are:
a. Monitoring kit for remote patients
With a stable internet connection, these kits add blood pressure monitors, glucometers, etc. Mobile devices like tablets, mobile kiosks, etc., measure vital stats.
b. Field kits and telemedicine carts
Kits and systems like these provide all the necessary tools and equipment at an emergency or a patient's site. Some of the components are x-rayed machines, peripherals, and desktops.
c. Peripherals
Multiple peripheral devices capture and transmit the picture via an electronic medium for further assessment and diagnosis. That includes ophthalmoscopes, dermoscopic machines, and stethoscopes. Real-time access to these images and storage for future reference is available.
d. Video-conferencing setup
Video-conferencing software, a camera, or a smart device like a cell phone or tablet is needed for this setup. This technology enables face-to-face communication between healthcare professionals and patients. Additionally, on-demand doctors utilize this setup to conduct administrative meetings, provide additional assistance to colleagues and senior doctors, give educational webinars, and perform clinical encounters.
Benefits of Telemedicine
A value-based healthcare system depends on heavy medical observation and agreement to ensure that a patient receives the best care. Telemedicine needs to become more accessible and flexible to achieve this goal. Additionally, by helping the rural population, telehealth and telemedicine programs give an advantage to people who can not move, have mental health issues, have substance abuse issues, or have limited proficiency in the local language.
Telemedicine app has several benefits, but it also has some unique pros in rural areas, particularly for the healthcare providers who face daily challenges. Let's see some of them below:
1. Easy access to specialist
Everyone has an ongoing relationship with the doctor, so they can call when needed. Several online medical networks provide round-the-clock access to all types of specialists, without an appointment, at any time of the day.
2. Lowers the cost
Doctors and therapists are expensive, even for people with good health insurance. Telemedicine appointments are cost-effective compared to the clinic and remove the barrier to care.
3. Medical access for people without health insurance
Many online companies offer cash-pay telemedicine, which does not need health insurance or referrals.
4. Reduce exposure to pathogens
Waiting for long hours for doctors or other patients can cause and spread diseases like flu and virus. So, telehealth keeps the management of patients health at home by avoiding exposure to viruses and germs. It also helps to protect medical professionals.
5. No need for childcare
Sometimes parents get sick too, so taking the little one to a doctor's visit becomes challenging. At the same time, telemedicine eliminates this need and the additional childcare cost.
6. Doctors get to stay home too
Many medical offices have closed or reduced their working hours during the pandemic. Cybersecurity tools like virtual private networks enable doctors and therapists to treat patients safely from home offices. It allows doctors and patients to connect after an hour and on weekends.
7. Support people with chronic conditions
The home monitoring tools transmitting a reading to the medical professional can signal new symptoms, worsening health, and potential emergencies. It helps people to get rapid interventions, which is lifesaving.
8. Psychiatric support is online
COVID-19 has made it complicated for people to meet therapists face-to-face. However, telemedicine allows therapeutic care to begin or continue for individuals who experience stress, depression, anxiety, and mental health issues.
9. Peer-to-peer support
Online therapist-led support groups have brought together people who cope with challenges like bereavement or infertility.
10. Physical therapy at home
Telemedicine authorizes physical therapists to supervise and view the exercises, which can do at home conveniently. It helps people to recuperate from surgeries and accidents faster.
Which kind of medical concerns work best for telemedicine?
Doctors and specialists can use telemedicine for ongoing treatment or for creating initial diagnoses. The medical professionals who effectively use telemedicine are:
Dermatologists
General practitioners
Oncologists
Cardiologists
Mental health practitioners
Reproductive endocrinologists
Conclusion
Telemedicine and telehealth solutions can boost healthcare services and deliver the best quality care to rural residents. If you still want to improve the quality of care for rural areas, you can hire healthcare app developers who help you in the development. We will give you the best solution that fits your budget and requirements.
Frequently Asked Questions
1. What is telemedicine?
Telemedicine is utilized for remote diagnosis and treatment of patients by telecommunication technology.
2. How does telemedicine work?
Telemedicine makes use of technology that enables remote telehealth. Usually, it makes it possible for physicians to treat patients whenever needed and wherever a patient is by using a computer or smartphone.
3. What is a telemedicine visit?
It is also sometimes known as telehealth. It provides the health care provider with the care for you without an in-person office visit. Telehealth is done online via internet access on your tablet, desktop, or smartphone.
Get Free Healthcare App Consultation