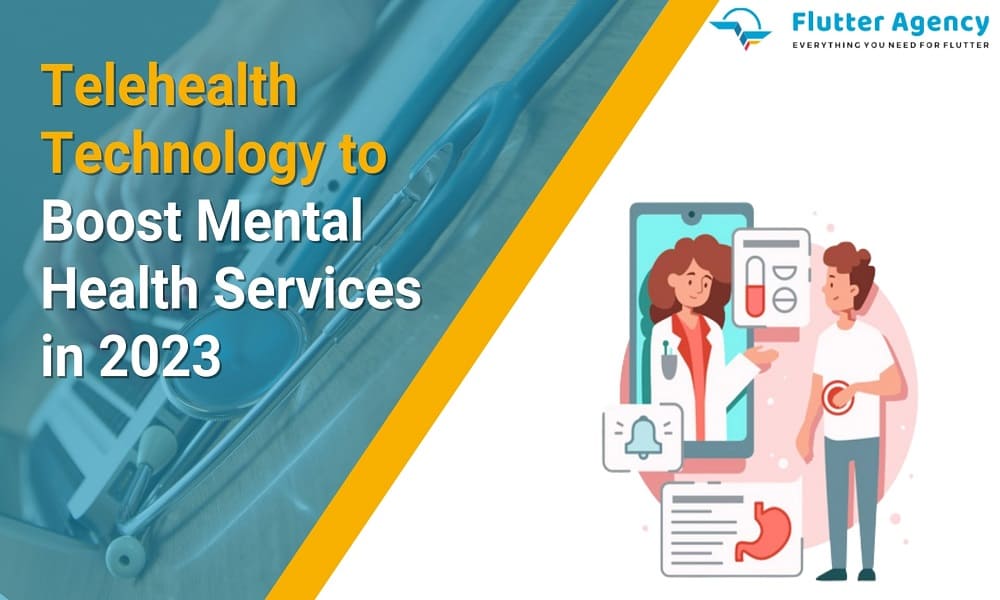 Telehealth Technology to Boost Mental Health Services in 2023
Telehealth technology can be worth investing in by viewing its advantages to healthcare systems and patients. However, there has been a huge shortage of mental health experts in the U.S., while mental health disorders have grown rapidly and provoked by the COVID-19 pandemic.
However, many Americans face health issues like sleeping. Eating and increased consumption of alcohol or the substance due to anxiety and stress spread during the pandemic. Usually, patients who feel the problem of mental disorders are not comfortable visiting the care facility and discussing it face-to-face. At that time, telemedicine technology was there to give mental health services and was the most effective way to solve issues.
In this article, we will see how telemedicine has become an effective solution that is accessible and gives high-quality mental health services.
Statistics Of the Telemedicine Market
According to the report of Global Market Insights, the U.S. telemedicine market size was valued at more than USD 35 billion in 2022. However, it is estimated that this industry will grow at a CAGR of 12.5% from 2023 to 2032.
The increasing popularity of this chronic disease is anticipated to stimulate market growth. The acceptance of illnesses like diabetes, cancer, and heart disease, among others, is because of the adoption of unhealthy habits and sedentary lifestyles. Also, the consumption of alcohol and smoking cigarettes is moving the telemedicine industry insight in the U.S.
Moreover, the government is trying to improve healthcare systems and escalating the demand for telemedicine in the region. The centers create health insurance portability and accountability act policies for Medicare and Medicaid services administrators (HIPAA). Per this policy, patients can connect with any doctor during the pandemic via their smartphones and platforms. These regulatory changes have raised the use of telemedicine and are foreseen to boost market expansion.
Define Telemental Health
Telemental health uses telecommunications or videoconferencing technology to give mental health services. It is also known as telepsychiatry or telepsychology. However, research recommends that telemental health services are effective for various people, but not limited to those with attention deficit, post-traumatic stress order, anxiety, and depression.
Virtual mental health care services have increased, and providers are finding ways to use phones and videoconferencing technology to bring out therapy, evaluations, and medication management to those individuals where they are. Overall, there is a significant increment in the building of healthcare applications for mental exercise and apps to overcome mental stress.
Also, Read This Post:

Mental Health App Development: Benefits and Features
Functionality Of Telemental Solutions
Telepsychiatry solutions are the same as telemedicine apps, including real-time video and audio conferencing, 24/7 chat with a doctor, medication management, etc. A telehealth app is an indispensable tool for organizing remote patients; the medication will intake the monitoring and increase patient engagement in its treatment. Check out our guide on telemedicine solutions for a rural healthcare system which will give more information about telemedicine solutions.
The Telemental app's functionality is being adopted to suit the requirements of mental health experts and especially patients. For instance, with the feature of videoconferencing, mental health care providers hold behavioral therapy sessions for their patients and group therapies to improve their health.
Advantages Of Using Telehealth For Mental Health
Telehealth permits healthcare professionals to improvise accessibility and the quality of care services. Let's see the pens in detail.
For Patients
1. Visits The Psychiatrist From Anywhere At Any Convenient Time
As per the U.S. Department of Health and Human Services, millions of people reside in the mental health professional shortage regions. The use of telehealth technology will provide better patient access to specialize in mental healthcare.
2. Decreased Psychological Distress Compared With The In-person Visits
People who have never had a mental health diagnosis or know people with mental health disorders scare them. People who have been suffering from mental health conditions or have the symptoms and feel the fear of meeting the therapists will find the disease like anxiety.
3. Confidentiality
People with mental health issues may ignore in-person aids to tell about their problems or feel ashamed because of mental disorders. Since telemedicine permits to receive the behavioral health service remotely, patients can be sure of total confidentiality and get the treatment at their place only.
4. Selection of Mental Health Professionals
Due to the increased accessibility of mental health services, patients can easily find the mental health experts they like. An emotional capability between a patient and doctor is the key to successful therapy outcomes.
5. Reduce Transportation Costs and Time
For individual patients, telehealth has decreased the requirement to visit a doctor in-house, which is miles away and has saved the cost of travelling.
Also, Read This Post:

Best Healthcare Apps for Patients Management in 2022
For Psychiatrists
1. Decrease Professional Burnout
The usage of telemedicine in psychiatry will expand doctors' access to varied patients, increase their professional interest, reduce the level of routine, and aids in eliminating burnout.
2. Improved Patient Outcomes
The functionality of the telehealth apps gives the treatment process a high level. Constant monitoring of the patients and complete control over the drug intake help telemedicine technology increase the chances of great outcomes from the treatment. However, using this technology, the patients feel more enthusiastic about the treatment procedure and believe their psychiatrists more, which will positively affect the treatment results.
For Healthcare Organizations
1. Increased Efficiency of Work
Many physicians are already using telehealth technology, and telemedicine solutions contribute to the more efficient use of time for doctors. For care providers, it has increased work efficiency, as e-visits consume less time and distribute the workload among the mental care specialists in the specific area.
2. Bring Out Timely Psychiatric Care to Emergency Rooms.
However, many emergency departments are not equipped to serve people with serious mental health issues or do not have psychiatrists, or the various mental health clinics do not have the equipment to treat mental health problems. Thus, telehealth allows emergency departments to schedule remote telepsychiatry sessions for patients via videoconferencing.
Challenges Of Integration
Many patients or healthcare experts hesitate to utilize telepsychiatry, and it's all about the patient's data confidentiality in between the telepsychiatry sessions. However, due to transforming confidential and sensitive patient data, telemedicine software should comply with Health Insurance Portability and Accountability Act (HIPAA) compliance for healthcare apps. However, it can easily deploy video conferencing tools in the market, but few are qualified for its medical development use.
Also, Read This Post:

EMR vs EHR: Which one to select for your Healthcare App Development?
Conclusion
There are many technologies in healthcare, but telehealth technology with mental health has improved the mental disorder of patients. The healthcare sector is evolving continuously. It has also reduced the burden on the hospital management system and given better care services to the patients in the comfort of their homes. Therefore, it helps to save costs and time by using this latest technology in healthcare organizations. Moreover, get in touch with us to build your own healthcare mobile application.
Frequently Asked Questions (FAQs)
1. What is the goal of mental health promotion?
Mental health promotion tends to encourage and raise the protective factors and healthy behaviors, which help to prevent the onset of the diagnosable mental disorder and reduce any risk factors which lead to the development of the mental disorder.
2. How does mental health affect the healthcare system?
Mental illness impairs the ability of patients and the health system to take proper care of chronic medical conditions. Hence, humans with mental health disorders are likely to develop chronic conditions, and their progression is much worse.
3. How is the new technology affecting patients?
Emerging technologies in healthcare have given the healthcare community an advanced and latest tool to improve patient care. However, by using Electronic Health Records, physicians can access patient's medical histories and make informed decisions. Hence, physicians also use apps to identify possible medication bugs and help the patient's safety.
Build your own Healthcare app