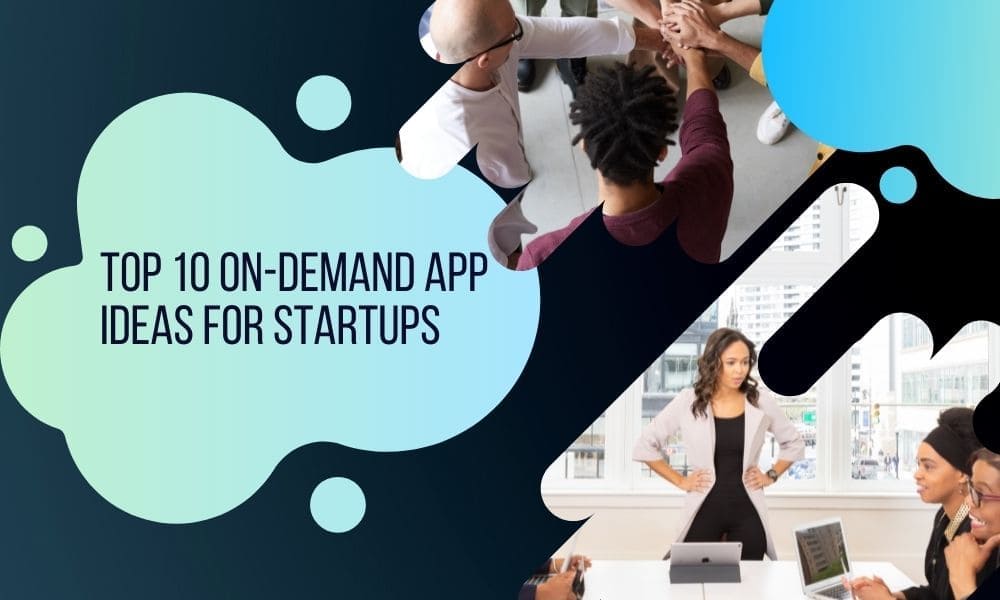 Top 10 On-Demand App ideas for Startups in 2022
If you are looking for on-demand app development, check out these top 10 on-demand app ideas for startups. 
Top 10 on-demand App ideas for Startups.
We have found the most needed apps in different categories. As a start-up, you can choose these apps for your next project. After going through the list, you can find app ideas that you can implement in your start-up.
1) Apps for Traveling
The era of on-demand app development began with companies such as Uber and Airbnb. The transportation and logistics industry has quickly taken a new direction with the great success of the popular taxi apps for Android and iOS. The transportation industry is huge. You can plan cargo logistics apps, taxi booking apps, bus booking apps, and even bikes.
2) Pharmacy Delivery Apps
With COVID-19, we are facing something we haven't experienced before. The only way to overcome this is to stay indoors as much as possible and use on-demand app services. With the Uber for Medical app or the prescription delivery service app, people can always buy the medicines and medicines they need from drugstores. Today this app is very much in demand. Many start-ups are already working in this direction and you can start too.
3) Healthcare Application
The on-demand health app is a trending app idea used by many users. Every day, people are becoming more health-conscious. However, due to the busy schedule, not everyone can go to the gym or take meditation classes. In this scenario, the app is a useful training kit for them. There's more to discover, and the concept of business ideas for such apps can bring a lot of sales and brand names to your company.
4) Beauty Apps
If you already have a thriving cosmetology service business, there are business ideas you can count on. For example, you can add apps to make invincible and huge profits. As an entrepreneur, you also get a profitable business model. Nowadays, working women don't spend much time in the salon. You need an efficient solution for the best cosmetology services. That's exactly what this app does for you, including the comfort of your home.
5) Video Streaming App
Video streaming apps became trendy when apps such as Netflix and Amazon Prime entered in the market. These two are the best examples of on-demand video streaming apps. There is everything in that type of app. Flexibility, convenience, downloads, and favorite choices make your life more enjoyable. All you need now is a good internet connection and a subscription to watch your favorite shows.
6) E-learning App
Due to COVID19, the students are trapped in the door again. By developing apps like on-demand e-learning, these students can continue to learn. Adapting digitization to the education sector is one of the best opportunities at the moment. Not only have e-learning apps changed the way education is delivered, but they have also created market demand. Even for educational technology companies, developing e-learning apps for education is one of the best app ideas for making money.
7) Flight Booking App
The travel industry is thriving with smartphone apps. Especially in the flight booking business, you can book flights conveniently and you don't have to pay a travel agency. Developing flight booking apps with additional features such as reward systems and weather forecasts will increase your chances of success in this highly competitive market.
8) Payment Wallet App
Applications like PayPal and Cash App have already set industry standards by proving themselves. You can also create great wallets for on-demand payments with secure services and unique features. Google Pay, which has become synonymous with everyday online payment apps and other apps, has enabled millions of people to pay on their smartphones alone. If you're thinking of developing a payment wallet app, etc., you need to get started right now.
9) Grocery App
Most of us relied on online food delivery during the pandemic. Due to increased demand, most damaged items were delivered. In addition, supermarkets were inflexible and had limited delivery times, which delayed delivery. Online supermarkets cannot meet customer demands. So, many companies have developed a business model with for ultra-fast food delivery. To ensure speed and reliability, most of these actors use data to identify purchasing patterns and improve efficiency.
10) Fashion Apps
E-commerce app development can get as much exposure as Amazon. Fashion trends never end. According to a Statista report, 42% of consumers enjoy online shopping. This keeps momentum as people continue to shop online. You can also add features such as payment systems, shopping carts, and push notifications.
Conclusion: 
Thanks for being with us on a Flutter Journey!
So, in this article, we have seen the top 10 on-demand app ideas for startups. You can modify and experiment with it according to your own. Also, feel free to comment and provide any other suggestions regarding Flutter.