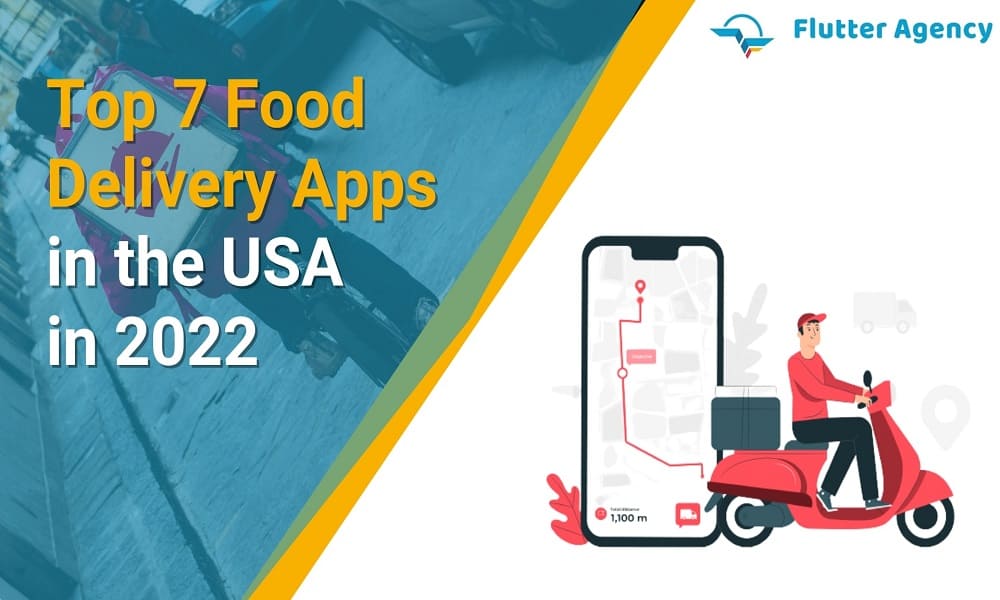 Top 7 Food Delivery Apps in the USA in 2022
There are various reasons why the USA is called the world leader. One of them is the technological advancements that they usher into the world. Most probably, they set the trend, and people around the globe follow in their footsteps. A similar thing has happened with their smartphones and the on-demand food delivery apps USA.
What are the benefits of Food delivery apps?
1. Order Processing is easy
The app is easy, quick and convenient to use, as there will be no frustration or misunderstanding while ordering over the phone. Hence the customers select to order the food via an app because it is at their fingertips.
2. Find the new customers
Online ordering via the food delivery app will help you to reach new clients. Enhancing your brand's presence in the market can increase your sales with new and returning customers.
3. Online ordering is convenient
An app allows you to order food anytime, anywhere, using mobile phones or other handheld gadgets. Hence, the consumer can quietly place an order without any hassle.
4. Explore business opportunities
Sometimes a client wants the food but in the comfort of their home. And it happens because of bad weather or some ongoing restrictions, but by offering this type of service, you can serve a wider range of customers.
5. Greater reach
Suppose you have a restaurant that can seat 100 people at a time. Hence, we can solve this issue by developing a Food delivery mobile app. With this app, you can reach thousands of customers that give growth to your business.
Market share of online meal delivery companies in the United States in march 2022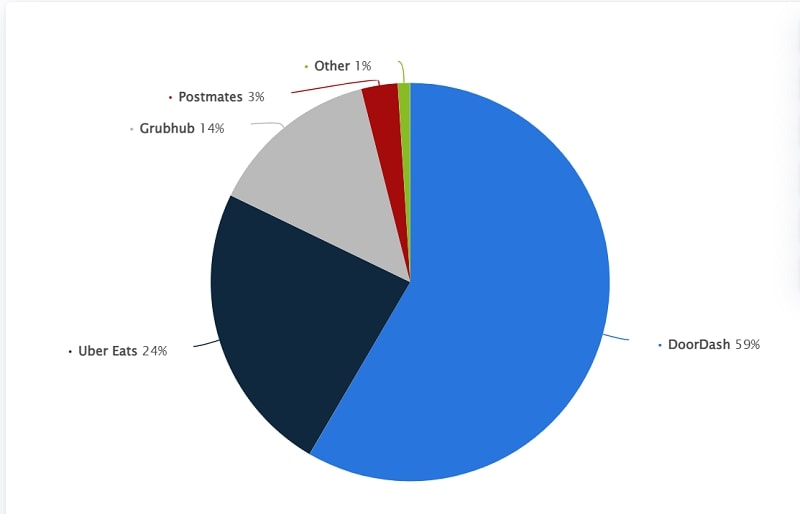 With a market share of 59%, DoorDash dominates the online food delivery market in the United States as of March 2022. However, UberEats has the second highest share, with 24% in the US.
Also, Check This Post:

Food Delivery App Design Using Flutter
Top Food Delivery apps in the USA
1. Toast TakeOut
Toast TakeOutis the mobile ordering platform that permits restaurateurs to make profits and enhance their relationships by allowing customers to easily order the pickup or delivery from a restaurant without any commission. It is the game changer in the enterprise market and offers a whole range of delivery solutions made by restaurant owners for the restaurant people.
Advantages:
Implementing seamlessly with the restaurant ToastPoint of sales system frees your employees from managing the orders by phone or any other separate app.
Access to several potential new guests that provide easy reordering at their fingertips
Manages online orders at peak hours and prevents the kitchen from getting overwhelmed.
Communicates directly with the clients using the food delivery app
Clients can get reliable services with the Toast delivery services.
2. UberEats
UberEats provides a wide range of delivery solutions. Their high-value partnerships on its active marketplace make their app a great option.
Advantages:
It is the largest and most reliable network of the delivery system
Access the large base of the customers
Marketing tools help you to reach customers in the digital marketplace.
3. Postmates
It is the leading app on the market for customer bases within particular geographical regions. Whereas the Postmates app is still independent and retains the dedicated customer base, in contrast, UberEats now owns and operates its service.
Advantages
All the benefits of UberEats have a small marketplace that can access the network of delivery drivers.
It has strong brand recognition in some cities because of its extended delivery hours.
4. Doordash
It works with restaurants, bars and other retailers to deliver their customers with effective delivery solutions.
Advantages
Provide solutions for all types of restaurants
Integration with the sales system for the easy order fulfilment
5. Caviar
Caviar is the partner of DoorDash that boasts the delivery of the best local food.
Advantages
Elevated and exclusive branding permits restaurants to reach their peak in this busy marketplace.
It is great for restaurants with more than one location in large metropolitan areas.
6. ChowNow
It provides a unique range of delivery solutions for restaurant owners. Their direct and marketplace items are good for the restaurant that caters to the local community.
Benefits
7. GrubHub
GrubHub will focus on extending flexible delivery services to restaurants. It helps to turn your kitchen's restaurant into a virtual restaurant.
Benefits
Provides order management that implements certain restaurant POS systems.
Supplemental delivery services will extend the restaurant's reach and customer base.
It maximizes profit by transforming a restaurant's kitchen into a virtual restaurant.
Conclusion
It was all about the best food delivery apps in the USA. I hope that this has given the idea of how food delivery apps benefit your business and boost your sales. 
If you want to develop an app for food delivery, connect with the well-known mobile app development company to get back to you for your next project development.
Frequently Asked Questions (FAQs)
1. Why is food delivery so popular?
This online ordering system speeds up the process of ordering and allows the customers to physically ignore the waiting in the queue at the restaurant. The convenience of fast food delivery times and easy online ordering are huge factors that have made many people opt to use these delivery services.
2. Why is it necessary to deliver the food on time?
Timely deliveries are made for the high customer and client satisfaction. Not only will the people receive the goods on time, but it also makes the courier services make the great delivery process. Some of the goods have an expiry date, which is why they need to be delivered within the strict timeframes.
3. What do Americans use for food delivery?
Food delivery mobile apps are easy and convenient for users to get their meals whenever needed. Doorstep delivery is becoming a trend in every industry. Hence, UberEats holds a strong position in the US market.
Build Your Own Food Delivery App