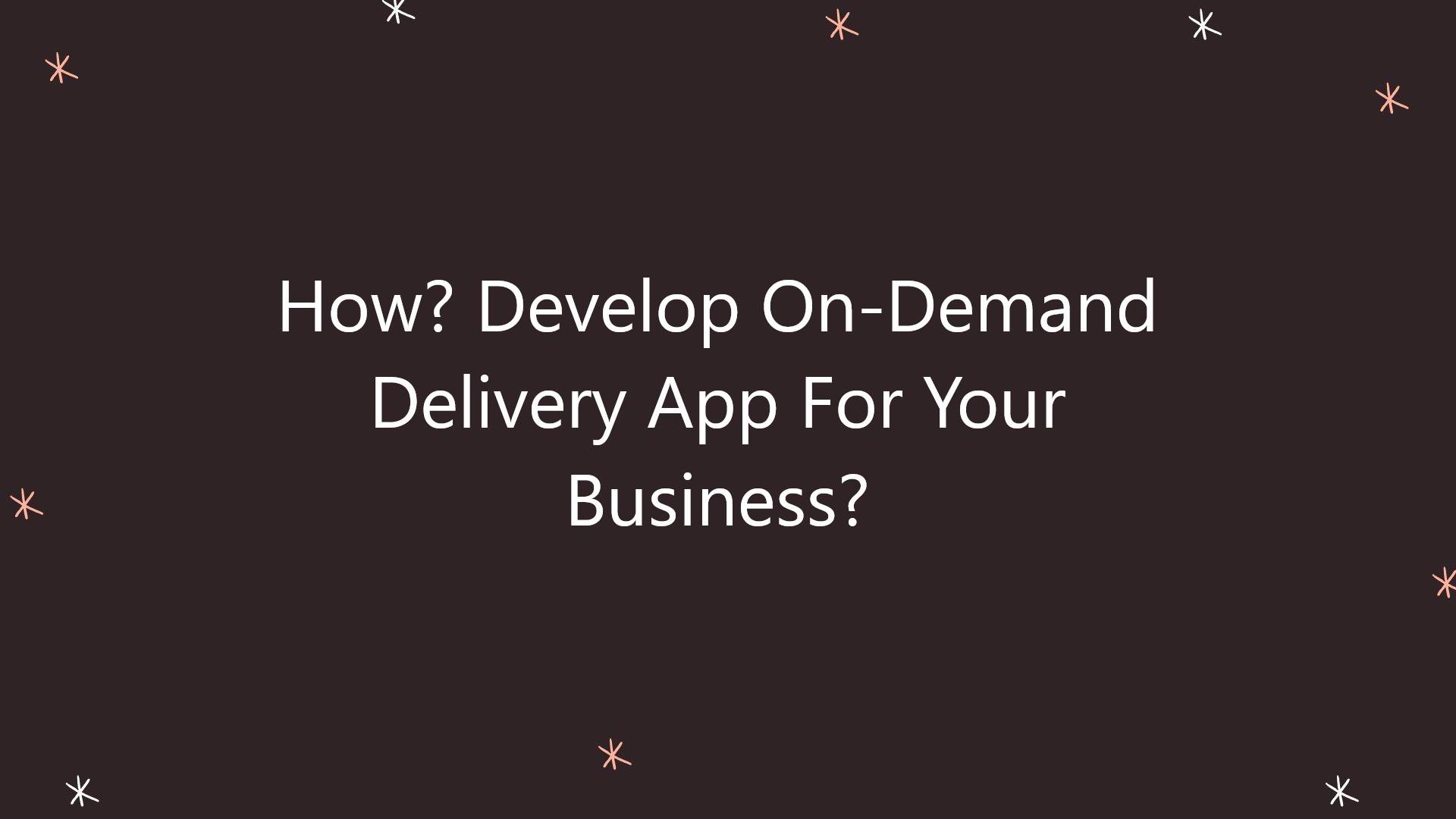 How? Develop On-Demand Delivery App For Your Business?
How? Develop On-Demand Delivery App For Your Business?
On-demand delivery services are booming these days. Many retail businesses are running online. And- to develop an on-demand delivery app for your business by understanding the people's requirements. 
So, as we all know, 2020 was very tough for all of us. And we have been told to stay at home and reduce human contact. But the quarantine period has changed the way we do our daily tasks. So whether it is education or work, everything has changed a lot. 
And vendors have closed their offices and shops. For the time being, the market is going online. During the lockdown period, it has seen immense demand and popularity for specific apps. Because of a sudden increase in demand for daily utilities and essential commodities. On-demand delivery apps have seen significant growth amid the COVID-19 pandemic. 
Flutter Agency– Use our articles to help you build your online delivery business successfully!
Types Of On-Demand Delivery Apps 
So it depends on what type of users are engaged in providing the service. On-demand applications can classify into the following three types: 
1- Person to Person
Person-to-person on-demand apps connect end-users with end-users. So in this type of on-demand apps, one person demands a service or product from another. And which are using the same platform offered by the enterprise as the published app.
2- Enterprise to Person (E2P)
So the Business to Consumer application allows the transaction of services or products between providers and customers. The user has to download the app to seek benefits or order products from it. 
3- Enterprise to Enterprise (E2E)
Enterprise to enterprise on-demand apps developed to connect businesses with businesses. And an enterprise depends on many small enterprises. And SMBs to run their business operations smoothly. 
They can be suppliers, service providers, maintenance companies, etc. So E2E apps keep enterprises on the same page.
Steps To Develop On-Demand Delivery App For Your Business
1- Requirement Gathering
So the first step in building any mobile or web app is to gather the requirements. And you have to collect all that you want in your app. Also, study the answers to the subsequent questions: 
Is your concept unique?

Do you have any competitors in the market?

Who will be the users of the app?

Which features can make your app stand out among the competitors?

What is the target market for your app?

Preservation obligations do you want to embed in the app?

What is your budget?
After receiving the answers to the above questions, you will create an SRS (Software Requirement Specification) document. And you can share with your in-house development team or any third-party development firm. 
2- Visual And Technical Design
So after understanding the requirements, the next step is to create high-fidelity. And flat-fidelity filters for your on-demand delivery app. Then create a wireframe for your app and a working prototype. 
Organize a meeting with your stakeholders. And the team to receive feedback on the design and its development. That's why it's a good idea to hire a third-party full-stack development company. It understands how to develop an app from ideation to MVP and final production.
3- MVP Creation
Before launching the ultimate release of the app into the market, you should first consider creating an MVP. MVP (Minimum Viable Product) is a product with minimum features designed for initial testing and further product improvement. 
So you can share the MVP for your product with your stakeholders. And request feedback to enhance the output. So it helps to reduce the errors in the eventual release of the software. And to launch a successful product.
4- Development
Once the MVP is approved, the next step is to develop the exact software. So apply agile development techniques to build multiple iterations of the product. And to make sure the final version is enhanced and of high quality. 
So after it's developed and thoroughly tested, deploy it to the App Store/Play Store to bring it to market. You can hire a third-party development company like Flutter Agency. That can build your project at a fixed cost.
Get The Best On-Demand Delivery App Development Services Here At Flutter Agency! 
Now that you have gone through all the requirements. So Flutter Agency believes, look for a leading mobile app development company that works as promised. 
Flutter Agency is one of the most trusted app development companies in India. So who serves global customers with advanced features and mobile apps on the system. And that includes Windows, Android, iOS, and the web. 
We have a team that keeps on upgrading development technologies. And to deliver a successful mobile application suited to your industry-specific needs. 
So contact us if you want to develop an on-demand delivery app for your business. Flutter Agency builds robust on-demand delivery apps tailored to your business model. And helps you achieve your goals.