Advantages of Enterprise Application Integration (EAI)
Enterprise Application Integration (EAI) has become a vital tool for modern businesses seeking to improve efficiency, optimize processes, and establish smooth data flow across multiple apps. EAI also offers a paradigm-shifting approach as enterprises deal with complicated technological environments and the demand for real-time information interchange. The challenge is integrating distinct, numerous apps to function well together, from employee time tracking to supply chain management. By combining different applications, data sources, and business processes, organizations may take advantage of the advantages of enterprise application integration. They could increase efficiency, make better decisions, and gain a competitive advantage in the ever-changing market.
Which companies may benefit from enterprise application integration? Continue reading as we try to understand the intriguing advantages of EAI for businesses. This blog explores this idea and its methodology in further detail. So, let's start!
Enterprise Application Integration: What Is It?
The phrase "enterprise application integration" describes a strategy or group of techniques for facilitating the seamless integration of numerous software apps and systems within a company. It would include linking various apps, databases, platforms, and procedures to make it possible for data and information to flow seamlessly in a unified and coordinated way.
Industries, however, depend on their activities on many systems and applications. They aid in fostering growth and enhancing the performance of the business. Information silos and system incompatibility are problems that EAI tries to solve. It contributes to the development of a framework for integrating many applications, such;
HRMS, or Human Resource Management System
ERP, or Enterprise Resource Planning
Management of Customer Relationships (CRM)
Supply Chain Management(SCM)
Communications (both internal and external)
Business Intelligence and Analytics
e-commerce site Portal
The aforementioned independent systems and applications accomplish what is necessary for the specific objective. The only drawback is that they operate independently, which slows down corporate operations and might result in issues that increase the organization's financial risk. By integrating these applications, enterprises can accomplish real-time data synchronization, process automation, and effective communication between various departments & systems. It is becoming a crucial part of modern enterprise's digital transformation strategies.
Enterprise Application Integration's Benefits
The benefits of enterprise application integration transform how businesses function in today's fast-paced business environment. In this section, we'll examine some of the key advantages of EAI that could provide you with a competitive edge, improve resource efficiency, and open the door to long-term success and growth.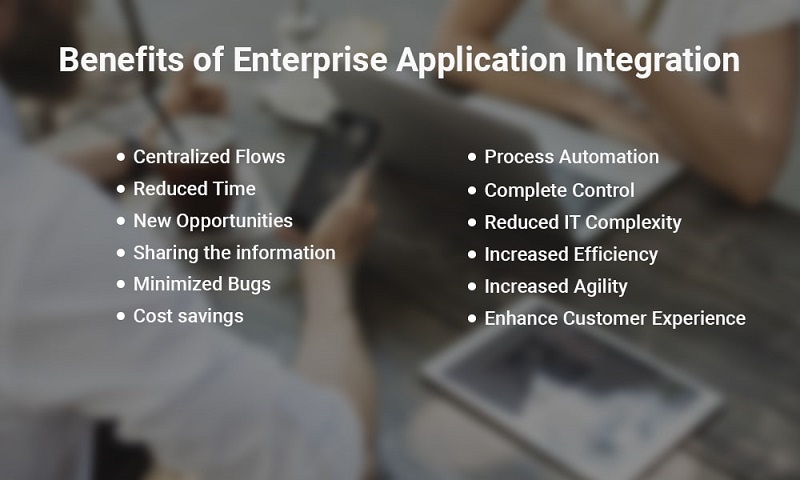 1. Centralized Flows:
Before this, businesses had to create application-specific interfaces and interconnect them point-to-point as needed. It led to a complicated IT network that was difficult to maintain and enhance. With EAI, it is practicable to consolidate all interfaces to one central server (hub) that manages and distributes flows to registered apps.
2. Process Automation:
By automating systems and processes, the EAI platform removes human error. It speeds up the processing time and improves user and customer information accuracy. It fills the gap between various systems so data can move easily across programs. Ultimately, it boosts the transparency of financial measures and company processes.
3. Reduced Time:
EAI drastically reduces and minimizes the time required to develop software or the app development processes or implement new data. It adapts the information system to your business's operational or strategic needs. Additionally, it creates a connection between two or more platforms. As a result, the other platforms intended for integration can access the data from one platform.
4. Complete Control:
One of the key benefits of EAI is that it enables controlling the information flow to prevent sensitive information from going out of the company. It offers standardized or asynchronous access to and sharing data and information system components. The many EAI processes provide a thorough understanding of the integration, facilitating total business control. As a result, it is simple to determine whether your marketing strategy and business processes are synchronized.
5. New Opportunities:
EAI streamlines operations, enables analytics and business intelligence, and ensures seamless data flow between various corporate systems. It assists businesses in finding solutions to issues with operations, marketing, finance, and other areas, seizing opportunities, and gaining a competitive edge over rivals.
6. Reduced IT Complexity:
Using new technology can be challenging for employees at enterprise-level companies, particularly those who are not tech-savvy. They present challenges while working on a new system because the learning curve is so severe. By removing these barriers, EAI aids businesses in utilizing the latest technologies of enterprise. The employees perceive it as familiar because it combines the features of several current applications into a single, simple-to-use platform.
7. Sharing the information:
EAI helps integrate data from several systems to provide a single access point. Users from various departments can get the most recent data, saving time on information search. Additionally, it improves cross-departmental cooperation and makes data-supported decision-making easier.
8. Increased Efficiency:
By streamlining the business processes, enterprise application integration enhances the organization's overall efficiency. It facilitates communication between various departments and between your employees and their clients. EAI improves functionality and control while minimizing the time and effort spent on business procedures. It increases the capacity to handle shifting market trends, reputation management, supply chain disruption challenges, etc. For instance, a retail business can use EAI by integrating its eCommerce, ERP, and sales channel systems to boost sales and encourage customers to interact with their preferred retail brands.
9. Minimized Bugs:
Errors are minimized because enterprise application integration gives all apps access to consistent master data. The probability of errors resulting from inaccurate information accessible by various EAIs aids in rapidly removing repeated tasks, mistakes, and potential bottlenecks in business processes.
10. Increased Agility:
EAI assists businesses in receiving updates based on business rules and real-time data, which helps them enhance their efficiency and speed of decision-making. It enables them to quickly recognize potential issues or possibilities within the business or their industry and decide in their best interests.
11. Cost savings:
By allowing old enterprise software development to integrate with new ones without removing them, EAI minimizes investment. Therefore, outdated business applications can use new functionality to boost productivity and efficiency. To facilitate business intelligence, they can also exchange historical data with new apps, which can result in the emergence of new products and services. EAI, therefore, results in savings in costs over the long term.
12. Enhance Customer Experience:
In today's highly competitive sector, companies must resolve customer issues and respond rapidly to their comments. They gain from EAI since it makes use of technology like artificial intelligence and machine learning to handle consumer queries intelligently and increase engagement.
Enterprise Application Integration: Challenges
Depending on the difficulty it is to integrate various applications, systems, and data sources, EAI problems may arise. These hazards can be avoided, nevertheless, with careful planning and implementation. Let's examine some typical EAI difficulties and feasible approaches based on our expertise.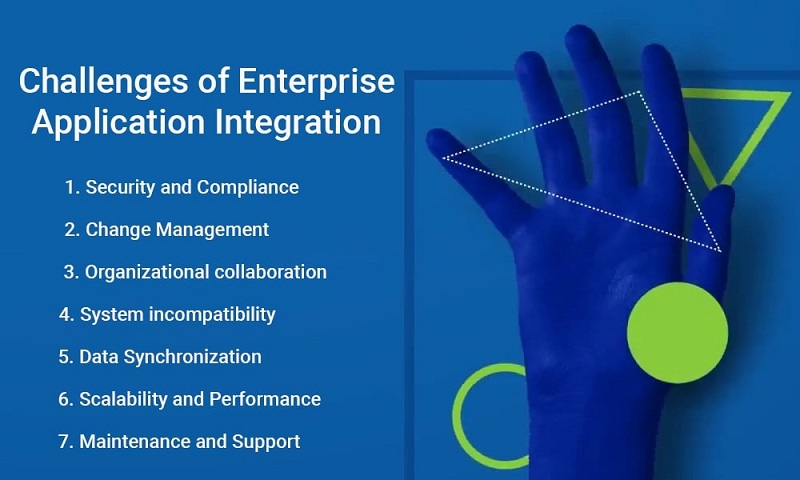 1. Security and Compliance: Compliance and security issues may arise due to application integration. Implementing secure communication protocols, encryption, access control mechanisms, and authentication procedures is crucial. It would aid in protecting sensitive data and complying with legal obligations.
2. Change Management: Integrating apps frequently entails updating or replacing outdated systems and procedures. It might run across opposition, which could impact user adoption. Organizations must invest in efficient change management techniques to avoid this outcome. It would facilitate seamless transitions and minimize disruption while facilitating thorough communication, user training, and stakeholder involvement.
3. Organizational collaboration: If there is little or no coordination between different departments, IT teams, and business stakeholders, EAI initiatives will fail. However, it can be improved by establishing clear communication lines, encouraging a culture of collaboration, and incorporating vital partners early on in the integration project to accomplish comprehensive cooperation and alignment with company objectives.
4. System incompatibility: When merging applications created on separate platforms, using diverse technologies (legacy) or adhering to different data formats may be a serious challenge. This challenge can be solved using middleware that supports multiple integration standards, including XML or web services, and data transformation methods for translating data between incompatible systems.
5. Data Synchronization: Businesses frequently hold data that is useless to their operations. For instance, disconnected cloud apps that store data in silos or antiquated apps that have been downloaded locally. Consequently, ensuring accurate and real-time data synchronization between integrated apps is crucial. A solid data integration strategy may guarantee trustworthy data synchronization & consistency across systems by including data validation, cleansing, and error-handling techniques.
6. Scalability and Performance: As the amount of data and transactions rises, EAI applications must be able to scale and perform at a high level. This problem can be addressed by performing testing on performance to find and fix bottlenecks, optimizing system resources, employing distributed architectures, implementing caching methods, etc.
7. Maintenance and Support: Current EAI solutions need ongoing mobile app maintenance and assistance. It would consider changing business requirements, system updates, issue patches, and performance enhancements. Moreover, to ensure the long-term success and sustainability of the integration solution, it is essential to establish efficient support procedures, consistent monitoring, and proactive maintenance practices.
Wrapping Up
Application integration and customization are essential to an enterprise's growth strategy. Indeed, EAI is an effective tool that empowers organizations to generate seamless connectivity, streamline daily tasks, and unlock the full potential of each of their applications and systems. Additionally, it gives companies the power to optimize operations, boost productivity, improve data visibility, improve decision-making skills, and have the adaptability to meet changing business needs. Businesses can gain a competitive advantage, optimize resource use, and set the path for sustainable growth and success in today's digital landscape by accepting EAI. Adopting EAI is becoming increasingly essential for companies to remain flexible, responsive, and effective as technology develops. Businesses may accelerate the digital transformation process and build a solid foundation for future innovation and success by utilizing the potential of EAI. When you start your next digital transformation project, we hope the information we've provided will help you make wiser decisions. Hence, to handle your enterprise IT-related challenges, looking for an experienced business with qualified developers would be preferable.
Flutter Agency is a Skilled enterprise application development company. We provide API integration, application design, deployment, and modernization services. Our team develops custom corporate solutions while integrating current applications using well-known technologies. We give trustworthy guidance based on your current IT infrastructure and technology requirements. By re-engineering apps through recoding, containerization, and cloud migration, we assist you in maximizing the advantages of Enterprise Application Integration (EAI).
Frequently Asked Questions (FAQs)
1. What are the top three advantages of enterprise applications?
Enterprise mobile applications provide many advantages, such as increased productivity, higher client involvement, and simplified corporate procedures. Additionally, they give users access to real-time data to streamline corporate operations and enable better decision-making.
2. Why would a company want to integrate their applications?
Without making significant changes to database configurations or the apps themselves, enterprise application integration establishes a middleware infrastructure that facilitates a data flow between applications, streamlining the process and boosting data availability.
3. What distinguishes ERP and EAI from each other?
ERP is a system that links many organizational functions. In contrast, an EAI connects the system's applications and provides a communication channel for information sharing. An ERP is also responsible for information development.
Get in touch with us now