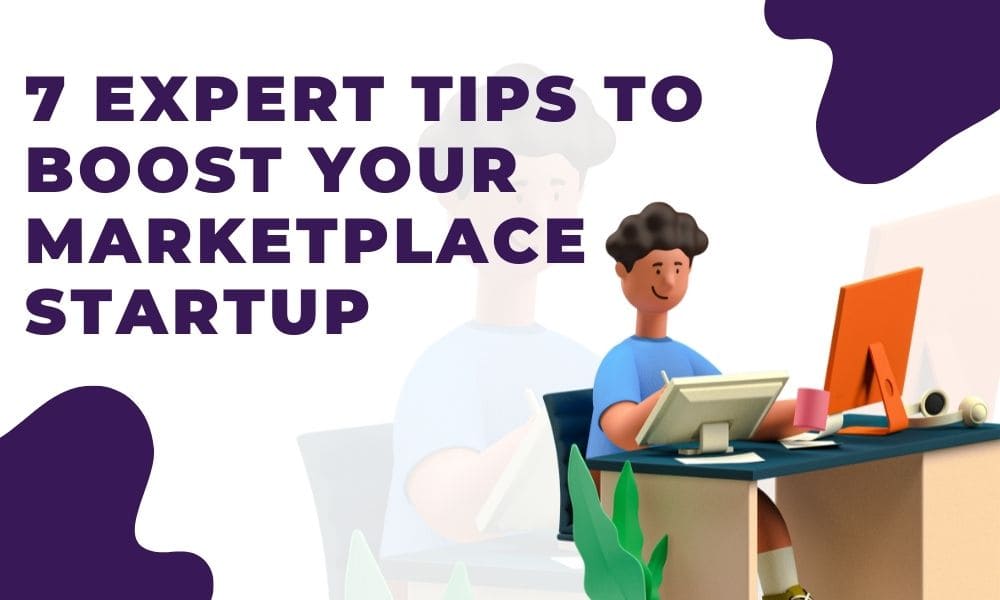 7 Expert Tips to Boost Your Marketplace Startup
Are you thinking about improving the marketplace business? Well, hire flutter app developers to build mobile software for startup businesses. The experts know how to launch and run the marketplace effectively. 
So, they give you enough guidance and ideas to meet your demand. Look at the strategies and techniques of successful marketplace startups such as Amazon and eBay. These companies are called the giants of the online marketplace. 
Unlike before, the marketplace businesses have changed the industry entirely and taken it to the next level. So, it becomes mandatory to hire Flutter app developers from Flutter Agency to build mobile software for startup businesses. 
In addition, you have to follow the tips mentioned below to boost the marketplace startup. Keep in mind that many marketplace startups are growing each year. Thus, you should do something constantly to stand out from the crowd. 
How to improve your marketplace startup
Today's market trends have witnessed an enormous fluctuation in demand and need. It makes a significant impact on any business, especially a startup. Do you know that only 1/3rd of the startups survive long term? 
Plenty of reasons are behind the failure of marketplace startups. Competing with the big giants and attracting customers is a big thing. Even though tons of barriers are on your path to success, you need to enhance your marketplace startup. For doing so, you can make use of these tips.
1. Set up goals and vision
A business without a good vision and mission will never achieve success. Not knowing the exact way to travel will bring unexpected hindrances and let you face failure in all the steps. Due to this, it is suggested to set the right goals that you want to achieve. 
Besides, you should stay focused and keep monitoring your progress. It is enough to measure and track your achievements. And understand things to do further to grow more and become a significant marketplace startup. Make sure your goals are realistic and futuristic. Commit to work and regularly learn to break all the obstacles to reap success. 
2. Be aware of your customers.
Understanding your customers in-depth if you wish to have a solid customer base is mandatory. Try to understand why they want to, preferences, and purchase trends. 
Knowing more about the targeted customers will help you achieve your goals quickly. With a growing customer base, you will sustain in the market and move your marketplace startup forward.
3. Improve your online presence
In the past, reaching potential customers was a big deal. Traditional marketing methods take some time to showcase fruitful results. But, in the modern era, you will get access to modern technologies and tools. It helps you to reach the customers in a short time regardless of geographic constraints. 
You can use the social media platform to enhance your business's online presence. Your online business visibility will improve your brand image and attract more consumers. As a result, you will get more leads and sales. 
4. Use creative marketing activities.
The marketing campaigns and strategies are changing now and then. So, you must explore new marketing activities and switch to new online marketing techniques. However, it does not mean that you should leave the traditional marketing techniques. 
Make a strategy by combining both traditional and modern techniques. It keeps your startup apart from the competitors. Focus on every small detail and think about creative approaches to make your business unique among the competitors. 
You can even seek the help of market research experts to know your target marketplace and consumers in-depth. It results in expanding and making a place to the potential market.  
5. Follow the trending technology.
In the marketplace business environment, many giants are already showcasing their potential. If you want to stand out from them, then using trending technology is mandatory. You should always stay ahead of the game-changing technology, and it helps you grow in your business space. 
Try to explore the technologies which your business requires. It assists you in leveraging your business activities. It is also a great idea to move your company forward. Do not forget to check the technologies accessed by your competitors, and it renders you an idea of whether you travel on the right path. 
6. Increase your financial status
For marketplace startups, lack of budget is the major problem for not growing further. Even though you have exciting ideas to implement, financial issues will take your success away. This is why startups are recommended to know the right ways to deal with the potential obstacles.
Plenty of ways are there to raise funds for your marketplace startup. You should be aware of them and understand how to implement them to obtain tremendous benefits. 
The primary fundraising methods are launching the crowdfunding campaign, bootstrap, obtaining investments from your network of local angel investors, and applying for government grants. 
Even though many startups enter the marketplace domain, they cannot sustain longer due to financial issues. So, plan your finances in advance to avoid the big problems later. 
It aids you in running your business effectively and earns a considerable reputation. As said earlier, you should keep a free flow of cash to ensure business activities are done quickly and adequately. If there is any financial lack, your startup will suffer a lot.  
7. Hire the reliable resource
If you want to keep your startup running in the right direction, it is necessary to equip your business with experienced and skilled experts. Most business plan consultants suggest that startups plan and learn the individual's potential strength before hiring. Having educated workers to do different tasks and handle various responsibilities is essential. 
Final words:
As mentioned earlier, you must hire Flutter app developers to build mobile software for startup businesses. As long as consumers know about your business, they will make your business more accessible, and it improves your sales and generates more profit. When you have the right resource, they help you code, design, and implement the website, apps, and much more.