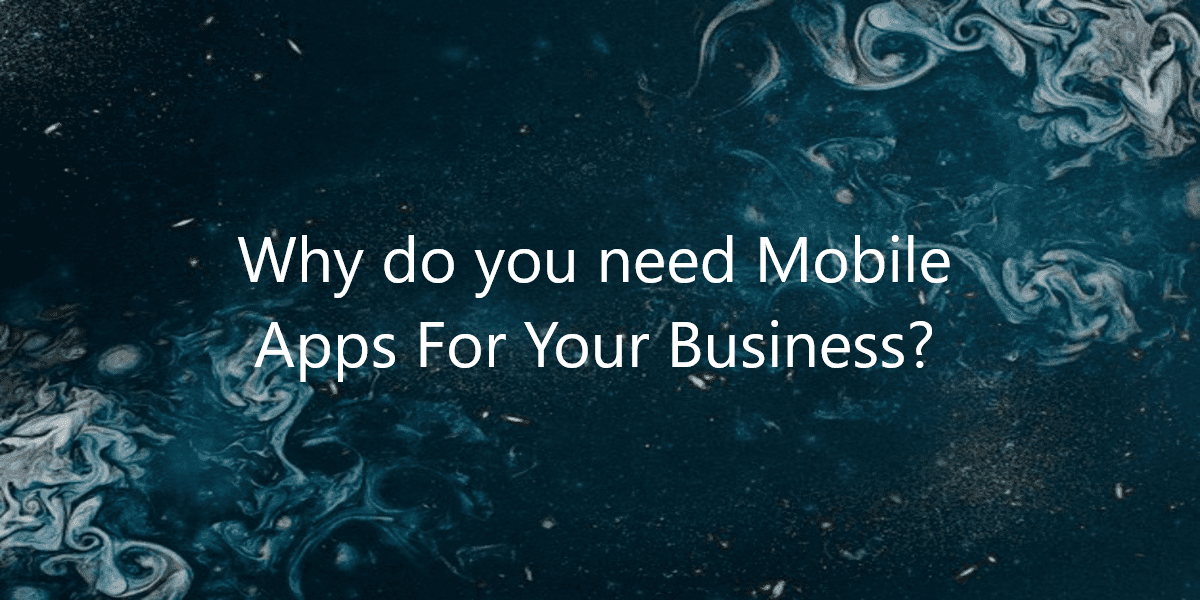 Why do you need Mobile Apps For Your Business?
Mobile phones are enhancing an integral part of our lives. And so are the mobile apps for your business that we apply for almost every activity. So, in this article, we will see why do you need Mobile Apps For Your Business.
Why do you need Mobile Apps For Your Business?
Flutter Agency is the technology partner that business leaders turn to when they seek top IT talent. And custom software solutions, ranging from traditional to innovative. In today's high-tech world, digital media plays an immense role in our lives. But, many small business owners still believe that having a website or Facebook page is enough to attract. And contact their customers—and that's not true. 
So mobile business applications have become an essential marketing tool for all businesses. But many business owners may think that developing and having an app is too expensive or an unnecessary investment. And mobile apps for your business can help a small business connect with it. And build your customer base, increase sales and improve your reputation in the market.
Mobile applications are everywhere nowadays. The first sound you hear on an alarm clock, which is an app. You check the weather in the app, read the news while having breakfast, and even call a taxi through the app. One can order food or even take sick leave with the help of the app. So it's natural for small business owners to gain an advantage. And inspire your customers to spend as much time as possible on their devices. 
There can be many reasons to have mobile apps for your business. So here are the top 10 reasons your business should have a mobile app.
1) Achieve further sales
A mobile app makes it easy to promote your products (or services). And the foremost goal of any entrepreneur is to increase sales. Mobile apps generate additional revenue for the company in three key ways: First, because most people carry mobile devices, apps encourage repeat orders from customers on the go. 
A mobile application will make your business unique. And regular updates help develop customers' engagement in your products. So it will also help you save money and effort in other types of promotional techniques. Such as publications in newspapers and billboards.
2) It will help you reach out and connect with your customers
Mobile apps for your business not only work to get you more customers. But one of their most surprising features is the nearly infinite re-targeting capability. So the mobile app will engage your customers. Whether- you are offering a promotion or just offering a customer opinion poll. 
With apps, businesses interact with their customers in real-time. And it directly related customer loyalty to communication and trust. So you can send them offers and exclusive promotions on the app or through notifications. And your customers are more workable to contact your business. And use your Services through an app, not a website.
3) Faster and better user experience
So, do you want your customers to have a pleasant experience with your business? And what better way to do this than by giving them the option to reach you anytime, anywhere. 
So a mobile app is another communication gateway between you and your customers. But having a messaging feature or a support option, customers can easily reach you without calling. 
4) Greater visibility for customers
So you have the chance to put your product/service in the hands of the customer every day with the mobile app! So whether they are randomly scrolling their phone or doing something else, it bound them to see or use your app.
But your customers are more likely to contact your business. And use your Services through an app, not a website. So your consumers are more likely than ever to access your business on their mobile devices. 
5) It allows your customers to provide feedback
So when you meet your customers with your products. And your customers may have something to reveal about your products—a review, a suggestion, or even a complaint. But remember, genuine businesses don't end buyer-seller relationships immediately after purchase. 
You can directly get actionable information from your customers by taking "in-app" surveys. Or by analyzing customer reviews in the App Store. That's why mobile apps are best for accepting and giving instant feedback. 
6) Earn from app
An app is a great way to add to your business income, using methods such as in-app advertising, premium subscriptions, and more. But if your primary aim behind app development is to earn money. Then will state this with the app developer. So- that they can build an app with lots of monetization opportunities. 
7) Ability to work offline
So this is probably the primitive difference between a mobile website and an app. However, apps may also require internet connectivity to perform most of their functions. And they can still provide primary content and functionality to users in offline mode. 
Nowadays, every firm is doing work from home because of the covid-19 epidemic. Because- everyone wants to be safe at home.   
8) Stay ahead of the competition
So mobile apps are popular among corporations at large, although many small businesses are already seeing the value. One study found that 62% already had an app or were developing one. And not only is the app a great way to reach users, but we can also use it as a marketing tool. So to surpass your competition by developing your mobile app today.
9) Brand appearance
So users spend most of their time on mobile devices. And many users come across apps installed on their devices almost every day. But we can see this regular encounter as a branding opportunity for apps. Even when users are not actively using the mobile app. And it reminded them of the brand associated with the app. So an app on a user's device helps to influence a user's perception of a brand.
10- Apps can work faster than websites
So a well-designed mobile app can function much faster than a mobile website. And apps typically store their data locally on mobile devices, unlike websites that use web servers. But apps can save users time by storing their preferences. And- exploiting them to take proactive action on behalf of users.
So there is also a technical justification for why mobile apps may work faster. Mobile websites run JavaScript code to implement most of their functions. And the framework used by mobile apps can run about five times faster than JavaScript code! While all this happens in the background, users get to take swift action on the front end of the mobile apps. And- again contributing to a pleasant user experience.
So the list above is just a narrow portion of the data you can get. And practice it to create your marketing strategy more effective. Contact us at Flutter Agency to develop the best mobile apps. And your business can gain a new generation of customers who constantly use mobile devices and download apps.
Conclusion:
Thanks for being with us on a Flutter Journey!
So, in this article, we have seen why do you need Mobile Apps For Your Business. Also, feel free to comment and provide any other suggestions regarding Flutter.
Flutter Agency is our portal Platform dedicated to Flutter Technology and Flutter Developers. Also, the portal is full of cool resources from Flutter like Flutter Widget Guide, Flutter Projects, Code libs and etc.
Flutter Agency is one of the most popular online portals dedicated to Flutter Technology. Daily thousands of unique visitors come to this portal to enhance their knowledge of Flutter.