Complete Flutter Project Solutions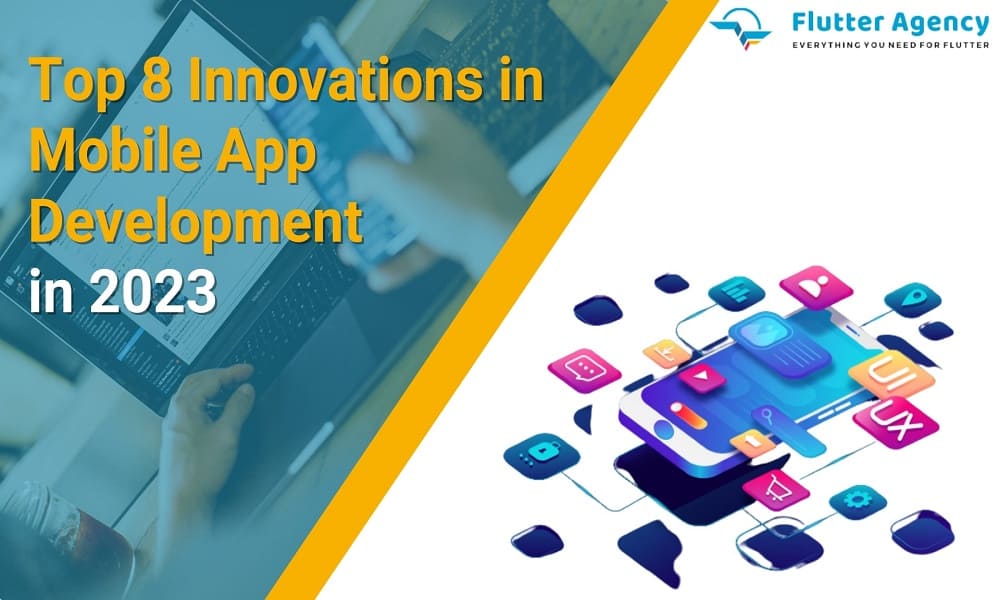 Top 8 Innovations in Mobile App Development in 2023
Nowadays, we can only imagine life with mobile phones. However, the use of these applications has increased over the last decade and has sped up after the pandemic. The number of smartphone subscriptions globally has surpassed six billion and is forecasted to grow by a hundred million in the next few years. The United States, China, and India have the largest smartphone users.
Mobile app developers are trying to make more advancements as the world moves to mobile-first digital services. Every industry implements the latest mobile app development innovations into its business and explores its business to reach its optimum targeted audience. Let's see how mobile apps are redefining businesses and mobile app advancements.
What Is The Number of Users Worldwide From 2020 to 2025?
In 2021, the number of mobile users around the globe which has 7.1 billion, and it is assumed that it is likely to rise by 7.26 billion in 2022. Hence, in 2025, the number of mobile users worldwide will reach 7.49 billion.
How Are Mobile Apps Transforming Businesses?
In the technical world, the smartphone is the thing that unlocks digital media success. However, it has changed the operating models, business models, and marketplaces wonderfully. The revenue of the mobile app market will reach billions in the future.
Mobile phones provide user-friendly services for both business and personal uses. With the help of the advancement of various technologies, multi-camera support, and multithreaded processors, businesses have become dependent on mobile apps.
A mobile application development guide will help businesses to enhance their client service. For instance, you can retain more clients and has risen loyalty by giving valuable clients a feasible and robust way of accessing data about the products or services, scheduling appointments, or tracking order status.
Additionally, mobile apps help you to cross-sell and up-sell products and services by giving the details of clients and offers when required. The other major advantage of mobile app development is that you can gather the essential information of the consumers.
Please learn about the client's choice and needs by tracking their use of your app development. This data will further help to enhance a marketing strategy and better promote the products or services. Hence, mobile apps are transforming different businesses.
Also, Read This Post:

The Business Value Of Enterprise Mobile App Development In 2023
Leading Innovations in Mobile App Development
1. Mobile Wallets
Mobile wallets such as Google Pay, Apple pay, PhonePe, and Samsung Pay are in great demand. As per a recent report, mobile wallet transactions are predicted to reach $13.98 billion in 2022. Thus, we expect the mobile wallet market to double this year.
Smartphone users are gradually selecting mobile transactions. Moreover, they depend on the app functions for the payments on the connected wearable devices. Hence, a mobile app will have to depend on mobile wallets.
Therefore, wallet integration will be essential in mobile app development in 2023. Mobile wallet transactions will considerably increase in the upcoming years.
2. Beacon Technology
Many people use the apps regularly, so businesses desperately seek to develop them. However, knowing where to start is difficult, as many opinions are available. 
Beacon technology is the most innovative technology in mobile application development. It enables enterprises to convey important notifications and messages to clients based on the region. For example, a retail shop uses this technology to notify nearby clients about the latest deals, discounts, and offers, which is a vital tool. And businesses can take advantage and has to be strong in the future.
Also, Read This Post:

The Upcoming Trends in Cross-platform Desktop App Development in 2023
3. Predictive Analysis
It is a great innovation in the mobile app development sector. By supporting data mining, artificial intelligence, and modelling technology, predictive analysis can predict events using data. Netflix has been one of the tech giants supporting predictive analysis for many years.
Predictive analysis is being applied at the mainstream level for many apps. It will help you improve the mobile app's UI/UX design. Additionally, OTT and eCommerce platform benefits as it uses the current client data to give information about their habits, likes, etc. Hence, this technology will help you to tailor the product recommendations.
It also helps organizations benefit from client data to measure their activities, identify notifications with a great response rate to achieve high user experience, and recognize the pages with low client retention rates.
4. Super Apps
The idea and strategy for one app and one purpose have completely changed the development of the mobile app. Many firms are now moving from single-purpose apps to multi-purpose apps. Hence, these apps are called "Super apps."
With this super app development, Facebook has explored its social network. It provides marketplaces to sell or purchase items, goods, and services. However, with the use of only single apps, a user feels convenient and easy to use. Hence, super apps are considered one of the best innovations in the app development industry.
5. P2P mobile apps
Another innovation in developing the mobile app development industry is P2P mobile apps. As per the eMarketer's prediction, the estimated value of P2P mobile payment transactions will be around $612.23 billion by 2023. Hence, there is enormous potential for these apps.
It is becoming popular among individuals and businesses because of its convenience and ease of use. Hence, the buyers can pay fast, and sellers will get the paid directly into the accounts. The types of P2P mobile app development are:
Cryptocurrency wallets
and Social hubs, along with an in-built payment feature
P2P apps have the banks as payment parties
and Self-reliant providers delivering their payment systems
Mobile OS has in-built systems like Google Pay, PhonePe, etc.,
Also, Read This Post:

E-Commerce Mobile App Development Trends for 2021
6. Instant Apps
The rise of instant apps was a few years ago, and it has been observed that there has been an increase in the use and development of Android Instant apps this year. However, Android Studio allows developers to build instant apps to enhance an app's discovery. Hence, users can click the "try now" button to try the app without installing it.
Because of its size restriction, instant apps will not have the full version of the application. It is awesome that these restrictions will be removed in the future.
The app users except for a better experience, and it allows them to try an app without installing it great approaches. To create custom mobile app development, you must select the instant version.
7. 5G Technology
5G technology is the latest innovation in the app development sector. However, this wireless network is most popular in all industries. It gives rise to connectivity practices that give mobile apps innovative features and purpose without disturbing their functionalities. Hence, using this technology will enhance an app development procedure.
It is a next-gen wireless technology that gives 100 times faster speed than the 4G LTE. Hence, it will bring great possibilities to the development sector. Hence, 5G will make your businesses more engaging with AR and VR, giving the clients real-time data and analytics and creating new efficiency in its functions. 
Since the 5G technology is more popular, it has created transformative and innovative 5G-enabled applications. Hence, it will keep you updated with the latest technology trend necessary for enterprise app development and help them earn high ROI.
8. Wearable Technology
It is rapidly evolving and making it easier for users to interact with the physical world around them. This technology has the items like fitness trackers, smartwatches, and many more, and it helps you to track and monitor health and biometric data. Hence, by interacting with wearable devices, app developers can extend the functionality of the device and will make it more useful. Thus, the potential apps of wearable technology are infinite, and the experts are taking charge to deliver the advantage of these apps.
The global market of wearable technology will be reached a volume of around 181 million shipments in 2020. Hence, this industry is further expected to grow the CAGR of 17% in 2023-2028 to reach the value of approximately 464 million shipments by 2026.
Also, Read This Post:

Emerging wearable technology for the healthcare apps
Future of Mobile App Development
Nowadays, technological advancements constantly evolve and hit the shelves yearly. The huge array of technologies like Wearables, Super Apps, VR, etc., is revolutionizing the mobile app development industry. Hence, it brings several new opportunities for app developers. Thus, keeping up with the latest app developments trends is essential to deliver feature-rich and innovative apps. 
Conclusion
In conclusion, the innovations in mobile application development have made it easier and more efficient to develop, deploy, and maintain mobile applications. The advancements have allowed faster development cycles, better user experience, and increased security. As technology evolves, app experts must stay current on the latest innovations to stay competitive in the mobile application development market.
If you plan to build the next-gen for your business with the latest innovation, contact the leading Flutter app development company, which will help you develop the project from scratch until deployment. Their expert team will also support and maintain your projects and build an app that runs flexibly and seamlessly with their hard work and skills.
Frequently Asked Questions (FAQs)
1. What is the essential process f mobile app development?
Backend development is the most vital step in the app development phase. The more robust your backend is, the more powerful the app will be. Hence, the backend is designed and developed to support scalability and easy management of the app even after it is launched in the market.
2. Why mobile app development differs from other app development?
Mobile apps are more expensive to create than web apps because they are platform-specific and launch the app across various platforms, which means starting from scratch in design and development. However, they are quicker and more advanced regarding features and functionality.
3. What will make an app more valuable?
The good and unique app must be user-friendly, responsive, secure, and consistent, adding unique user value.
4. What is the scope of mobile app development?
The app's scope refers to how long it will take to design, create and deliver the application. It is the effective timeline that an engineer has with input from the client or sales team and project managers.
Tak with our App Developers