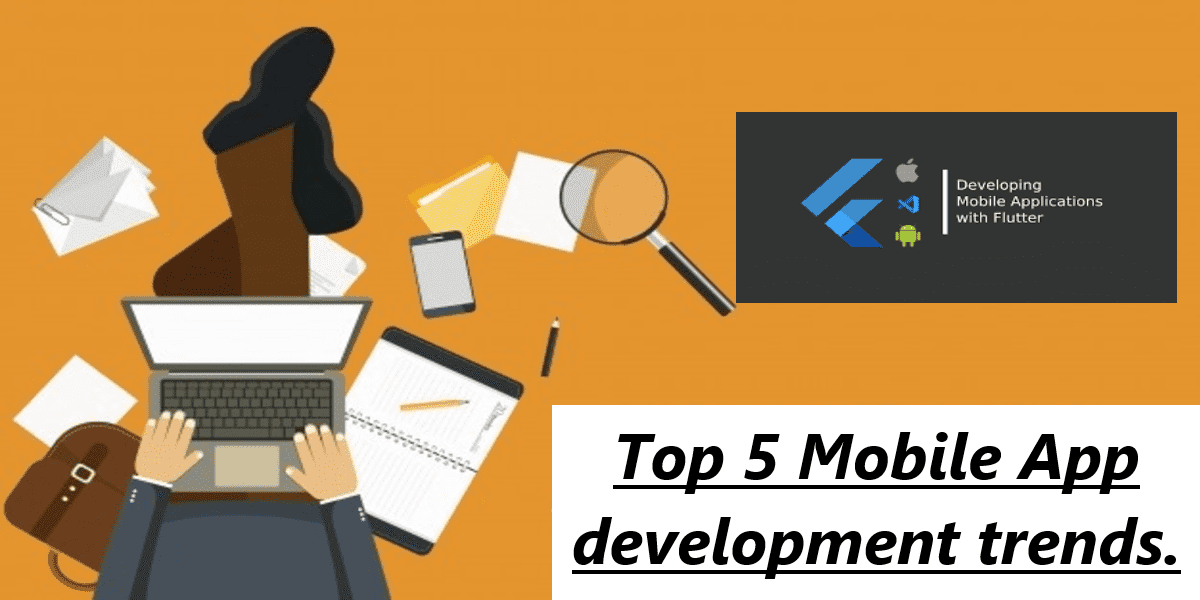 Top 5 Mobile App development trends.
The mobile application development industry is constantly evolving at an incredible rate. So, in this article, we'll look at the top 5 mobile app development trends that Flutter App development company should look for in future.
Top 5 Mobile App development trends.
Today, we live in a technology-driven world. Also, with the help of smartphone technology, the development has reached new heights. So, if you want your mobile app to survive and thrive in the market, you need to know about the latest trends in the mobile app.
1) Machine Learning (ML) and Artificial Intelligence (AI)
At the top of the list are machine learning and artificial intelligence. AI and ML are already well-known trends today. Their markets are expected to grow in the coming years. Due to these reason, more and more industries want to combine systems with human intelligence.
When you develop mobile apps, the integration of ML and AI is essential. AI functions implemented in mobile apps include image recognition, face recognition, voice recognition, emotion recognition and classification, etc. AI makes your app smarter and improves performance at all levels, including back-end and front-end.
2) Instant Mobile Apps
These mobile instant apps are small and provide functionality without downloading them to your device. These mobile apps are very popular with iOS and Android app developers because they have higher conversion rates than regular mobile apps.
Today, users are constantly looking for a better experience and faster load times. Therefore, instant apps will become an alternative trend in upcoming years. This will eliminate the install latency.
3) IoT-Enabled Mobile Apps
Next is an IoT-enabled mobile app. The IoT is not a new concept, and due to its wide range of uses, it's an upcoming trend. The IoT has become an industry that is growing with time.
You can also use this technology to control non-IT devices using remote controls and apps. This feature of IoT has become an essential part of a user's life, so developers need to keep their apps IoT friendly. Few of the xpected trends in IoT app development include healthcare, smart homes and urban IoT, AI-enabled IoT devices, self-driving cars, and smart cars.
4) Chatbots
Consumer demand is making chatbots a new standard for consumer services. These chatbots are AI-driven, and their responses have become more humane these days.
It is expected that people will perform nearly 85% of their business interactions via chatbots. This chatbot can provide 24 * 7 services, which will reduce the human limitation of getting tired. The global chatbot market is expected to exceed $ 1.34 billion by 2024, according to a Global Market Insights survey.
5) Augmented Reality and Virtual Reality
Augmented reality has already made its way in the field of gaming. It's only a matter of time before this trend gets introduced in mobile app development.
Take example of Apple's ARKit. It's a development platform that allows app developers to integrate their AR experience into their apps and games. It is done by using the device's cameras, processors, and motion sensors. This feature helps users analyze room layouts, accurately record volume and depth, and recreate 80's music videos in AR. Similarly, Google's ARCore gives users a look into the mixed reality revolution.
Therefore, you can expect that many AR-based app ideas will turn into fully functional mobile apps in healthcare, retail, tourism and education.
Conclusion:
So, in this article, we have seen the Top 5 Mobile App development trends. Do let us know your feedback/comments on the same. We have highly talented and motivated Flutter App Developers who will help you in your project. Also, Flutter Agency is a portal full of excellent resources like Flutter Widget Guide, Flutter Projects, Code libs, etc. So, contact us for your next project.