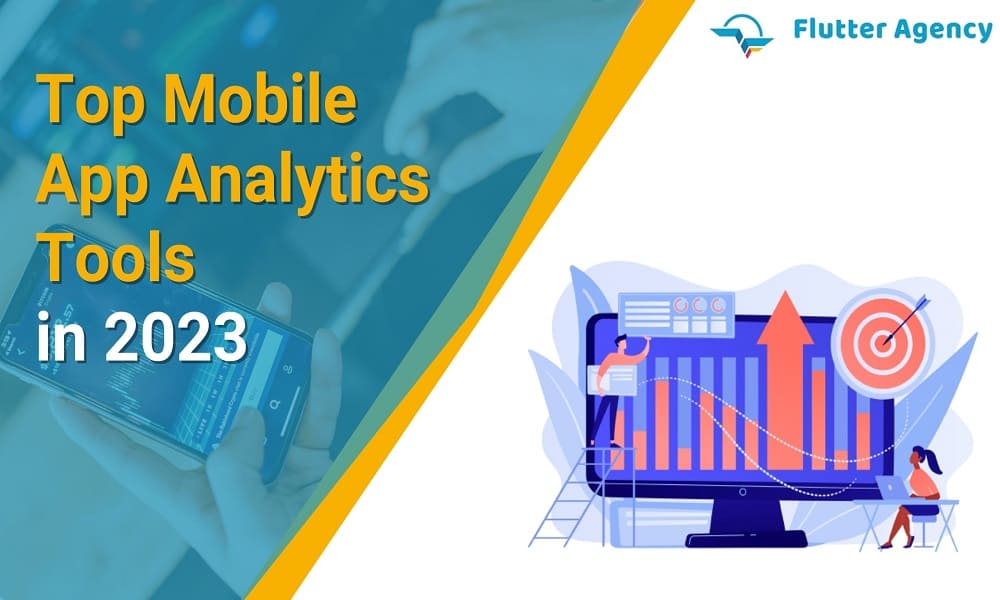 Top Mobile App Analytics Tools in 2023
Selecting your app's top mobile app analytics tools can be overwhelming. Many vendors are available in the market, and more are included all the time!
As per the researchers, it is found that businesses that implemented the various customer sources and marketing data significantly outperform their companies. They also had the total shareholder return, which is enormous in the market.
Millions of applications are launched yearly, aiming to reach potential users. Mobile applications analytics tools in Flutter development services are the way to identify a user segment, strategy of marketing, and its approach. You can know which is best by exploring app analytics tools in Flutter.
What is the mobile app analytics tool?
An analytics tool that will determine what works and does not is the key to formulating an app's structure and the placement of buttons. It will also examine the performance of the mobile application development and will find the internal aspects of user behavior patterns, user segments, and possibilities of optimization.
Using all the analytics tools in your mobile application development process is optional. This article aims to provide experts and clients with the best mobile app analytics tools in Flutter development.
Why are mobile app analytics tools necessary?
1. Provide data-driven insights
Mobile applications with a vast retention ratio experience give better user engagement. Hence, more involvement needs more clients. The app analytics helps the app to entirely focus on the client promises and purchase avenues that will eliminate the gap between maintenance and churn.
2. Drive ROI for better functionality
Businesses drive better ROI measures in this competitive market to get an app's monetary benefit. Without the ROI, it isn't elementary to market the product. Organizations are using UX analytics to increase the user experience, etc. 
This method will also identify the connection between the performance, functioning,  network configurations, and in-app use. It will not only enhance the mobile app's performance but also create an app that will simplify processes, increase productivity, and save time.
3. Collect accurate data
Mobile analytics tools will support the users in gathering the data. They help to serve clients by getting detailed know-how of your client data without examining the feedback of the user and prototype. It will focus on collecting and maintaining the data by delivering a great user experience.
4. Helps to customize mobile applications
An application analytics tool gives brief and customized learning and will help to engage new users. The replay sessions help the app owners to troubleshoot and fix the obstacles in users' journey quickly. Customizing a mobile app will give a seamless experience to its end-users.
Which are the best mobile app analytics tools?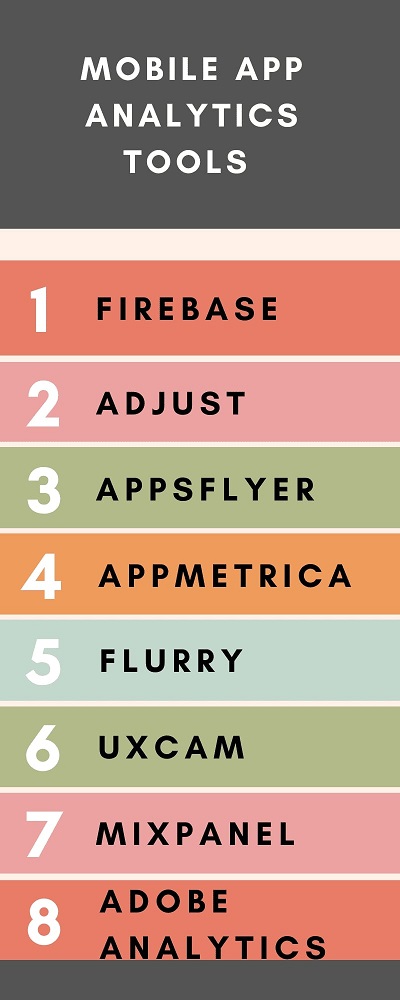 1. Firebase
Firebase by Google is a mobile app analytics tool created for both iOS and Android platforms. Firebase with Flutter will not only focus on analyzing your application but also give you the infrastructure for custom mobile app development. It provides solutions for making serverless apps, monitors performance, and increases user engagement. It has many in-built integrations like Google Ads, Slack, Jira, and Data Studio. It has functionalities like Ads Tracking, Crash-reporting, in-app analytics, and ads revenue.
Key Features:
Testing lab for the android platform
Cloud messaging and storage
Monitor app performance with real-time analytics
Ads integration with Google ads and AdMob
2. Adjust
The global app analytics platform will help you understand your users and their intent and make intelligent marketing and product decisions that boost conversion, retention, and lifetime value. It will collect the complete app marketing data in only one interface. You can analyze the market trends and track in-app activities, cohorts, and user lifetime value. It provides a fraud protection suite that prevents your mobile app from malicious and hazardous activities and will work on platforms like Android, Windows, iOS, and Cordova.
Key Features:
Also, Read This Post:

Best Flutter Application Development Tools in 2022
3. Appsflyer
It is a mobile analytics and attribution platform. It gives internal information on different in-app activities, app engagement, and the ad spent dependent on the media resources. In addition, it also supports fraud detection and deep linking. This tool is being used by well-known companies like eBay, Pinterest, and Nike.
Key Features:
Impressions and cost reporting
4. AppMetrica
It is a free and unlimited tool that will concentrate on end-to-end app analytics and marketing solutions so that you can analyze the app's statistics in only one place. It includes device-specific data, provides granular cohort analysis, and can look into individual users' previous data. It will take a close-up view and will make the customer profiles.
Key Features:
Crash and error reporting
5. Flurry
Flurry is a mobile app analytics tool launched in 2008, and it was the first Android and iOS analytics solution. It is also free to use. It Permits you to track the installs and sessions and run the on-demand analysis for funnels. You can examine the bugs within your app by using crash reports. There are well-known companies like Mcdonald's, Rovio, Samsung, and Ubisoft.
Key Features:
Funnel and Event Tracking
Funnel and audience analysis
Crash reporting and analysis
User segmentation and journeys
6. UXCam
UXCam is a leader in app experience analytics and empowers the mobile team with quick, contextual, and high-fidelity insights. It helps you to conduct a deep analysis of a user journey as you watch how the users navigate via your app. You can also use heatmaps to view the most and the least used elements. 
Key Features:
Funnel and Event analytics
Heatmap and screen analytics
7. MixPanel
MixPanel analytics tool works with iOS, Android, and web platforms. It provides a user-friendly user interface. This tool comes with interesting analytics like funnel analysis and cohort analysis. It also lets you track millions of monthly events via the recent steps.
Key Features:
Event tracking via data points
Feature of user retention
8. Adobe Analytics
It is a well-known multimedia production tool that offers a powerful feature-packed solution for analyzing mobile applications. The main focus of the analytics strategy is on user retention. This platform also gives insight into the user's journey within your app. You can benefit from the mobile starter project, which delivers industry-leading mobile reports and visualizations.
Key Features:
Advanced and intelligent audience segmentation
Dynamic analysis with analysis workspace
Data table and custom histograms
Conclusion
There is no doubt that analytics tools are the core part of any mobile app marketing strategy. As several options are available, you can select any of them per your project requirements. However, every tool works differently. 
As a trusted Flutter app development company, We can say that this tool will surely beneficial for you to track and measure your business growth. This tools enable your business growth and beneficial for you in a several way:
Maximize your ROI for every aspects and enhance your profit
Get an user retention and convert them into your customer
Track your performance towards your business goals
Track users and get to know what they want.
helps to create better user experience
Frequently Asked Questions (FAQs)
1. What is the objective of analytics in mobile application development?
Mobile analytics is utilized to improve retention, conversions, and engagement. The mobile app can be added to mobile analytics, but the majority of concentration in this field is on the native Android and iOS applications.
2. What is the use of data analytics?
The main goal of data analytics is to apply statistical analysis and technologies to the data that will search the trends and solve issues. Analytics of data has become necessary in the enterprise as they shape the business procedure and improve decision-making and business results.
3. How does the analytics tool work?
It will measure the activity and behavior of the user on your app. For example, they check how many user visits, how long they stay, whether they arrive by following the link, and many more.
Book Your Flutter Developer Now