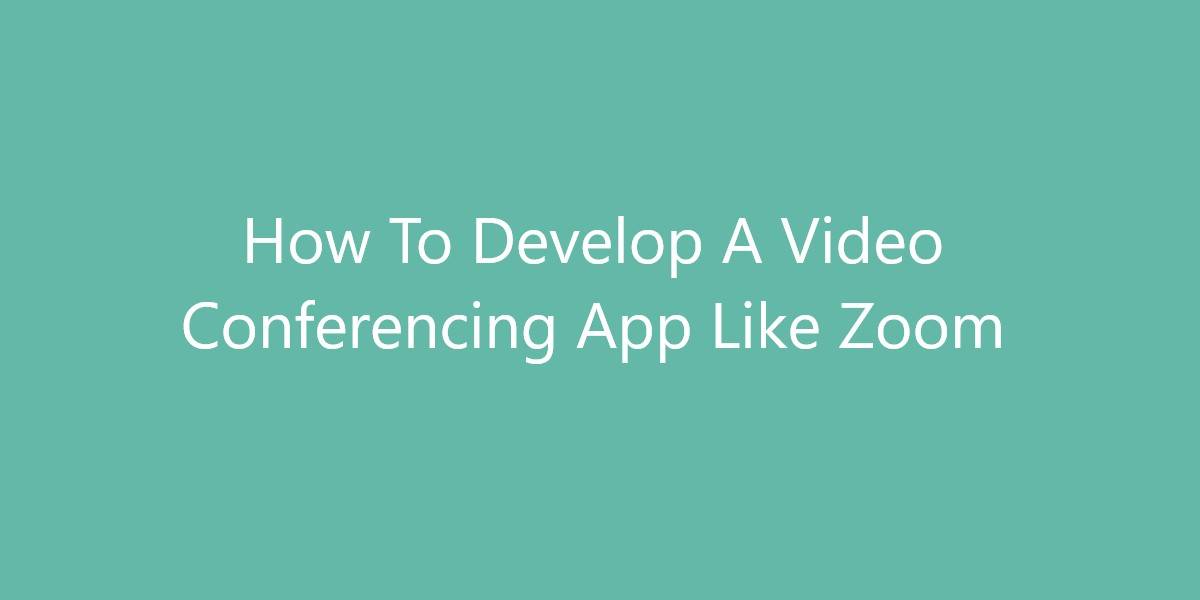 How To Develop A Video Conferencing App Like Zoom
How To Develop A Video Conferencing App Like Zoom
So, the question is, how to develop a video conferencing app like Zoom From Scratch? Let's find out.
2020 has brought massive uncertainty to people around the world. And it recommends maintaining social distance between each other. Hence, such precarious conditions have forced the global population and businesses to work from home. 
The COVID-19 crisis has been a challenging time for all of us. But seek to perform the most of it. Since the world's population has responded to the COVID-19 virus. And outbreak by introducing lockdown. So there is an application that has come, which we have heard repeatedly. 
One of the most trending searches in recent times is the term "Zoom Meeting." And as the world opens up to new ways of doing things. So Zoom is on everyone's toolkit. 
To ensure uninterrupted work, the maximum number of people have been relying on video conference calls. And this opens the way for video conferencing apps like Zoom. It has an incredible platform for businesses to organize online meetings.
Zoom video call app allows employees of a company to have online meetings while working from home. In the past few weeks, there has been a significant increase in the demand for such- video conferencing applications.
So this paved the way for apps like Zoom, which have proven to be excellent platforms. And for businesses to organize their meetings. But it takes time to build a video chat app like Zoom successfully. And powerful study, perseverance, and wise planning.
Let's find out the steps you need to follow to develop a video conferencing app like Zoom with Flutter Agency!
Flutter Agency, an app development agency with a development team. And considering the skills to build some highly scalable and fascinating applications for the clients.
1- A Rock-Solid Idea and Market Study
While remodeling the idea of ​​a video chat app, do a thorough market analysis. Explore the plans of your potential competitors. And the possibilities of your design in the market.
Include some specific components in your app to make it stand out. Based on your unique concept, you can find your target audience. So according to which you can make the design of the app.
2- Attractive Video Chat App Design
So having an obvious idea, you need to set up an incredible UI/UX design for your users. And to develop your app for millennials, be sure to create attractive designs. And use a bright color scheme.
So if you want to attract businesses through this app, use soothing colors and make it subtle. And if you prefer to make it for a group of people. Then your designs should be as simple and perceptive as Zoom.
3- Back-End Development
Back-end development is the backbone of the app development process. Database, web server, and app server come under the backend development of the app. And determine the basis of the backend based. So which you can incorporate different functionalities in your application. Scalability is essential because you will need multiple users to be in your app at once.
4- Technology Stack
So by offering a single platform app, you get multiple options from which you can choose. Like- Kotlin and Java for Android app development. And whereas Objective-C and Swift for iOS app development. 
But if you want to present a cross-platform application. So then, you can choose between Flutter and React Native. And if you can't take it, you can get help from Flutter Agency- a skilled app development company.
5- Test Your App
So testing is an essential process in the development of a video chat app. Before releasing your video conferencing app, look into its testing. And to eliminate the error and bug in it. 
Hire The Best Video Conferencing App Development Agency
So there are a few ways in which you can hire developers for video conferencing apps. Like searching on Google, LinkedIn, clutch, etc. However, the best way to enlist developers is by contacting a development company like Flutter Agency. 
Because creating a unique solution is a challenge. But to create a custom product with a touch of personality. So it's a good idea to invest your money and energy for a specific customer's needs.
Flutter Agency can help you connect with their employees and create a higher work environment. With state-of-the-art technology and years of experience. We design solutions that are exclusive to maintaining an independent company. And- focusing on the time and assets to get everything done productively.