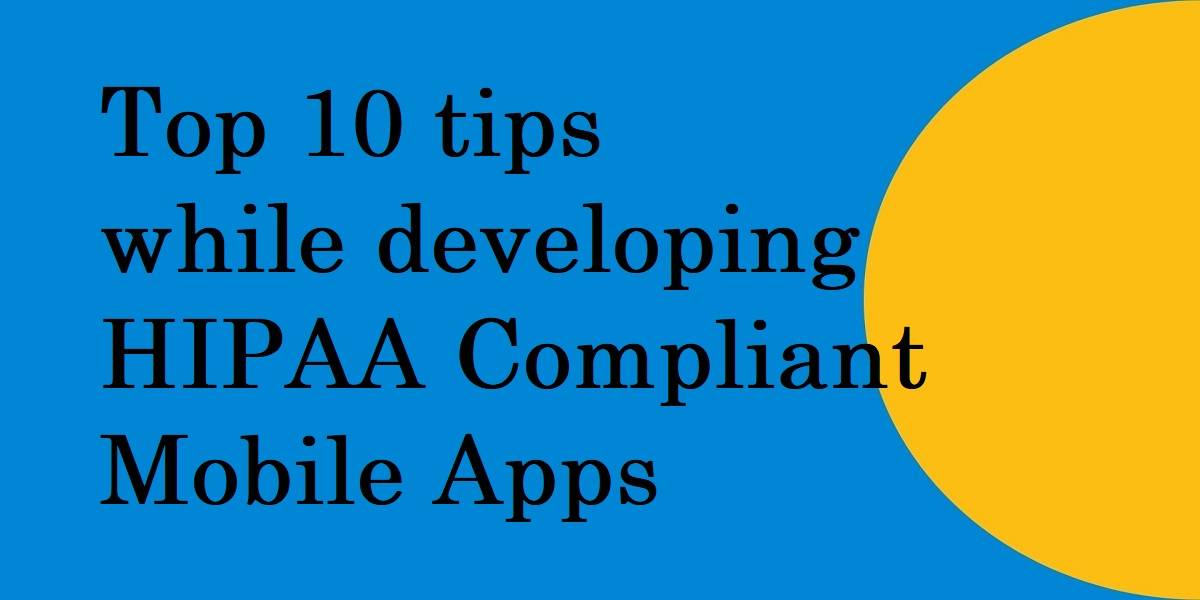 Top 10 tips while developing HIPAA Compliant Mobile Apps
The HIPAA Compliant Mobile Apps have changed our world in recent years. And with the growing health care sector, a mobile app is a crucial segment for both specialists and patients. So building HIPAA compliant mobile apps for healthcare can be a simple undertaking. Flutter Agency's mobile app developers are fond of creating digital healthcare products.
Most mobile apps do not fall within HIPAA-compliant mobile apps made for personal use only. And do not give any information that can identify the patient. Many companies are considering the Health Insurance Portability and Accountability Act (HIPAA). And how to build up a HIPAA compliant mobile app. 
Protecting Protected Health Information (PHI) to ensure HIPAA compliance can be a painstaking task. So for mobile developers who are unfamiliar with the privacy rule. Whoever broadcasts or stores protected health information (PHI) is liable, and ignorance is no excuse. 
The HIPAA security rule requires entities covered by HIPAA legislation. And to have appropriate administrative, physical, and technical safeguards. So in place to ensure the confidentiality, integrity, and security of electronically transmitted PHI. 
Top 10 tips for developing HIPAA Compliant Mobile Apps-
When starting any HIPAA-compliant mobile app, make sure you have a fascinating review at every stage of development. So here Flutter Agency suggests the top 10 tips while building HIPAA Compliant Mobile Apps. 
Find out what rules your medical app should follow- The medical industry is among them, which is constantly affected by technological progress. Medical personnel uses the application to transmit patient data that is sensitive. Answer a lot of compliance questions before implementing and publicly using the app.
Consider the importance of encryption for medical mobile app security- When developers deploy an app and users use it, they should base it on trust between the parties. So creating a secure hospital app for patients, the developer must ensure security for all stakeholders.
To make sure your medical app complies with HIPAA- It is necessary to know about compliance with the Health Insurance Portability and Accountability Act (HIPAA). It is beneficial to gain the trust of your potential customers. And achieving further success for the application developed.
Use multi-factor authentication- It is essential not only to pay attention to government regulations to develop a genuinely safe healthcare mobile app. But also protect data at a slightly lower level, such as personal account authentication.
Be prepared to fight against potential threats- As noted above, not only health care techniques have become more advanced. But so are the techniques of hackers and malicious attackers. But if you need to create a secure mobile medical app and want it to be easy and safe to use. So we would be happy to assist you at Flutter Agency.
Understand your role and responsibility- The security requirements for a health care app must clearly define. And architecture reviewed by a qualified security expert. We should not expect regular app developers to be HIPAA or security experts.
Reduce your risk- Write and follow a clear privacy policy. Avoid receiving, displaying, or storing data you don't need. Avoid storing or caching PHI. So if you plan to store data in the cloud, keep in mind that securely transmitted and securely stored.
Store and transmit data securely- There is no excuse not to implement the tools and protocols available today. It must encrypt the data when stored and transmitted. It also ensures that the factors are verified – another significant compliance item – consistently.
Secure your app- Your app should force re-authentication after inactivity. For a good idea of ​​how long this period should be, consider your use case. Ensure that PHI never sent for push notifications that anyone other than the patient can easily see.
Verify your security- Dynamic is the only honest surefire way to assess the care of a mobile app. Technology exists that can help you do some of it. But if you are not an expert, try a third party to test the penetration of the app.
HIPAA Compliant Apps
The purpose of HIPAA compliant applications is to provide safe health services to patients. But these provide health services by maintaining the confidentiality of their data. For doctors and health institutions, the Flutter Agency aims to make patient data more secure. So it is a predictable source for ultimate security, privacy, and service management. 
And a healthcare app typically processes large amounts of personal data, financial data, and healthcare reports. The reason for the development of cross-platform healthcare apps is an enormous amount of healthcare data. So keeping your healthcare app data secure is a priority requirement of the Flutter Agency. 
HIPAA compliance checklist for mobile apps
Mobile technology has changed the lives of many people around the world. Health services dealing with sensitive data have to equip themselves with advanced technologies. To ensure that your organization, product, or service includes relevant technology. You must use the HIPAA Compliance Checklist for Mobile Apps. 
Navigating HIPAA compliance can be a daunting effort as the law is unclear. When completing your HIPAA compliance checklist for mobile apps, it is best to consult a specialist. 
HIPAA Compliance For Web Applications,
Creating HIPAA compliance for web applications is challenging. The app requirements cover many aspects of design and implementation. Each security advisor will evaluate slightly adverse needs and make somewhat different recommendations. 
HIPAA is the first consideration for any dedicated healthcare organization. So when considering the infrastructure for a web application. Do you need HIPAA compliant hosting for your healthcare web application? HIPAA compliant hosting by Flutter Agency is certified, HIPAA and HITECH audited, designed to secure PHI. 
HIPAA Software Development
Healthcare HIPAA software development must undergo HIPAA compliance under standardized measures. An organization must take all precautions necessary to secure patients' data according to PHI guidelines. 
Flutter Agency can implement HIPAA software development using any technical solution. But the basic requirements under HIPAA-compliant software guidelines include Technical Preventive Measures. Physical Preventive Features, Device and Media Control, and Administrative Security Measures.
The HIPAA compliant have clear ground rules and guidelines. And we should keep this in mind when creating custom healthcare HIPAA compliant software. 
Secure Mobile Development Best Practices
At Flutter Agency, we spend a lot of time attacking mobile apps – hacking, breaking encryption, finding flaws, penetration testing. And it is looking for sensitive data stored insecurely. We do this for the right reasons, like to help developers make their apps more secure. 
And the best way to verify that your app follows secure mobile development best practices is to assess the app's security. So which may include automated mobile app security testing, fuzzing, manual penetration testing, and more.