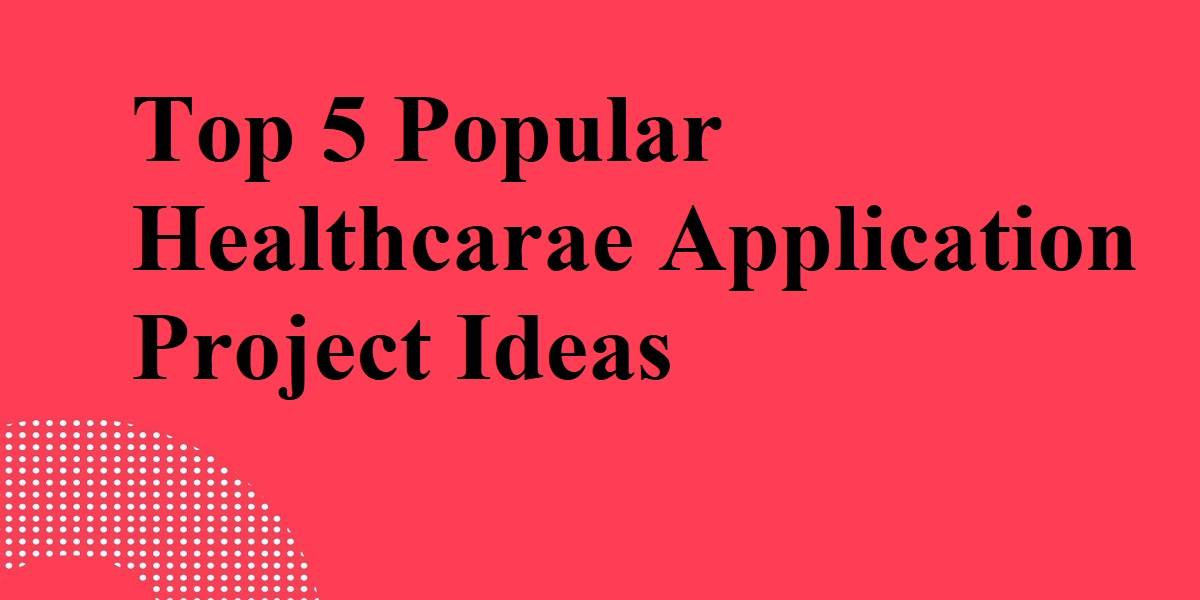 Top 5 Popular Healthcare Application Project Ideas
Top 5 Popular Healthcare Application Project Ideas
The Mobile Apps health market was increasing rapidly even before the epidemic. So using healthcare application project ideas has increased the busyness of patients. That means more individuals are focusing on improving their health and well-being. So regular doctors go for a checkup, following a healthy diet suggested by a fitness expert. And follow their medication schedule with follow-up appointments. 
Medical applications, mHealth solutions, and health care apps for patients are now rapidly conquering the market. So mobile apps for healthcare organizations help them provide quality care, better workflow with their services. And increase patient contact while reducing costs and complexity. 
The healthcare sector is an industry that has benefited from innovations in technology. But coming up with entire healthcare application project ideas is a complex process that requires expert guidance. To create a successful healthcare app, hire an experienced mobile healthcare app development company. And the Flutter Agency has a dedicated team that ensures that the app complies with HIPAA.
So share your healthcare app idea with us. And we will provide you with the right of consultation in term of the technologies, features. And functionality required for your healthcare app. We provide app enhancement services to update and upgrade you to meet the compatibility of newly launched software, tools, and technologies. 
Some healthcare app project ideas you can consider:
Let's get those healthcare application project ideas and the best healthcare apps ideas that Flutter Agency can help you develop.
Fitness Tracker App

– You can create a fitness tracker app that can help people keep track of their fitness levels. You can allow users to connect apps with wearable devices with the help of AI, ML, AR, and many other technologies. Apart from this, this app can help people to monitor their heart rate, blood pressure, etc.

Doctor Consultation Apps

– What if someone has ankle pain or stomach ache at midnight? Well, an untimely health problem can be hard to handle. And in that case, the on-demand doctor solution app is the best solution for users. So users can log in if a doctor's help is required. 

Diet Planner App

– The Diet planner app is considered one of the well-known healthcare app idea development for startups. And these apps help people to get a customized diet plan according to their body type and fitness goals. All users have to do is decide what kind of diet they want to use. So their general fitness goals and the app will provide them with a proper diet plan. 

Medical Records App

– Medical records app is a must for both doctors and patients. And these health care app ideas can play a significant role in the medical system. Users can collect all their essential health data with the help of these apps. They can easily share all the data with the doctor if users want to make an appointment with the doctor. And can help users in a critical time and allows doctors to make quick decisions.

Mental Health App Ideas

– Because of hectic lifestyles and hectic schedules, people face many mental problems. Such as depression, PTSD (post-traumatic stress disorder), stress, anxiety, and more. And above 300 million people worldwide suffer from mental troubles. So you are planning to create a mobile application to treat mental health problems. And if you have any mental health app ideas. Then it will be a wise decision. These apps can help people seek a mental health care professional and receive counseling.
Healthcare Startup Ideas
A healthcare startup idea based on great ideas will be the best option for young entrepreneurs. And medical organizations at present. And there is a good deal of new healthcare app ideas that you can incorporate into your medical startup. 
It classified medical applications into two types: 
Applications intended for doctors. 

Applications for patients.
Join Flutter Agency now to create an advanced application based on these healthcare startup ideas. Because our professional team of developers and designers takes complete and precise care of every minor aspect. So our streamlined process helps you bring your ideas of medical startup to life.
We at Flutter Agency offer our clients unique healthcare start-up ideas to take their business to the next level. And the app development time depends on the scope and requirements shared by the client. 
Telemedicine App Ideas
If you are thinking of creating new telemedicine app ideas, you need to analyze these application ideas related to the medical field. Everybody in the healthcare sector is getting excited about the development of telemedicine apps. And the benefits of telemedicine. 
Advances in telemedicine have significantly increased remote health surveillance. So developing telemedicine app ideas is certainly not a piece of cake. And during the administration of app development (such as data security, UI/UX, and backend integration), overcome some obstacles. 
So if you want a reliable telemedicine app, the safety of patients' data is one of the dominant concerns you must address. The patient's health records and personal information are precise information. Flutter Agency guides you through all the procedures from the beginning to the last phase of app development. 
Healthcare Software Ideas
Flutter Agency is a leading custom healthcare software development company with a talent pool of experienced engineers. Our expert analysts have identified and ranked the best healthcare software idea development companies. And based on their case studies, client reviews and testimonials, average rates relative to the quality of services, and more. 
So we hope you liked our collection of the best healthcare software app ideas. And we are a leading healthcare app development company that provides mHealth solutions to customers. Around the world, according to their needs. So if you have a unique healthcare application project idea and also want to turn it into reality. You can contact us.
Flutter Agency offers you to hire dedicated developers who understand your app requirements. And provide a complete medical app development cycle, including native or cross-platform technology. Because we can develop a healthcare app on your idea or can choose from the above healthcare app ideas. And develop for the iPhone and Android platforms. 
Digital has real potential to improve healthcare systems and patient care at various levels. From patient-doctor communication and doctor-doctor knowledge sharing and networking. By eliminating the paperwork of hospitals and medical centers. 
There are many creative and cool health app ideas when you want to develop healthcare apps. Medical applications have offered a range of solutions to provide efficient healthcare services. Both patients and medical personnel benefit from them and accept many positive changes in the industry. 
To develop mobile healthcare apps, the company must provide exceptional functionality. And adhere to all compliance regulations, along with maintaining accessible designs. If you need professional consultation, contact us. We are a software development company with extensive experience in healthcare app development.