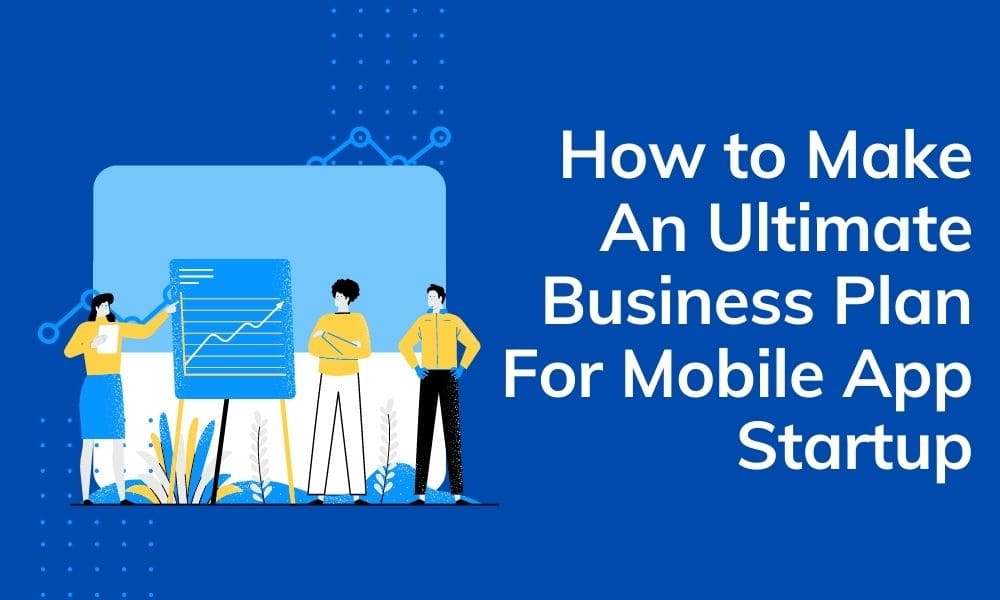 How to Make An Ultimate Business Plan For Mobile App Startup?
The three core elements of any venture's progress are the concept, the strategy, and the execution. It is hard to predict achievement with 100 percent certainty in today's rapidly changing IT industry. However, when you pay close attention to all of these pillars, your possibilities of reaching the top increase.
However, some innovators skip the step of developing an application business strategy. These people frequently assume that practice is a better method for getting the desired outcomes, believing that spontaneous decisions would pave the path to the leading manufacturers' list. Sadly, this strategy generates no results.
We have thoroughly examined the difficulties that our customers and collaborators have brought to us, assessed the effectiveness of their initiatives, and examined how a technology startup business strategy affects the entire profitability of the firm. Now, we will discuss the significance of a business strategy and walk everyone through the essential elements of creating their own. To get the most effective results, hire Flutter app developers from Flutter Agency.
Why do you want a Mobile Application Business Plan?
Mobile applications ushered in an unanticipated revolution in the digital age. Every day, the range of innovative and valuable apps grows.
A year earlier, the number of apps accessible on this App Store surpassed 2.2 million.

By 2020, the global mobile sector will generate approximately $190 billion in sales.
Suppose you want to enter this advantageous sector and possess a wonderful app concept. In that case, this is the moment to take that second step and create a terrific app marketing strategy. But before that, let's talk about why you require a great business strategy for your app.
Attracting brilliant brains and large sums of money:
You must choose between startups co-founders and venture capitalists based on the company model you wish to deploy. In some circumstances, it is necessary to entice both. A software business strategy is the only method to complete this work swiftly and move on to more crucial milestones in your firm's growth.
Minimizing the risks:
According to recent studies, establishing a business strategy can help you achieve desired goals and aspirations. Entrepreneurs who have detailed business strategies are more expected to expand their firm and raise their income than individuals who do not have a strategy. Preparation is a straightforward method for securing loans as well as investments.
Observing the established strategy:
It's difficult not to overlook the vital things in an environment filled with distractions. As a business entrepreneur, you will confront new concerns and challenges each day. A collection of notes on your design, on the other hand, will serve as a quick reminder about why you initiated this and where this should lead you.
data-preserver:
Developing a plan can help you learn more about the industry you want to enter. This will assist you in determining your goals, identifying priorities, and creating more accurate projections. It's your opportunity to expose potential hazards and establish your own presence in the business.
Effective management and delegation:
Being an effective manager seems to be a skill. A mobile application business strategy is the instrument you need to create a masterpiece. This visual representation of key activities allows you to allocate each to the appropriate individual.
An Example of Application Business Plan
Since you understand how important a business strategy is for every endeavour, let's look at what this is. Any business strategy is often comprised of the following elements:
A list of bullet points outlining your vision

Some facts and figures concerning the sector you intend to enter

Charts outlining the processes and techniques you intend to use to achieve your objectives
Is the item marketable? Does it possess the ability to provide novel experiences to users while also providing demonstrable rewards to its founding members? These are the two main questions that your application business strategy should address. Incorporate the following elements to ensure your success.
Strategy 1:
This would be the beginning of your company strategy, and this will be the primary element a venture capitalist will notice when learning about your project. Make it unique and concise, and address the following points in your synopsis:
What issue do you wish to address?
Even though the marketplace is brimming with many options, customers are constantly confronted with certain difficulties and challenges. You must locate these issues and determine which ones you can address. Assess your intended audience's current demands, why current techniques aren't meeting these requirements, plus what you could provide to fix the problem.
What does your plan of action?
First and foremost, ensure that your program is competent in handling this issue. Then, present your concept without delving into specifics. It is not the appropriate time to provide the feature to venture capitalists, and it's crucial to go through what your application will accomplish to make application users happy.
Strategy 2:
Make an appealing summary to pique people's curiosity. This area is where you introduce yourself to prospective partners by offering the following:
Basic information regarding your company:
The venture capitalist should know whether your firm is a Limited company or perhaps another structure. The framework of the firm dictates how procedures will be arranged in the coming years.
The position is important. Mention that as well if your staff works remotely. Also, do not even forget to underline why you chose this place or chose remote communication.
A few thoughts about the background:
People enjoy hearing stories. Therefore, explain the firm's beginnings. How did you get the idea to start your individual business? What did you begin with? Keep your content brief but captivating to capture the viewer's interest.
Strategy 3:
To create an app company, you should learn everything about the market. You can influence its destiny by knowing its history as well as the present. This step transforms a hypothesis into actual statistical data.
Conclusion:
You now understand how to create a business strategy for an application! You are currently one stage closer to establishing profitable business relationships and obtaining significant cash to put your concept to fruition. And you're now one point forward from your opponents.
Thank you for reading our article. Hope you enjoyed the reading. Also, let us know your feedback. We'll try to create the best content for you.
Keep Learning!!! Keep Fluttering!!!