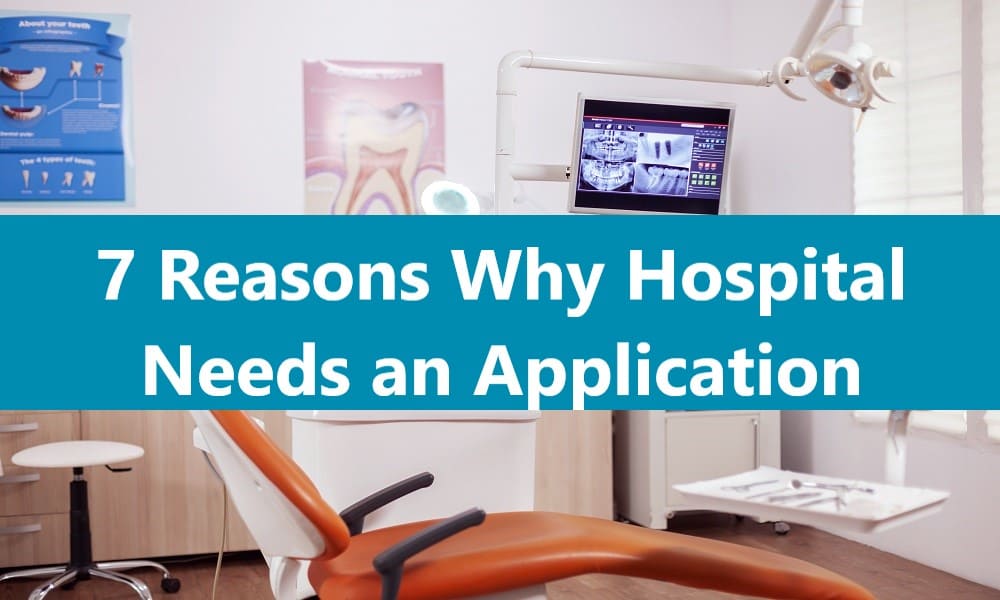 7 Reasons Why Your Hospital Needs an Application
Mobile app development has had a significant influence on human existence so far. In today's world, it's nearly impossible to do everyday tasks that haven't been affected in some way by a smartphone app. Mobile applications offer more effective ways of communicating, managing data, and delivering services to the healthcare industry.
Index
Emerging technologies like Big Data analytics, Machine Learning, and the IoT enable healthcare applications to become more dynamic and helpful. A report estimates that the global mHealth apps market will be worth $42 billion in 2022 and will grow at a CAGR of 19 percent from 2022 to 2028.
The Present State of Mobile Health
The health business has been obliged to reevaluate its marketing strategy due to the increasing use of smartphone devices. An ITOnline survey found that two-thirds of Americans favor digital health solutions over traditional ones.
Over 79% of those surveyed said they'd be willing to invest in wearable technology that keeps an eye on things like heart rate and calorie consumption.
According to the IMS Institute of Healthcare, more than 165,000 mobile healthcare apps are available for Android and iOS, with doctors increasingly prescribing their versions of these programs to their patients.
Despite this, there are many mHealth applications that fall short of expectations. App review sections are flooded with complaints about sluggish navigation, complex layouts, and other issues that detract from the overall experience. Even if there are a lot of mHealth applications accessible, there is still a great need for high-quality solutions by medical mobile application development services.
Why Does Your Hospital Need an App?
1. Appointment scheduling without the hassle
Doctors' schedules and appointments often necessitate patients' frequent visits or calls to the hospital receptionist. Patients and receptionists alike are concerned about this. With hospital communication apps, patients can easily see when their doctor will be available, schedule an appointment, and set a recurring reminder when they need to come in.
Patients no longer have to worry about making a reservation because of this. The receptionists also have less work because they don't have to phone patients the day before to remind them to come in. They can use their time more effectively.
2. Access to medical records made easier
Thanks to a smartphone application, patients no longer have to rush to hospitals and labs to get reports. Instead, an online report is available at any time and from any location. As a result, patients no longer have to worry about leaving or misplacing their reports at home before consulting with their doctor.
In addition to making it easier for the patients, this also minimizes the amount of documentation that must be completed. The hospital's administration does not need to collect, store, and disseminate reports. They only have to touch their mobile device, and the report will be sent to the patient who requested it.
3. Increased productivity
To help doctors deliver the best possible care to their patients, a centralized database of all medical applications for patients might be used. As a result, a doctor can attend to numerous patients at once.
Also, the quality of your services and your brand recognition will rise. The implementation of a mobile application will not only allow employees to connect with one other, but it will also help them better understand their roles and duties.
4. Paying bills quickly and easily
Managing hospital bills is a time-consuming task that strains the resources of both the hospital's employees and its patients. Keeping track of every patient's payment history and chasing down insurance companies to settle their accounts is a tedious and time-consuming operation.
Mobile apps can shorten this laborious process to just a few minutes. A variety of payment options are available to patients who choose to make their payments electronically.
As a result, if you hire medical mobile application development services to develop an app, you can personalize a patient's billing history and records. Therefore, medical application development makes the payment process more convenient for everyone involved.
5. Diagnosis of patients with accuracy
Doctors can keep tabs on their patients' diagnoses and other medical examinations using hospital apps for patients. This reduces the risk of mistakes leading to patient death. For accurate tracking and monitoring of various health parameters, healthcare apps make use of sensors.
Because of this, medical care becomes more effective and of higher quality for everyone who receives it. Patients may also benefit from medical applications that allow real-time access to their treatment procedures. So, developing a hospital app is a wonderful way to begin.
6. Effective promotion
Medical applications for patients can help you stand out in a market where healthcare facilities are still inexperienced with the numerous benefits of mobile technology. It may be used as the most potent marketing tool possible. Using push-notification alerts, you may communicate with patients about their results, consultations, and other relevant information.
7. Improved brand image
Hospital applications for patients might be an excellent method to attract customers and stay competitive in the market. With a mobile app for healthcare, you may get real-time patient feedback and track user activity. You'll be able to see where your services fall short and devise new, more customer-focused marketing methods based on the information you get.
Final Words
New technologies are having a significant impact on how healthcare facilities operate. According to industry analysts, 97% of all practitioners will be delivering services mostly on mobile devices by 2023. Doctors and nurses will keep integrating mobile devices and wireless technologies into healthcare through 2022.