HipSmile
Developed by our expert team, HipSmile is a mobile application for the transaction of goods and services. People can give and receive goods related to health, education, material goods and much more.
The app uses geolocation, which will help in finding announcements near them. The announcement can be regarding the donation or for the request of the goods or services.
Technology stacks: Flutter, Firebase.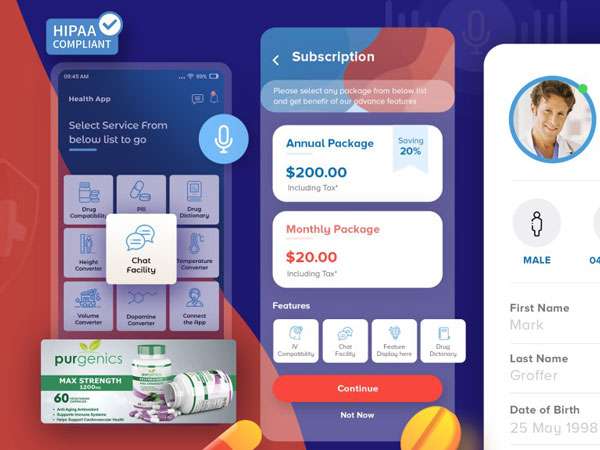 Medication Management By UME
The Medication Management app developed by BOSC Tech Labs Private Limited is an application built for healthcare professionals such as nurses & caretakers as well as patients and their family members. It provides different functionalities in a single application.
The app is ideal to make quick and well-informed life saving decisions on the go. The simple design allows users to meet our Vision and Mission. This app will help all people to prevent various medication errors by providing them with a more convenient option!

What Our Customer Says
Flutter agency has done an outstanding job developing a Medication Management app for United Medical Equipment. Flutter agency English language skills are better than mine and I have lived in the USA all my life! They have produced a final product that is exactly as specified in the project requirements documentation. They have shown patience and flexibility in building said requirements and conducting design reviews to be sure we had it right. It is obvious Flutter Agency put an emphasis on testing and quality control indicated by the low number of beta testing patches required. Flutter agency is a consummate professional and willing to share wise counsel based on their expert experiences. I am honored to give Flutter agency my highest recommendation for any level of mobile or web application and will be my #1 choice going forward.
Brock Bradshaw
Flutter Agency team is a very good developer team. They have a very broad knowledge. They understood exactly my concept and have helped to make it mature. They supported me all the way to production. You can see the final product in the App Store HipMeal.com. I will keep working with Flutter Agency in the future.
Said Zejjari
Get a Free
Consultation Report
You have to be specific when identifying the best version of your business you need to present. We provide free consultation reports that can be made depending on the purpose of the app that you are making.