Flutter SDK From Google has aimed to provide a portable cross-platform application possible from a single, shared codebase, with desktop platforms like Mac, Windows, and Linux has always been on the roadmap.
Google LLC's said today it's forging a partnership with Canonical Ltd.'s Ubuntu Desktop team to support applications built using its Flutter framework on Linux-based computer systems.
Canonical Investing Heavily
Canonical's Ken VanDine has shared the company's enthusiasm both for this collaboration with Google and for the future of Flutter apps on Linux computers, explaining that Canonical wants to be "at the vanguard" of Flutter Development.
Canonical is also allocating a team of dedicated developers to work on the tech alongside Google's Engineer.
Why Flutter is so Popular?
Flutter allows a developer to code app for once and runs it on multiple platforms like Mac, Windows, and Linux now on a roadmap. Fews Features that Canonical found exciting are as listed below.
A fast-growing ecosystem of application developers
Multiple platform support.
Highly Optimised native application
Modern UI framework supporting declarative, reactive, and composable widgets.
Rich development platform using Visual Studio Code, Android Studio and IntelliJ
" Canonical and Google announced today the availability of the alpha version of Google's Flutter mobile app SDK for building beautiful mobile and web apps on the Linux desktop "
Install Flutter SDK on Ubuntu
To Install Flutter SDK on Ubuntu just install the Flutter SDK from Snapcraft add the dart plugin in IDE like Visual Studio Code and get Coding.
Once you have the Flutter SDK installed on your Linux machine, to build a desktop app, you need to access the channel and to enable Linux desktop support:
$ flutter channel dev
$ flutter upgrade
$ flutter config --enable-linux-desktop
Now every time when user create a new flutter project user will get a Linux subdirectory that will enable a user to run as a desktop app on a Linux machine.
$ flutter create counter
$ cd counter
$ flutter run -d linux
Now we will get output like below :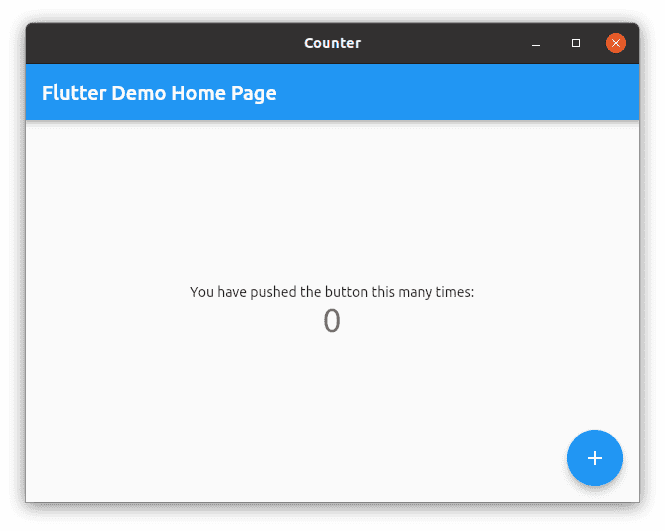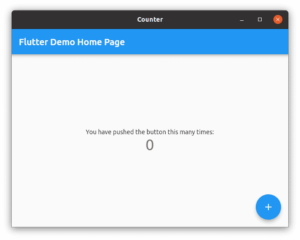 Linux Support for Flutter
To learn more about how to use the Flutter SDK to build desktop apps on your Linux machine, as well as to learn how to access native code in Linux from Flutter, publish the final app to the Snap Store, and even view some Flutter Linux desktop app samples, you should check out Canonical's announcement.
Thanks for reading !!!
Stay tuned for future Flutter updates.