491.0 Million users will have installed mobile healthcare apps in the U.S. in 2022. The most crucial factor in this rapid growth is the proportional growth in the usage of smartphones. In the last few years, it has been seen that there has been a 90% hike in the smartphone adoption rate. Hence, it can assume that it will not slow down in the future, and it is the correct time to invest in custom healthcare app services.
How many types of Healthcare apps can be developed?
Several healthcare apps are present in the market. It can assist you in understanding what can benefit your healthcare business and solve its problems. Let's look at some of the healthcare apps with some description to see whether it matches your business needs.
1. Chronic Health Monitor App
This patient management healthcare application is utilized to keep track of a patient's chronic conditions such as blood sugar levels, fever symptoms, Cold, etc. It will usually keep track of all the records previously entered manually by the users. This app has a particular feature that will visualize the data and alert the users when the circumstances start to cross the predefined planning. The latest version of the app is implemented with sensors and medical devices to capture the data automatically and maintain their record without bothering the users.
2. On-Demand Doctor App
On-demand doctor app schedules and maintains doctor appointments, lab booking, etc. So that the users do not have to wait and can book their healthcare consultation with ease, this app is developed for individual healthcare organizations or for hospitals that have some advanced features like booking, chat, user profile management, etc.
3. Diagnosis App
App owners invest in these applications to diagnose and uncover specific conditions and patients' illnesses. These apps deal with patient data directly and might always comply with regional medical and data security standards. This app usually asks some questions in the quiz format and reveals whether the person is healthy or has any severe problem that needs medical attention. This app depends on AI for its functionalities; it is explicitly used for preventive purposes only. This app completely replaces healthcare consultations.
4. Lifestyle and Health Apps
These apps are mostly loved by users who are very careful about their health and fitness. Instructive videos for the exercises, diet plan, and dedicated fitness trainers will provide the end user with complete care and support to maintain their health. Not all apps need to cover all these features; they may have a limited number of videos. It is the functionality that will attract the prime users of the app.
5. Medical Record App (EMR)
A mobile version of EMR software carries the convenience of accessing and managing the records on the go. It will eliminate paperwork of the users, facilitate the diagnostic, record and access the patient info and medical records, and communicate in the HIPAA-compliant healthcare environment. Rather than invest in the CRM mobile app, it is advisable to go with the custom development of healthcare.
6. Mental Health Apps
During the pandemic, there was a massive increase in mental anxiety, stress, and depression cases. There has been a time that was more decisive in understanding and alleviating the complications caused by mental health issues. The application has features like live chat, appointment booking with therapists, online sessions, a progress tracker, and a community of support groups. This type of app is informative and on-demand aid for the user. Hence, every mental health app must have an SOS button and an interface that is easy to navigate.
7. Health Education App
It is a primary healthcare app whose only objective is to give some vital information to the users. It has a clean interface with the menu bar, which is linked to the various screens of the apps. However, this app screen has detailed information on distinct health-related topics. However, health education apps are developed for various diseases, conditions, and other recovery-related information.
8. Nutrition management app
Nowadays, more people are becoming conscious about their health and fitness. In that, the different nutrient app plays an important role, and if that application has the right nutritional plan, then there is a high chance of hitting the market. With the help of advanced technologies, this app will also identify your meals and calculate the nutritional values. Furthermore, you can build a custom diet plan per your fitness goals and BMI. In the future, it will share some recipes with you for creating a balanced diet for you. Hence, this app will try to make things simple and easy for you.
9. On-demand medical aid app
It is the most vital healthcare app, which is complicated to develop. With the help of cloud computing and storage, collect data of all physicians and healthcare professionals and identify the end users depending on their needs. The primary purpose of this app is to provide medical assistance immediately. It is used to book doctor appointments for a later time. Users can rely on these apps to get faster medical aid. Still, it's necessary to have these apps created by an award-winning healthcare app development company like Flutter Agency. This company will help you with the QA procedure and follow all the data security guidelines. On the contrary, if you wish to make the apps more user engagement, then add some extra functionality like navigation, history organization, and reviews and ratings.
10. Sleep management app
These apps will help users fight sleep disorders like insomnia, RLS, parasomnia, etc. It creates the ideal sleep for the users, and the wearables can track the states of their sleep they had. This data is used to create the progress chart and, afterward, dependent on their periodic results, which provide the improvement measures. The other unique feature is that the media player has very light noise, and the playlist is filled with relaxing music and sounds.
Advantages of Healthcare apps
All these apps vary in functionalities and their role but provide similar healthcare benefits to a company; let's see some of them.
1. Huge productivity
Many of the healthcare service' functionalities are available with the one-touch, and if your system is completely implemented, your team will quickly improve productivity.
2. Increase the efficiency
The features like accessible medical records, online appointments, and previous history of patients will help the medical mobile and healthcare apps to provide remarkable efficiency to an organization.
3. Permanent Access
All the data is available on smart devices, so there is no risk of losing it, and your staff needs to perform their duties.
4. Remote Healthcare
The possibility of rich features and seamless access to data will allow our patients to get healthcare remotely by easily ignoring unwanted travel to and from the healthcare center.
5. Cost Reduction
More services are available online via mobile apps; your team will enhance its productivity which leads to a deduction in the cost of all the benefits.
6. Increase the patient engagement
A dedicated app with profiles, personalized data, and endless conversation will improve patient engagement, which will eventually help to enhance the effects of treatment.
Specialized and niche healthcare applications will boost hospital operations and various medical institutes. All these medical apps developed by experienced healthcare app developers will benefit the patient and lead to more engagement in-app.
Advantages of the Healthcare App Customization
1. Particular Goals and needs
A custom mobile app is created for some particular reasons, to make the features more intuitive. A niche app will allow users to complete the necessary operations without requiring too many mobile device resources.
2. Personalized UX/UI Design
With the custom healthcare mobile app development, you will benefit from deciding the UX and UI elements per your team's preferences. It will improve the efficiency of the transition training.
3. Enhance the security
A custom application will have complete control over the data and its navigation. It complies with the Open Web Application Security Project and the other regional data security standards.
4. Integrated system
The most crucial advantage of a custom app is that you can create it in a way that simplifies integration with the other IT systems of your healthcare and will eventually lead to easy implementation of automation.
USA
In the United States of America, various types of healthcare apps are being purchased by them as per their needs. If you create the apps for them, you must comply with HIPAA regulations to save protected healthcare information. To legally store and procedure the personal data of the users and patients also needs to follow the CCPA and GDPR policies. The app will obey the NSIT guidelines for the electronic processing of healthcare records.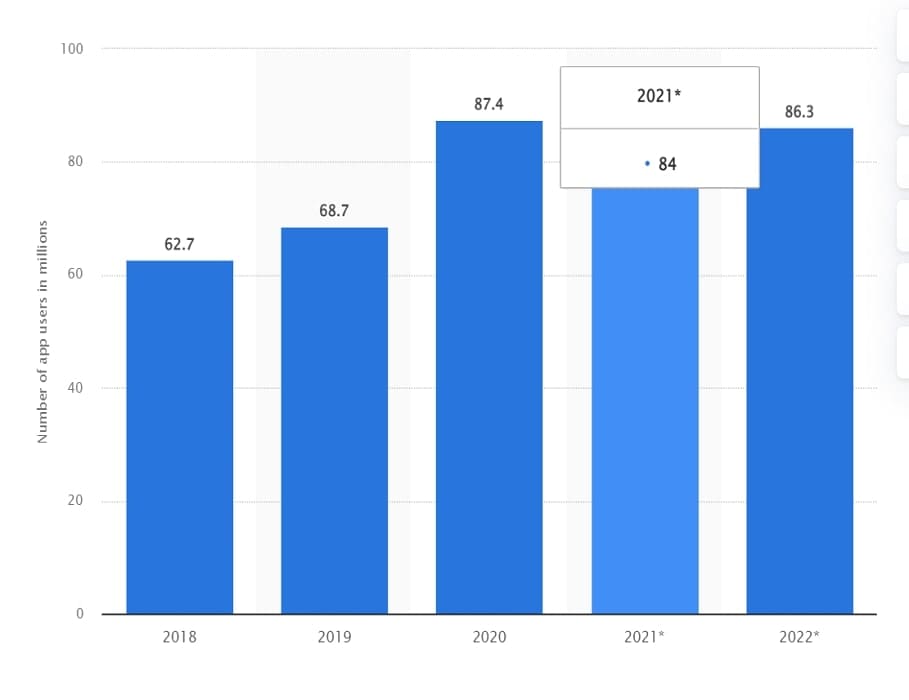 In 2018, there were approximately 62.7 million smartphone healthcare app users in the United States who were using them once per month. But, in 2022, it will increase suddenly by 86.3 million users of health and fitness apps in the United States.
UK
In the United Kingdom, there are no such laws that involve a patient's medical information and its protection. Instead, the umbrella data protection Act of 1988 applies to all the data belonging to a United Kingdom resident.
Read more: Wearable Technology in Healthcare apps
Leading Apps of healthcare in the USA
MyChart
MyChart will give the health information in the palm of your hand and aid you to conveniently managing the care for your own and your family members. This app allows you to communicate with the care team and review the test results, medications, and other health information.
GoodRx
It provides the free pharmacy coupon and the deal finder, which will help millions of American citizens to save money on pills, and prescription drugs. Our app coupon finder aids you in searching for the best price on affordable prescriptions, medications, tablets, and medicines you cannot find on other medication apps.
Wrapping up:
As a well-known mobile app development company, who have ample experience in the healthcare industry, Flutter agency proves to be an ideal IT partner. Our developers have worked on applications, web solutions, and software that will comply with regional data privacy and security standards tailored to your particular needs.
Book our free consultation session with our experts today by filling out this form to get more information.
Frequently Asked Questions (FAQs)
1. Which are the best revenue models for mobile healthcare applications?
The healthcare application will generate revenue with various models like paid features, in-app purchases, and an advertisement.
2. How much does it cost to build healthcare apps?
Healthcare mobile app development cost depends entirely on the various types and how many unique features you wish to have in your healthcare app to stay in this competitive market.
3. Why is Healthcare development essential?
The healthcare app will simplify the procedure of obtaining data, accelerate decision-making, and remove the bridge between doctors and patients.